There's no doubt travelling on two wheels is the most practical and fun way to get about – but what about when you want to take stuff with you?
I could go on for days about how much fun there is to be had travelling on two wheels, not to mention how practical and effective they can be for getting you around. But one argument that will never go in a bike's favour is the lack of carrying capacity for when you want to bring stuff with you.
Now this does all depend on what you're riding of course. A lot of scooters these days come with very generous under seat storage, but sometimes even that isn't enough. There are some bikes that can barely squeeze a tool kit in them!
Fortunately there is a whole range of solutions to these practicality problems, whether you're looking to go on tour or just a trip to the shops, in this blog we are going to look at some of the luggage options available for your motorcycle or scooter. Whatever your budget might be there should be something to suit you. So without further delay – and in no particular order - here is our top 5 luggage solutions for motorcycles....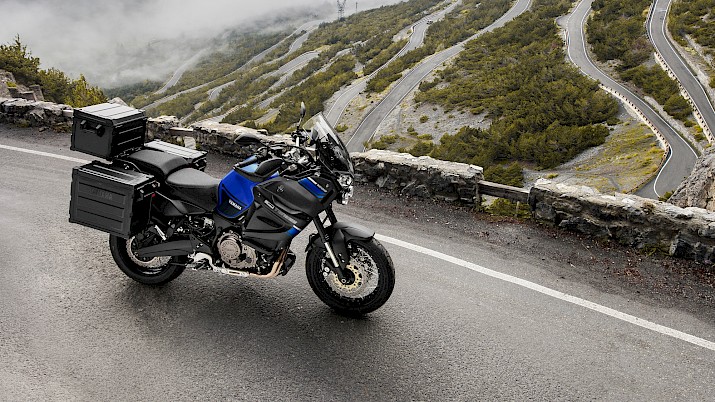 Motorcycle backpack
We start with the simplest and cheapest option - a good ol' backpack. I featured a backpack in our budget accessories blog as well (which you can check out here) and nothing has changed - it's still the perfect solution for taking a few essentials on the road. Perfect for trips to the gym, the shops or even when you need a change of clothes for work etc. In fact I rarely go anywhere without one.

Any basic backpack will do the job, however regular rucksacks can be a bit annoying at times, catching the wind and straps rattling about on your back, plus they're not exactly durable. Fortunately, there are plenty of packs specifically designed for motorcyclists that do a grand job of avoiding these short-falls. They come in so many options and price ranges there will be something for you whatever your requirements or budget. I'll put a couple of examples of some good choices here just to show what's available.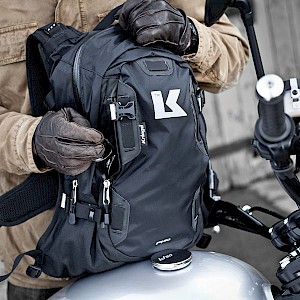 Firstly the Oxford Aqua 20. This is a relatively cheap one going for about £30. As the name suggests it's 20 litres, aerodynamic and can come in a fluoro yellow colour to help with visibility. There is adjustable waist and chest straps to hold it in place securely and stop any rattle, it's water proof and comes with a handy roll top to make it easier to open with gloves on.

At the opposite end of the budget spectrum is the Kriega R20. Another 20 litre capacity bag, this one retails at around £119. It comes in black with a more stylish design and features Kreiga's quad-lock harness which not only holds the bag securely but allows for the pack to be positioned exactly for the best fit, with complete freedom of movement in the arms. The bag itself is lightweight and extremely strong with Hypalon abrasion resistant re-enforcement. It features multiple pockets and the option to add on additional compartments and a water holder.
Motorcycle Tail Bag
Tail bags come in a huge variety of shapes, sizes and price ranges, in general they do a great job of bridging the gap between a backpack and fixed luggage, plus offer another relatively cheap solution. Once again I will give a couple of good examples of what is available.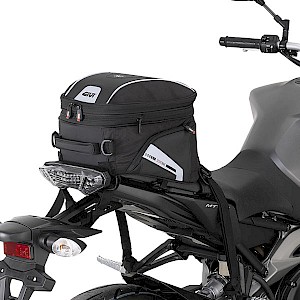 Firstly, the cheapest option here is a simple waterproof roll bag from QBag. This polyurethane coated bag is durable, waterproof and features a roll top with a large opening for easy access on the go. It features a huge 50 litre storage space inside and costs less than a tenner! Obviously for such a low price what you get is as basic as there is. There are no fixings, straps or even carry handles included so it's down to you to find the best way to lash it to your bike. It's not the most stylish option either but for £9.99 you can't really go wrong.

The second example is a more traditional tail bag from Givi - the XS313 Xstream. This one is compact at 20 litres and comes with a detachable shoulder strap so it can be carried as a bag as well. It comes with 4 straps to secure it to your bike (or just use some bungee cord if you prefer) and looks very neat and tidy, offering some extra carry space with no hassle. The Givi Xstream retails for around £55.
Motorcycle Tank bag

The last of our light weight options, a tank bag is similar to a tail bag just instead attaching to your fuel tank, so it really becomes a matter of personal preference which you want to go for. One advantage a modern tank bag can have over its tail counterparts is the addition of a built in GPS or phone holder. Tank bags come in a range of sizes but there is also a few different ways to attach them so be sure to choose the right one for you. Not quite a surprise at this stage, but we'll look at a couple of options below to expand on what you can expect.
First up is a small and compact little bag, the Givi ST602 Sport-T 4L which will cost you around £60. This bag offers great durability with a semi-rigid design made from thermoformed EVA, also giving it a nice aerodynamic shape. The bag is only 4 litres but that makes it unobtrusive and neat, it can easily fit a few essentials inside like a wallet and passport or even a snack and a drink. It has a handy pocket on top with a clear screen which can hold you GPS or smart phone, and features a carry handle with separate detachable shoulder strap if you want to unlock it and take it with you.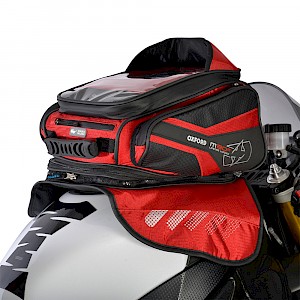 This one is attached via a tank lock system which is pretty easy to install, essentially requiring a locking ring to replace your fuel cap - allowing the bag to attach via it's own locking mechanism. The locking rings are specific to each make and model of bike and will need to be purchased separately, but Givi have a huge range covered and once set up make for a very hassle-free way to attach and remove the bag. This is the perfect option for anyone with a plastic tank that cannot use magnets.
The second example moves to the opposite end of the tank bag spectrum with the Oxford M30R. A magnetic tank bag this time (so it will require a steel tank) but therefore comes with no setup at all thanks to the quick release system. The bag features an unzippable base which holds the magnets that will stick to your tank, once unzipped the bag can be removed and features shoulder straps to convert into a backpack. Oxford make quite a few different versions of these with various attachment methods and sizes, since the other bag we looked at was compact and neat, this one's a larger bag at 30L offering a lot of storage space. However, it may not be ideal for sports bikes due to its size. Similar to the Givi it does feature a satnav holder on top, this time with a neat sun-shield feature and if you are looking to maximise your carry space, one of these will set you back about £110.

From this point on we'll be looking at a couple of the major and long term carrying options on your bike, but alternatively you could just combine any of the first 3 entries in this list and suddenly you're already carrying a fair bit of stuff – and relatively inexpensively at that.

Top Box / Top case

The top box (or top case) is a classic luggage solution that has been around seemingly forever, and like the other options on this list, comes in a huge variety of shapes, sizes and prices. A lot of manufacturers have very good optional top boxes that can be purchased with your bike but here we are looking at after-market products. A top box will require a bit more set up, needing to be attached to a rack fitted to the back of your bike but can potentially store a very large amount of luggage. The advantage is that while generally being quite large, they sit behind you, out of the way and add no extra width to the bike - whereas panniers can. You might assume that a top box will be one of the more expensive options and while top of the range models can cost a few bob, you can also find some surprisingly cheap options as well, I'll give two more varying examples below.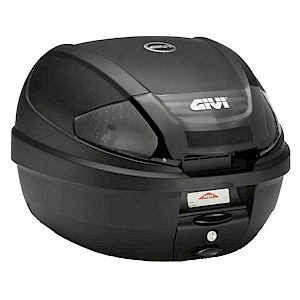 The first one we will look at is the Givi TRK52N Trekker Monokey Top Case, a more heavy duty case with a huge 52 litre capacity. The 'Monokey' part refers to the locking mechanism that attaches the case to your bike, Givi make two main types - the 'monolock' and 'monokey'. The main difference is that a monokey attachment is able to support heavier loads and therefore larger cases. This one can carry loads up to 10 kilos, can fit 2 full helmets inside, has a cool aluminium finish and retails for around £200.

As I said earlier, you can still find a decent top case on a budget if you have a shop around and this next one is a good example.
Also from Givi, the E300NT2 Monolock Top Case. This one is a bit more compact with a 30 litre capacity and uses the monolock system - meaning a lower maximum load of 3 kg. The upside is that it retails for £54 making it very cost effective. It has enough space for a full face helmet, looks good and has a smoked reflector on the back for some added visibility.
Panniers

The last luggage solution on the list are the motorcycle panniers, or side cases. This option is reserved more for those with the biggest budget, but they also provide the largest carry capacity - so there suitability for you depends on your specific needs. Panniers come in hard and soft versions, the hard versions functioning similar to a top case except attaching to the sides of your bike whilst the soft versions function like saddlebags. We will take a look at examples of both styles with varying capacity and prices. If you just need something to take a few essentials on the road these are going to be a bit overkill, but if you are looking to maximise the amount of luggage your bike can carry this is going to be your best bet.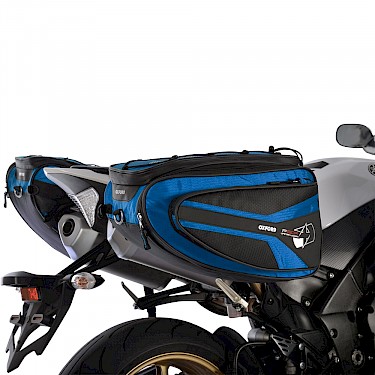 The first example is the Oxford P50R Panniers, a soft variety that have a combined capacity of 50 litres and a lot of handy features. The first advantage is they require less set up and no additional products, everything you need to secure these to your bike is included. There's a heat resistant base to protect from contact with an exhaust and the side panels are rubberised to protect your paint work. A handy elasticated net on top will hold a few extra items in place and a removable shoulder strap makes it easy to carry to and from your bike. The Oxford P50R has a nice minimalistic design, looks really neat and you can pick a set up for under £150.

The second set is a more premium hard case version, the Givi TRK33BPACK2 Monokey Panniers. A pair of these will cost you around £400 (which is no joke), they will also require a separate bike specific fitting kit but they are perhaps the ultimate luggage solution. Each case has a 33 litre capacity and uses the Monokey system for attachment, which means larger loads - each pannier has a 10 kilo limit. With 66 litres and 20 kilos of luggage total you should be well covered even on long distance touring. I really like the aesthetics of these panniers as well, with a sturdy matt black design they will look decent on a wide variety of bikes.
As you can see there really is a lot of options when it comes to increasing the amount of luggage you can take with you on your bike or scooter. The makes I listed are all great trusted brands who have been about for a while but there are plenty more manufacturers out there. These are by no means the only options so have a shop around and look for the best item that will suit your model and your needs.