There was a lot to take away from Motorcycle Live this year, perhaps the most important being the high quality of new bikes across the board.
Every stand present had something impressive on display and even low capacity or 'budget' motorcycles all had a level of polish and style not previously seen in those categories.
In this blog I'm going to give you the top 10 bikes that impressed me the most at the show. It could easily be a top 20 list and there will be a lot of fantastic bikes that narrowly miss out on making it, so I'll include some honourable mentions here and there. First of which are Kymco's SuperNEX and Vespa's Elettrica which could both have been on this top 10 but were excluded because I will be featuring them in their own blogs in the very near future. I will also be giving 125's their own 2019 preview so they too are absent from the list.
I've based the selections on what I personally found impressive, as well as the level of hype and general crowd reaction surrounding the bikes on show, so let's get to it - here are my top 10 bikes of Motorcycle Live 2018...
---
CCM Spitfire
The CCM stand was a bit of a showstopper, my attention was drawn to it instantly by the actual spitfire plane parked outside it, which quickly faded away once I saw the bikes on display. The Spitfire motorcycle was certainly one of the bikes of the show for me, a stylish fusion of retro and modern design (Stewart Martindale from CCM termed it 'tectro' which I enjoyed) coming in a variety of flavours. Bobber, Tracker, Cafe Racer, Scrambler and the new Foggy Edition Spitfires were all present and looking terrific.
The cult favourite British manufacturer also had a brand-new Spitfire iteration to unveil at Motorcycle Live and this was the one that I found myself coming back to the most, the CCM Spitfire Six. Sporting the same 600cc single as its counterparts with 55bhp output it's a nice and accessible bike but the ultra low dry weight of 139 kilos ensures it will still have plenty of go about it. Each bike has a hand welded steel trellis chassis with LED lights, keyless ignition, stainless steel dual exhaust and a beautiful carbon fibre rear hugger but with the Spitfire Six there are a variety of customisation options to give it a personal touch. You get a choice of seats, tanks and frame colour, various options were on display at the show and all of them looked like works of art!
Check out the Bike Matters interview and show overview for more on this awesome CCM stand:
---
Ducati Panigale V4
Ducati came in force to the NEC with a large stand plus an additional area for their scrambler range. There was a whole host of impressive machines on display but without doubt the star of their show was the immense Panigale V4. All four variations were on display with the Panigale V4, V4 S, V4 S Corse and V4 Speciale all on the floor ready to be inspected and sat on and as an additional treat the Panigale V4 R was on hand on a special plinth to be admired, complete with it's MotoGP style winged fairings.
The V4 comes loaded with tech including riding modes, power modes, Bosch cornering ABS, traction control, wheelie control, brake control, automatic tyre calibration and everything else you would expect from a 20 grand dream machine, and that's just the base version! Needless to say, there was a large amount of buzz around this section of Ducati's impressive stand.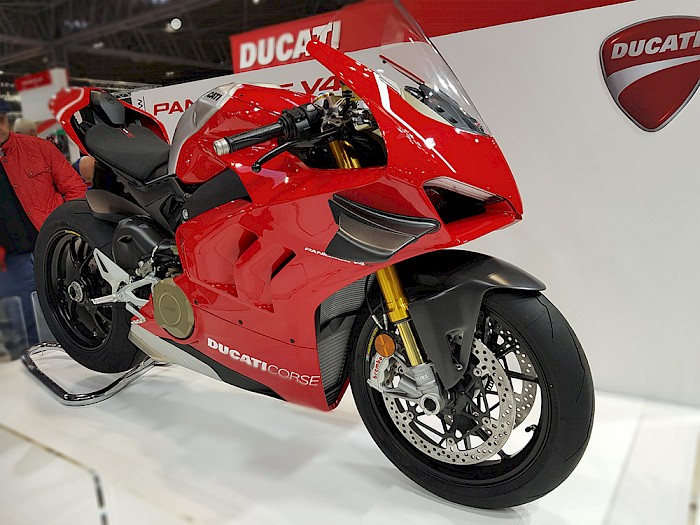 ---
Vespa GTS
Piaggio's stand was stacked with offerings from all their brands and gained a lot of attention, seeming to be swamped every time I passed by. The Aprilia RSV4 1100 Factory was giving the Panigale a run for its money as a track focused superbike, complete with winged fairings and a gorgeous matt black and carbon styling. Moto Guzzi's retro styled offerings all looked superb, especially the V9 Bobber displayed in it's Nero Notte colour scheme. Piaggio's new MP3 HPE took centre stage of their range with its newly increased performance. But the model that takes an official place on this list is the brand-new Vespa GTS, the only scooter to do so (don't worry a full scooter feature is on it's way covering all the hottest newcomers for 2019).
Nobody can deny the classic Vespa style is iconic, so updating a beloved model like the GTS can be a tricky prospect but I am happy to report Piaggio have smashed it. The GTS retains its vintage themed design but now features slightly softer contours creating a more sleek aesthetic which I really love. Rear panels, engine and exhaust covers have all been updated with new handlebars, mudguard and mirrors as well. The looks aren't the only updates however with an improved riding position and full colour TFT screen, the scooter also boasts the most powerful engine ever used on a Vespa - Piaggio's new 300cc HPE engine which yields an impressive 12% increase in power and 18% increase in torque over previous models.
The new GTS comes in 5 variations for 2019, the Vespa GTS, GTS Touring, GTS Super, GTS SuperSport and GTS SuperTech. The SuperTech stood out most to me in a gorgeous matt blue finish with red detailing, this scooter really was a thing of beauty.
Check out Lexham's BikeMatters overview of the Piaggio stand which includes a look at the GTS as well as the Vespa Elettrica:
---
Yamaha Ténéré 700
I talked about this one in my preview blog and as expected there was a lot of hype around the Ténéré 700, in fact any time I went near it during normal show hours it was surrounded with interested admirers. That's a particularly impressive feat considering the quality on display at Yamaha's stand.
The adventure market is booming right now, something about the mix of fun and practicality of these models are really capturing people's imaginations but the drawback has always been the price, not to mention the engine size. With the Ténéré 700 Yamaha have come up with one of the first truly accessible adventure bikes.
The Yamaha Ténéré 700 utilises the tried and true 689cc 4 stroke engine that powers the MT-07 but with adjusted mapping and optimised transmission more suited for adventure purposes. The engine is housed in an all new lightweight tubular-steel frame with rally-style riding position, tapered handlebars and large spoked wheels with adventure tyres. On top of that you get adjustable suspension - front and back, usd forks, Brembo brakes, switchable ABS and a long range 16-litre fuel tank. The looks of this bike are a good mix of style and functionality, the headlight set up features 4 LED lights creating a very distinct look while a front screen and hand guards offer some rider protection and complete the adventure feel.
The Ténéré 700 is no 'off-road' MT-07, it is a full fledged adventure bike in it's own right and I'm looking forward to learning the final details as it approaches an official release in the later part of 2019.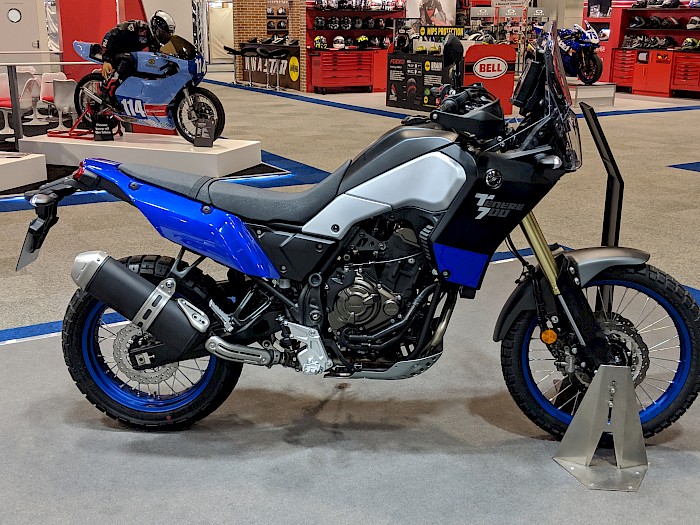 ---
Triumph Bonneville T120
The Triumph stand was another huge hit at Motorcycle Live with more impressive bikes than you could shake a stick at. From their more modern performance offerings like the Street and Speed Triple machines to the classic Tiger adventure bikes the full Triumph range was out in force.
Perhaps the biggest draw of their stand was the huge area devoted to their retro and classic bikes. Last year's hit Bobber as well as the new Bobber Black sat side by side with the iconic Bonneville range surrounded by the likes of the Thruxton, Street Cup, Street Twin and Street scrambler. New models like the Speed Twin and Scrambler 1200 capped off the display and if these ultra-stylish retro themed bikes are your thing you'd be hard pressed to find a better range on display.
For me the star of this stand and the bike that officially takes its place on the list is the classic Bonneville T120. The Bonnie was present in all its variations and they all looked fantastic. Despite the classic looks these bikes are loaded with state of the art features including ABS, Ride-by-wire, switchable traction control, riding modes, LED lighting and a special torque assist clutch. Luxury features like heated grips are a nice touch too, especially when dealing with the UK weather.
The standard and Black variations were both impressive but the crown jewel of the range was a pair of stunning special editions, the 60th anniversary T120 'Diamond Edition' and the T120 'Ace'. These bikes beautifully complemented each other in light and dark themes and it's hard to do them justice with these photos!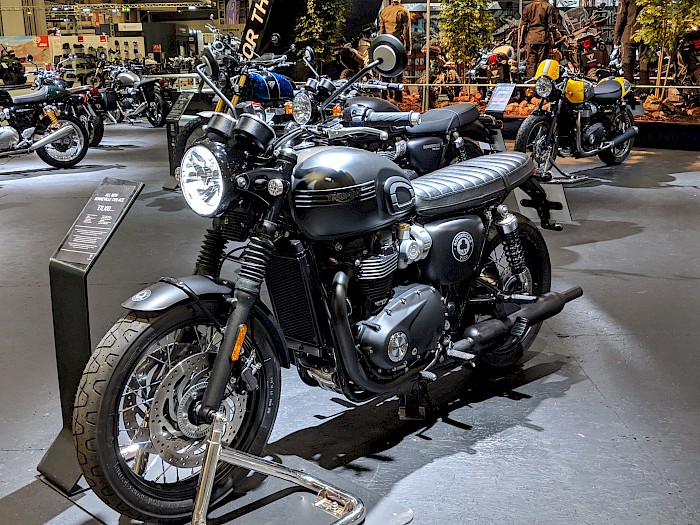 ---
Husqvarna Svartpilen 701
Earlier in the year Husqvarna surprised everyone with their Vitpilen and Svartpilen 401 bikes as well as the Vitpilen 701, creating a premium offering that fused retro and modern styling with cutting edge features (you can see Sean's road test of the full range here). Notably absent from the range was a 701 variation of the Svartpilen which was finally unveiled in Milan last month and proudly on display at Motorcycle Live alongside it's siblings.
The Svartpilen 701 was certainly no disappointment, remaining very much inline with the range's core identity, visually Husqvarna saved the best for last. A stripped down design that features both angular and rounded lines to create something very unique. This new trend of retro and modern style combines very nicely indeed.
Apart from it's stand out looks the Svartpilen 701, like it's counterpart, arrives loaded with premium features. Switchable Bosch ABS, Brembo brakes, up and down quickshifter, ride-by-wire throttle, slipper clutch and a cutting edge chromium-molybdenum steel trellis frame are just some of what's on offer here.
Husqvarna have announced the new bike will cost £8899 and will arrive in show rooms early 2019.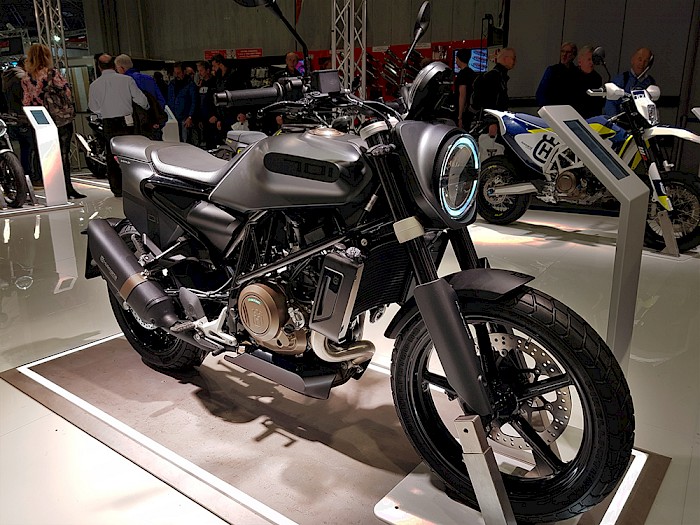 ---
Norton Superlight
Another iconic British brand, Norton had an impressive stand at the NEC as well with a host of new motorcycles on display. The retro styled Commando and Dominator models were absolutely stunning and the brand new scrambler style Atlas Nomad and Ranger were equally impressive, with large crowds surrounding their display every time I passed. Norton had more than their retro offerings at the show however with the newly announced V4 RR and the bike that I'm adding to this list, the Norton Superlight - unveiled for the first time at Motorcycle Live.
The Superlight is a 105bhp superbike powered by a 650cc parallel twin, make no mistake - this is not the usual 600cc supersport, this bike has been designed to win the lightweight class at the Isle of Man TT and the £19,950 price tag should indicate some of what you can expect.
According to Norton the Superlight shares all the high-end parts of the V4, including the twin tube chassis, slightly modified for it's more compact engine. There's a huge list of premium components including fully adjustable Ohlins NIX 30 front fork and TTXGP rear shock, Ohlins steering damper, up-down quickshifter and auto down blipper, multi-mode traction control, floating Brembo discs with Brembo M50 callipers and ABS. On top of that there's Road, Sport and Pro-race engine modes, keyless ignition and a full colour 7'' HD display.
The Superlight is surrounded with full carbon fibre aero bodywork for maximum aerodynamic performance and the 18L fuel tank is also made of carbon fibre and located under the seat MotoGP style. All this results in a dry weight of just 158 kilos and a bike that's as close to a road legal TT machine as you can get. I don't expect to see too many of these on the roads but as a NEC stand centrepiece it was another highlight.
You can watch the BikeMatters Norton stand overview for a closer look at the Superlight, plus an interview with Norton CEO Stuart Garner here:
---
Suzuki Katana
The original Suzuki Katana made it's debut in 1981 with variants being produced right up until 2006 when it was finally discontinued. Back in October this year, a brand new 2019 Katana was announced at Intermot and this bike was on display in black and silver colour schemes at Motorcycle Live. The looks alone stopped me in my tracks at the Suzuki stand and it takes it's place on my list as another show highpoint.
The new Katana has a visual design that gives a healthy nod to the original version but still creates it's own unique modern look. In fact there was nothing else at the show that looked quite like this, yes the fusion of modern and retro styling has become very popular and was evident all around the NEC but a muscular street naked like this hasn't been seen since the 80's.
The new Katana will be powered by a 999cc inline-four engine, previously used in Suzuki's GSX-R1000 back in 2005 and makes around 150bhp. We don't have all the details yet but I do know the bike will have adjustable suspension and features the same Brembo front brake callipers used on the current GSX-R1000 with Bosch ABS.
The 2019 Katana will weigh in with a 215 kg kerb mass which is similar to Kawasaki's Z1000 (221 kg) but with a slight power advantage. Combined with it's unique visual style this could become a strong contender in the naked market when it arrives in spring next year.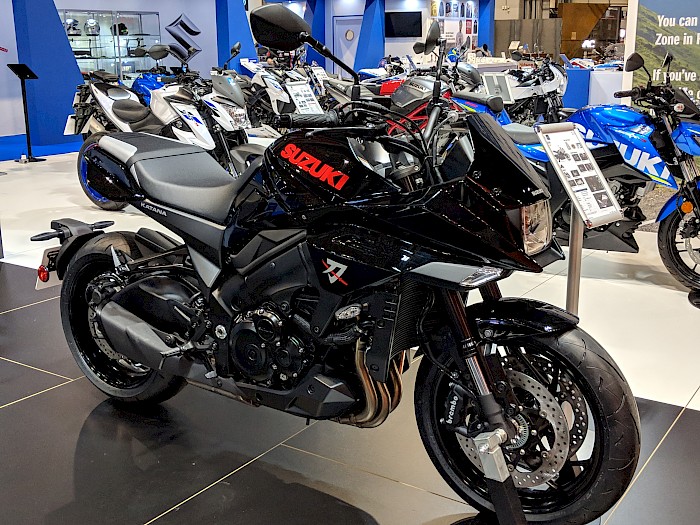 ---
KTM 790 Adventure
Yet another impressive stand at the NEC belonged to KTM, packed with popular bikes from the Duke, Superduke and Adventure ranges, as with the Piaggio and Triumph stands picking just one to feature on this list was quite difficult. In the end I decided to go with the brand new KTM 790 Adventure, present in its regular and R variations at Motorcycle Live.
Similar to Yamaha's Ténéré this bike plugs a bit of a gap in the exploding adventure bike market. I think KTM have learned from the success of their recent 790 Duke that there is a healthy appetite out there for middleweight motorcycles and creating an iteration of their popular Adventure series in that same capacity range was a smart move.
Lightweight and compact the 790 Adventure still offers serious performance and off-road capability. The bike is powered by a 799cc parallel twin engine and has an impressive 95bhp output. WP Apex suspension and large 21'' front and 18'' rear wheels help take care of it's off-road abilities while a spacious seat and comfortable riding position mean the 790 Adventure is still at home on the road, this versatility is what makes the class so popular after all.
Despite it's lightweight stature the 790 Adventure still comes heavy on features with Bosch ABS, lean angle sensitive traction control and multiple riding modes, including the advanced off-road mode.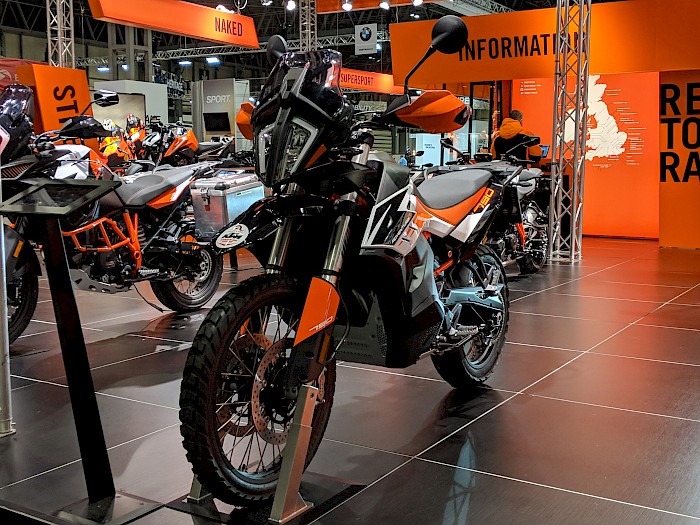 ---
Kawasaki ZX-6R
Kawasaki had a few brand new models on display, including the new Z400, which I expect to be a hot seller next year. There was also crowd favourites present like the ZX-10R and their immense Ninja H2R but the official place on this list goes to their smaller sibling the ZX-6R.
I confess to a bit of bias on this one as there's a ZX-6R sitting in my garage currently but I know I am not alone in my enjoyment of the 600cc supersport category, a category that has suffered in recent years due to the Euro emissions standards, so it is great to see a little bit of life in it yet. I think a lot of people were unsure of the new design, something of a mash-up between the 2016 and 2004 versions with a sharp new tail end but I can report that in person this thing looks amazing. Available in the classic Kawasaki lime green colours, it's the black version that really stood out with it's tiny metallic green flecks in the paintwork, this had a steady queue of onlookers waiting to get a leg over it.
Spec-wise the 2019 ZX-6R looks promising with it's 636cc in-line four and 127hp output, Showa forks, traction control, ride modes, ABS, slipper clutch and upshift only quick-shifter. Kawasaki are aiming to provide a modern supersport that's still great on track but now offers much improved road performance. It will be interesting to see how this fares in the current market next year.
That's my top 10 bikes of Motorcycle Live, let us know what your favourite bikes of the show were in the comments and on social media.