Husqvarna are best known for their off road bikes. Their venture into the road market has mainly been with Supermoto models, up until now that is, as they've just launched the Svartpilen 401, Vitpilen 401 and the Vitpilen 701.
All the bikes look stunning and don't differ much at all from the concept models on display at recent shows, which makes a change compared with other manufacturers. I was lucky enough to get the chance to have them all for a few weeks and take them for a test ride, courtesy of Manchester Motorcycles. I wouldn't normally go for bikes like this as I've always been a sports bike fan and I must admit, the first 10 minutes still left me a little unsure as to whether or not they were for me. If anyone's taking any of these models out for a test ride, then I would recommend riding for longer than that initial 10 minutes as once that was over I just loved them! The one little mistake I made was taking the Vitpilen 701 out first, as I was well and truly spoilt, or maybe it was the fact that I took this one round the Lakes for a full 12 hours!
Svartpilen translates as Black Arrow in Swedish so obviously the Svartpilen 401 is black in colour and has great off-road looks. The Vitpilen 401, or 'White Arrow' is more of a café racer style and yes, it's white! After that the Swedes get a little confused because the Vitpilen 701 is silver in colour, but we can forgive them for that as it's absolutely stunning!
---
Vitpilen 701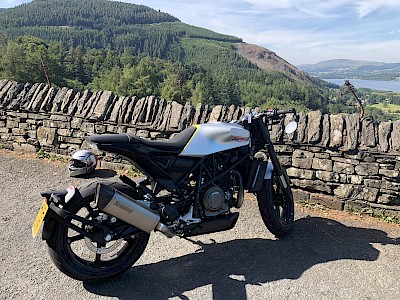 The first thing I noticed when riding this bike was the amount of other riders that noticed it! The one I took out had a titanium/carbon Akrapovic exhaust and bar end mirrors fitted, but even without these extras you do get a lot of bike for your money. Brembo brakes, WP suspension, quick-shifter & auto blipper all come as standard. Before my trip to the Lakes I took it to a few of my local biking haunts, Rivington Barn being one of them and it proved very popular with crowds gathering round for a look and to ask questions that I didn't know the answers to!
I'd never ridden a big single on the road before, so it took me a little time to get used to, but once I did it was very easy to ride and huge amounts of fun with superb handling. It surprised me how light it was, so the winding roads of the Lakes were absolutely perfect. The main thing I had to get used to was the bike wanting to be in a low gear all the time, especially around the slower corners, but once I'd become accustomed to it I thoroughly enjoyed the ride and was very impressed by the power delivery. I'd set off early for the trip and took the scenic route up but once there I enjoyed it that much that I found myself still in Windermere at 8pm! That meant the quick way home by motorway and this bike was just as happy cruising at 70(ish!) as it was on the roads around the Lakes.
Would I buy one of these bikes? Most definitely yes but, I'm just a few quid short of the £9,000!
---
Vitpilen 401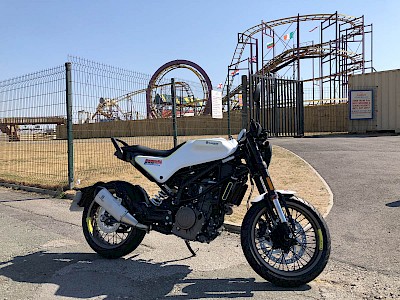 I thought it would be a bit of a disappointment getting on this after the 701 but was totally wrong. The one I rode was standard and I found it far more ridable around town than the 701, although it did take a little time to get used to the smaller bike wanting to change gear quicker! I didn't go as far on this one but still clocked up the miles around the Lancashire coast. It's a great bike to ride with great looks too and very affordable at £5,600. I wouldn't fancy rushing back from the Lakes on this one by motorway but around the twisty roads it was great fun. The one thing that did annoy me was the fan kicking in almost every time I stopped in traffic, but as it was the hottest day of the year and topped 30 in Southport during my trip, I will forgive it for that. I could have done with a fan in my leathers!
---
Svartpilen 401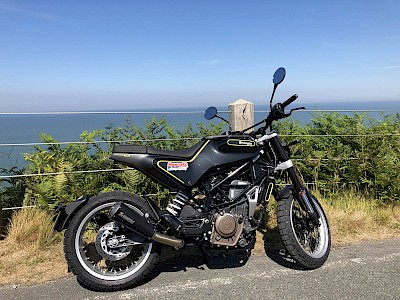 Least favourite is probably not the right phrase, but I thought this bike would be my least favourite of the 3. I was pleasantly surprised and ended up preferring this one over the Vitpilen 401. With its scrambler style bars, the riding position is excellent and far more comfortable riding around town but when you do open it up it doesn't lack any power and handles really well, even with the 17 inch wheels and chunky tyres. The model I rode had an Akrapovic can but other than that it was standard, which includes WP suspension, Bosch ABS and a slipper clutch. I took this one to North Wales and clocked over 250 miles, ending up at the top of the Great Orme. It's another bike with stunning looks and attracted a lot of attention every time I stopped. This is a bike I would seriously consider owning.
Thanks to Manchester Motorcycles of Walkden for the use of their demo fleet!
Blog by Sean Gallimore