We're quite fond of adventure bikes at Lexham. But since there are so many out there to choose from - coming in all variations of capacities - we decided to put together a top 10 of our favourite Adventure Bikes to look out for in 2019!
Some of these have been around for a while, whilst others are new for 2019 and may not even be out yet - but either way we've covered almost all bases here! The list here is in no order at all, and is likely to be chopped and changed around when we catch wind of new bikes being released in the UK.
So, let's get started.
---

BMW R1250 GS Adventure
Might as well kick off the top 10 adventure bikes list with an all-time favourite, the R 1250 GS Adventure from BMW. Famed for it's participation in the Long Way series with Boorman and McGregor, the adventure bike offering from BMW has become quite possibly the staple of the market. With many variations, and at varying price-points, the GS Adventure family offer you brilliant comfort and almost excessive storage space perfect for long distance commutes.
Of course, the engine is a twin cylinder 1254cc boxer (I hope you're not surprised by that!), punching out an impressive 136BHP at 7750rpm, with 143Nm of torque at 6250rpm – this is all provided by the excellent Shiftcam tech engine which is a new addition to the latest range. The Shiftcam tech effectively works as variable valve timing, optimising the torque and power output with different cams used at both low and high rev-ranges.
It's a shaft driven bike weighing in at 268kg, has 30L tank capacity and has a multitude of accessories and extras to choose from, allowing you to basically design the perfect bike for your needs. Priced from £14,415 for the base model. Lovely point is that it comes with an unlimited mileage warranty for 3 years!
Zack and Alex discuss the ShiftCam tech in a BikeMatters video here.
---

Triumph Tiger 800 XCX
The favoured bike of Geoff Hill and used on his Wild Atlantic Way ride is the Triumph Tiger 800 XCX. Again there are many options and variants out there in the Tiger family, but the XCX is a firm favourite in the middle ground of adventure bikes. You get 5 rider modes (road, off-road, rain, sport, and off-road pro) all accessed through the 5" TFT display.
If you're curious about the engine, you'll find an inline 3-cylinder liquid cooled 800cc motor providing 94 horses to play with at 9500rpm, with 79Nm of torque at 8050rpm – so nothing to turn your nose up at. Tank is 19L and weighs in at 205kg, and one notable feature is the off-road pro riding mode mentioned – the mode allows you to turn off the ABS and traction control to really get at it off-road! Price for the base model is £11,400.
---

Honda CRF1000L Africa Twin Adventure Sports
The Africa Twin range of adventure bikes is a hugely popular name in the adventure world, partly because of the Dakar rally history when it was first ran out in 1981, which five years later it dominated with a 1-2-3 finish (and followed to win basically every one after) – but also recognisable as the bike is just so good. Instantly recognisable on the road, the Africa Twin for 2019 comes in two variations; the standard edition, and an "Adventure Sports" edition which comes with a few extras included.
The 'Adventure Sports' edition that we're looking at here is a liquid-cooled 998cc parallel twin engine outputting 93bhp with 99Nm torque. You'll also get throttle by wire, 3 riders modes (road, off-road, rain) and Hondas Selectable Torque Control. Worth noting the standard option also comes with Dual Clutch Transmission if you fancy an easier ride, whilst this one has it as an option.
Tank size is a huge 24.2 litres giving an estimated range of around 310 miles, you have an adjustable seat (900mm-920mm), and incredible Showa suspension. I particularly like the rally-inspired dash! On the road price is £12,999.
---

Suzuki V-Strom 1000XT
Suzuki's offering for the adventure market is their V Strom range, this one being the V Strom 1000 ABS. This is a bike that works as a great all-rounder driven by a V-twin 1037cc engine, with an output of around 99BHP at 8000rpm, 101Nm at 4000rpm and a 20 litre tank. A feature on this bike is the Suzuki Clutch Assist System, acting as a slipper clutch system when rapidly changing down gears and providing light use of the lever – overall helping you on sportier rides as well as reducing fatigue on long distance rides.
Built on a slim frame, the V Strom weighs 232Kg, and they quote you being able to ride 58 mpg! Suzuki also pack the bike with some advanced rider tech, such as low RPM assist, motion track brake system and advanced traction control – all bundled in for £9599. You could get this one in a brilliant 'Champion Yellow' colour as well… at least I like it.
---

Yamaha Ténéré 700
Available later this year (July), the Ténéré from Yamaha is definitely one to look out for in 2019 – it may not be as 'sophisticated' as the other bikes on the list, but it certainly doesn't lack the thrills you'd expect from a Yamaha adventure bike. The lightweight nature of the bike is a great plus, helped from it's double-cradle and tubular-steel frame, and it weighs in at 205kg, which is incredibly impressive for a bike you'd want to be chucking around off-road.
The engine is no pushover either – it's a parallel-twin 689cc motor from the MT-07, giving you around 72bhp at 9000rpm to play with, and the output of 68 Nm of torque at 6500rpm means going anywhere off-road will be no cause for concern – if anything you may want to take the unbeaten track more often than not!
I mentioned that the Ténéré may not match up exactly with the others on this list - in terms of the apparent lack of, admittedly, often surplus rider aids - but you have to consider the price is only £8399 as an introductory special – after July 31st it will go up to £8699. For your money here you get an incredible bike with a solid history of off-road supremacy, for instance the quad headlights up front and rally style LCD dash. The 16 litre tank will also apparently give a realistic 215 mile range, ABS can be switched off for off-roading, good travel forks and Brembo brakes. At this price point there's certainly no complaining here!
---

Sinnis Terrain 125
If you're looking at the rest of this list with your CBT, dreaming of the day you get on a bike capable of going off-road, then that day may come sooner than you think. The latest offering in a very 'few-and-far-between' 125cc adventure market is the Sinnis Terrain 125. Admittedly it won't have the power you may need for a trip around the world at 11.5bhp – but with that it's also a lightweight(ish) bike at 150kg, so you can help it along trails if the motor struggles in the worst of it! You also get disc breaks on the front and rear as standard, with a Combined Breaking System thrown in as well.
A lot may be said about the Chinese bikes coming out, but they are providing cheap and great bikes for an emerging market of younger riders, a market that is needing to be catered for. Sinnis are doing as much as possible for a notoriously cost-focused market, and for £2499 and an engine reported to do quite well at accelerating and getting power and torque down at a low end – you'd absolutely be happy with this bike as a first step in to the adventure world.
A 14 litre tank achieving over 100mpg (118mpg) will mean you can definitely go for a longer ride if you want! Just don't expect the power to be a world beater at speeds topping 55mph… you'll look great though, as the style is spot on.
---

KTM 1290 Super Adventure R
The self-proclaimed "king of adventure" is KTM's Super Adventure R, and caters for the hardcore adventurers with an incredible amount of power from its 1301 V-twin engine, outputting 140Nm of torque and 160bhp, you can't really ask for much more in terms of performance! KTM have also included their Power Assist Slipper Clutch with the package, which does a great job at assisting you when braking sharply and decelerating, as well as allowing you to control the clutch with one finger if you so wish!
The KTM is by no means a light bike at 217kg, but it's a behemoth sitting at 890mm, clearing 250mm of ground. If this sounds a bit much, luckily the Super Adventure R does afford some adjustments to the ride if necessary, with footpeg movement and handlebar clamping that can be altered to fit you. The tank holds an impressive 23 litres, meaning you can comfortably go for distances of around 200 miles without worrying where the nearest fill up will be.
It does go without saying, but we're looking at an adventure bike packed with rider aids and tech – cruise control, traction control, quick shifter, tire pressure monitoring, smartphone integration, hill hold control, Bosch corner aware ABS… the list goes on. If you're looking to get one, prepare to pay around £14,500. Worth noting there is multiple variants of this one, as well as a 790 adventure if you'd prefer a smaller version.
---

Moto Guzzi V85TT
A new kid on the block, but one of few new bikes with classic retro styling, the early response to the Moto Guzzi V85TT seems to inspire something similar to marmite – you either love it or hate it. I think it will grow on the haters though, the retro styling on the TT, or 'Tutto Terreno' (which is 'all-terrain' to you and I) really helps it stand out amongst the crowd - even then, I'd expect many more people to love it as the tubular steel trellis frame and top notch build quality throughout really sets this one apart from the rest.
Moving on from looks, the engine and power is provided by a transverse V-twin engine, based on the current V9 engine from Moto Guzzi but tweaked for improved torque and power. It produces 79bhp and 80Nm of torque, so it can be restricted to the A2 limit of 47bhp – great news for A2 riders. Tank size is a decent 23 litres, meaning your range is around 288 miles before filling up again – leaving an average fuel consumption at around 58mpg (if you ride it gently!)
Seat height is 830mm, and it weighs around 229kg – so It's not an intimidating height, but the weight is up there… stopping power provided by Brembo discs with two up front and one at the rear. For the single colour option you'll be looking to spend £10,899 – but the premium colourway will be a touch more at £11,099.
---

Ducati Multistrada 1260 Enduro
Another bike brand new for 2019 is the Ducati Multistrada 1260 Enduro. One of the new features to the bike for 2019 are the adjustments made to ergonomics, with a slightly reduced seat height to which can be adjusted between 840mm - 860mm to make it a bit more accessible across the board for riders, as well as changes to the height of the handlebars. It's an interesting approach to bringing such a monster of a bike to the masses, but a welcomed one at that.
No surprises here, but the engine is phenomenal – we see the new Testastretta 1262 engine make an appearance with the incredible output of 156bhp at 9500rpm, and 130Nm of torque at 7500rpm. This machine is nothing short of incredible with those numbers. You also get Ducati's Desmodromic Variable Timing system to allow for torque delivery peaked at low revs and medium to high speeds.
There are, of course, variations available of the Multistrada, and all 1260 models will have identical motors and therefore power. You won't be surprised to hear that you get all of the mod cons on this bike; included is cruise control, wheelie control, TFT display, quick shifter, Ducati Skyhook Suspension. It's understandably a heavy bike with all the kit on, sitting at 254kg with it's 30L tank filled. Could go on for hours about this bike – but we won't. Price tag is at £17,755 for the Enduro model. Gulp. But the base model is at £14,295 if you can't justify stretching the wallet that much.
---

Royal Enfield Himalayan
The final bike in the top 10 is the Royal Enfield Himalayan, which we've got a video on here. The Himalayan, if anything, looks like a perfect off-road charmer. It's a single cylinder 410cc engine, which produces 24.5bhp – by no means an astronomical figure, and it won't set the world alight on the road, but it's off-road where this bike comes in to it's own.
With an accommodating 800mm seat height and 185kg weight, you can really get this bike around the worst of terrain with relative ease. Of course it would be nice to have a touch more power – but for a 410cc single cylinder, can you really expect much more? Looking at the new Royal Enfield twins, it would be incredible if they released a new version with the 650 twin engine… but I digress.
The price tag on the Himalayan is another huge bonus, as you can buy one brand new at £3,999 – admittedly the bike was first released in 2018, but as it's at such a good price you'd be hard-pressed to find another bike in a similar category that can do as much as the Himalayan within reach of the cost. Note that it does come with ABS, but unfortunately cannot be switched off, and the 15 litre tank sounds small but it only sips on petrol – giving an estimated 50mpg. This is a great option for an amateur adventure rider!
---

WILDCARD: Suzuki DR 650 (1990)
If you've read this far, but nothing seems to stand out to you – I come to you with this as a final offering. Yes, the eagle-eyed amongst you may have noticed that this is bike number 11 in a top 10 - but I couldn't resist adding this one in!
The Suzuki DR 650 from 1990. It's a bike with a cult-like following, keeping the adventure market happy with an almost bare-bones approach for off-road thrill seekers. The single cylinder 4 stroke engine produces 46bhp and is at home on the trails of the UK – even though you may find a load of these bikes being imports from the States and Japan. The DR 650 range was first launched in 1990 with a few variants in models (R, RS, RSE) later being succeeded by the DR 650 SE in 1996.
Interestingly, these bikes are still in production in America, with new models being released there to this day – so I suppose that gives at least one valid reason for it to be at the tail end of a top 10 for 2019 list? Regardless you can probably find one in good condition for a very reasonable price (I've seen some for sale at £1100, and some for £2500). The tank is 21L, and it weighs around 168kg. In terms of styling it certainly fits the classic bill, but has respectable suspension for the time and will definitely do you proud off-road. Finding one in stock condition may be difficult, and finding one for sale at all may be a struggle at all – but if you do, you could get yourself an incredible classic adventure bike that will be worth a lot more in years to come!
---
A Challenger Appears - Zontes T310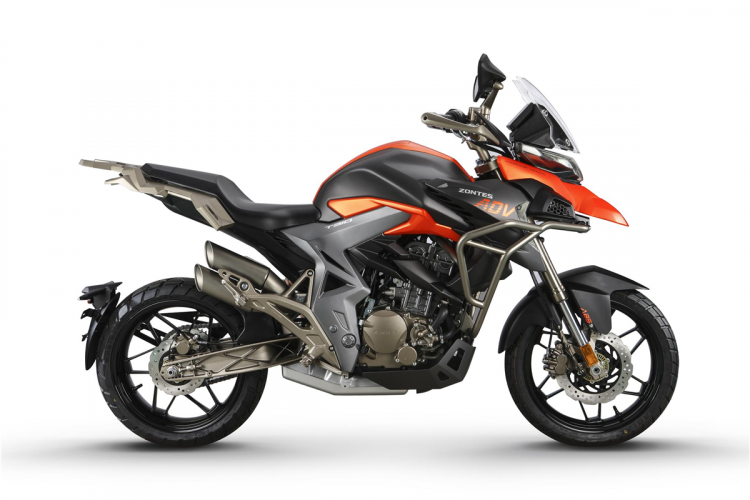 A new bike could be on the way to this top 10 list – the Zontes T310, a perfect lightweight (only 149kg dry) adventure bike, designed to be eligible for A2 licence holders and fight amongst the other small-capacity adventure bikes in the market. Being released simultaneously with the X310 and R310, the T 310 model from Zontes is their addition to a cost-effect adventure bike. Speaking of which, we spoke to the UK importer Clements Moto about the new Zontes 310 range in a Bike Matters video - give it a watch!
The T310 will function as a great option for someone looking at a versatile machine, but who is still tempted by a smaller capacity bike with the capabilities of any other adventure bike. As a brief summary of the stats, the T310 (and 310 range) are all powered by a 312cc single cylinder engine, have 15L tank and Bosch ABS on the front and rear hydraulic disc brakes. It doesn't lack in the style department either!
Pricing wise, the Zontes T310 is available for around £3,999 – which undeniably comes in at a reasonable price for what you get, especially helped with the 2 year warranty from new.
I'd say this bike will be one to watch in 2019 – but do you think it's good enough to take a spot in our top 10 list? Let us know on social media or in the comments below.
---
There's our current list of 10 adventure bikes to look out for in 2019. We'll look to update this list as and when new models come out that we like that look of, although it will take quite an impressive bike to knock any out of the list as it stands! If you have any recommendations for the list, let us know in the comments below or on social media.
Lexham Insurance offer incredible rates for insuring your adventure bike, so give us a call today on 01379 646 504 for your best quote direct - or you can quote online here!