What is the best classic scooter of all time?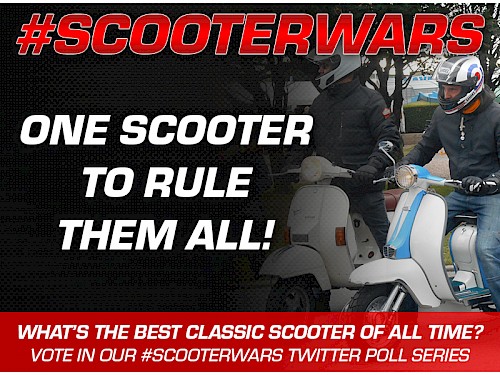 That's a big question and one that will no doubt be a bit controversial at times and definitely cause disagreements. Most of us will be biased to the scooter we currently own or perhaps one previously enjoyed during more youthful days. As big fans of the classic scooter scene and sponsors of rallies for many years, we want to know the nation's favourite, so we are holding the first SCOOTERWARS… a series of polls pitting some of the most iconic scooters of all time against each other, until only one remains. One Scooter to rule them all!
From the ultra-popular scooters such as the Lambretta TV Series & Vespa PX to the less common but still desirable likes of the Panther Princess and Triumph Tigress, there will be a large selection of classic scooter models to choose from. Scooterwars will be an elimination tournament held over several weeks, the winners progress until we find the overall champion. Which scooter will win is purely up to the voters, so make sure you vote and share the polls so we can get as many scooterists involved as possible.
When and where?
Firstly, if you don't already make sure to follow Lexham Insurance on twitter we have lots of scooter news, photos and blogs so these might be of interest as well! The polls will be running on Friday evenings starting Friday 5th May, so keep an eye out and vote for your favourites!