We've been very lucky with the weather over autumn but I'm sure you've all felt the first signs of winter on your way to work recently.
It's easy to be put off from riding once the temperature drops close to freezing but if you wear the right gear you can survive those harsh months without your extremities dropping off.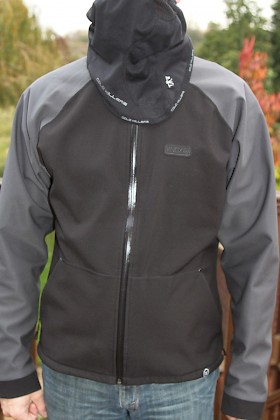 Winter riding kit doesn't have to cost a fortune, a few simple layers can make all the difference but more expensive items are always worth putting on your Christmas list. Something to keep you warm and dry is much more important than a useless gift asked for on a whim. Here are some of the items I wouldn't want to ride through winter without.
Layers
I'm proud to say my all time favourite windproof layers are made by British company, Knox. Their Cold Killers range do exactly what it says on the tin but they also look stylish as well so you'll get your moneys worth by wearing them off the bike as well as on. I use their neck tube (£19.99) and Sports Top (£59.99) all year round, they're lightweight, easy to stuff under your seat or in a rucksack and really do work. My neck tube has probably covered 50,000 miles and still looks as good as the day it was bought.
Boots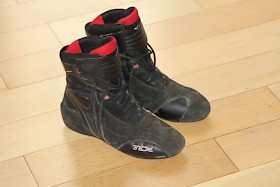 I usually ride scooters and prefer a short boot with a bit of protection; these TCX X-Cube boots have covered some serious miles in all kinds of weather. They're comfortable on and off the scooter, look good, are 100% waterproof and keep my feet warm and dry in winter but are still cool enough in summer. They've been updated since I got mine and are now called the X-Cube Evo Waterproof, they cost £119.99.
Gloves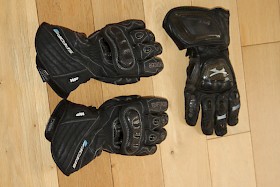 There's nothing worse than getting cold hands so decent winter gloves are the first place to spend some money on. I usually wear Spada Elite, these have been used by me for the last six years and still work as well today. They've proved 100% waterproof, not many gloves that make that claim actually are. I've recently replaced them with a pair of Spada Enforcer WP's (the pair on the left) but have yet to test them fully. The Enforcer has similar styling and includes a handy visor wipe on the index finger, they come with a two-year warranty and cost £64.95.
Heated vest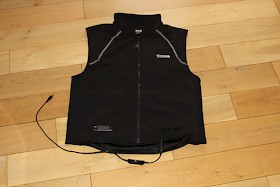 This is the one piece of bike kit I'd not survive winter without, until you've tried one you don't know what you're missing. A heated vest beats grips or heated gloves any day of the week. Imagine immersing yourself in a hot bath whilst all around is freezing, that's the pleasure this item of kit gives you. Oxford come up trumps again here, the Inox Vest plugs into your battery (simple five minute installation) or can plug into a 12v socket with an optional accessory. The temperature controller gives four settings from warm to scorchio and with warmer blood pumping around your body it stops your hands from getting cold as well. Buy one… £145 very well spent.