A challenger appears!
First things first, what an absolutely stunning bike. Lexmoto have got the looks absolutely bang on for what seems to be a huge competitor on the heavily congested 125cc sportsbike market. I've been lucky enough to ride the LXR 125 SE for a couple of weeks now, and it has eaten up the miles in all sorts of weather without a concern at all. There's so much to cover with this bike, so we better get down to it!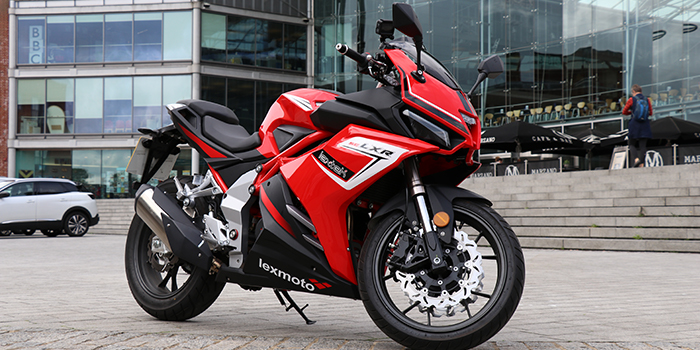 What makes the LXR 125 SE 'Special'?
This is the "Special Edition" LXR, and as such comes with a stunning unique red paintjob that gives it massive sports bike vibes. This SE also gets Upside-down forks, and an aluminium swing arm and top yoke – and at £2499.99 overall not too bad for £300 more than the standard edition!
Everything is set up for this bike to have the road presence of a big bike, and it achieves this all day long.
I'm sure everyone I rode past thought I was on a Ducati Panigale from the looks I was getting… with a special edition you'd want looks, and you definitely get those.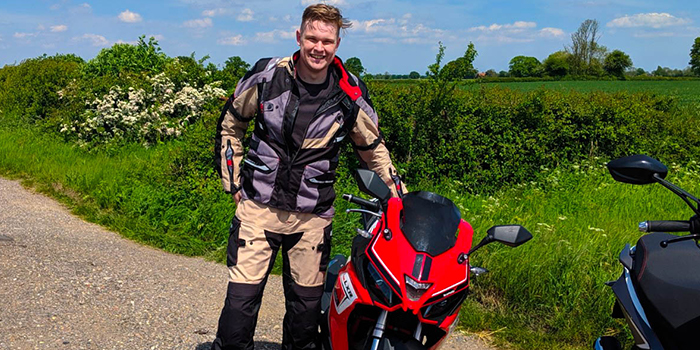 LXR 125 SE Performance
Engine power is an interesting one for the LXR SE – now bearing in mind we're looking at both a learner (CBT) and A1 legal machine, power does come at a slight premium. Now that's not to say it has no speed, it can reach 70 reasonably well given enough road – but this will heavily depend on the rider and road conditions.
This engine is from the Zongshen manufacturer, who provide the 5 speed 4 stroke single cylinder motor, which is water-cooled and chain driven. I've got no complaints with the engine at all. For power, you're looking at 12.1BHP @ 9500 rpm with peak torque 9.58Nm @ 6500 rpm.
Acceleration off the line is respectable, and power throughout the gears is spread nicely so every gear has something to give at speed – although it does suffer from the same short gearbox as is the norm with 125cc machines. Up to around 45-50mph it's good, then you start feeling the power slope off a bit until you're at full tuck pushing for an indicated 70 mph (which I could just get to). I'm 6'4 and 15(ish)Stone so by no means a Marquez when it comes to size; you may find in the right conditions you could well push it over 70 (but I wouldn't expect too much over 70).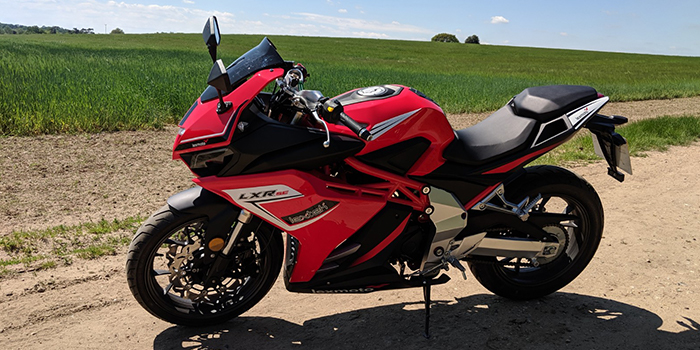 Rider Control and Handling
In terms of the steering and control, I couldn't ask for much more. The steering was responsive and felt firm, allowing you to really throw the bike in to the corners and maintain good control, and inspiring a lot of confidence whilst riding. Perfect for a beginner on a CBT! At 167kg it's not exactly a lightweight bike, but it's definitely not heavy to move. Again, for me it felt spot on for flicking around on twisty roads.
I did find the turning circle quite middling; you can pull a U turn but don't expect to be taking sharp corners without a bit of thought when at low speed (again, this could just be down to me!) The suspension at the front is adjustable, with settings to make it firmer or softer depending on your choice – although it was near enough perfect for me as it was.
Fuelling was, as expected, nice and cheap. Over the 2 weeks we filled the bike up twice and achieved at least 80 MPG. Although unfortunately we didn't get to keep them long enough for an average – and we were seeing what this bike has got on the dual carriageway – so your final MPG may vary!
Steering lock issues? Perhaps again it was down to me, but the steering lock didn't want to engage on the first try. In fact, this must have been down to me as Brett only took a few seconds whenever he locked it up… moving on.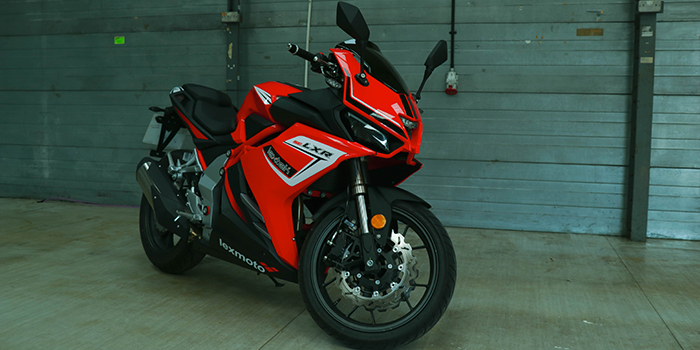 Is this Bike a Commuter?
Long distance riding was surprisingly fine for a sports bike, I was half expecting to come off the bike aching and in pain – but no such misfortune luckily! I would quite happily say this bike will do absolutely fine as a daily commuter.
This segways nicely to rider comfort – the seat is nice and plush, you sit comfortably in the saddle which sits at 800mm, encouraging an amateur-racer positioning with feet right underneath you on the rear sets. Overall I was more than happy on the bike at all speeds. You may find yourself leaning forward and in full tuck if you're of normal height, but for me I was sat quite nicely!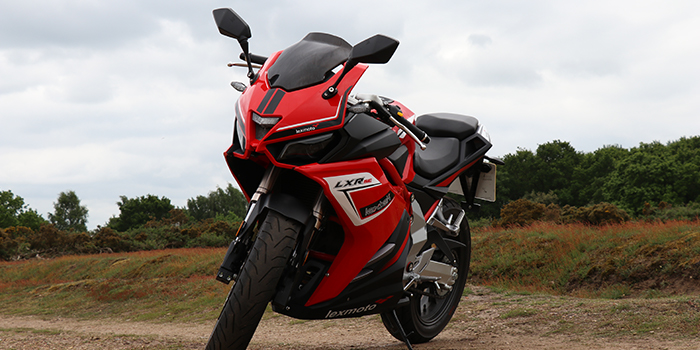 Is the LXR 125 SE Good for a Learner?
This LXR 125 SE is set perfectly as an introduction to two wheels. Although this 125cc bike screams big bike in most categories other than the engine. You get the upside-down forks as mentioned, but also full-size front and rear wheels, twin disc brakes at the front (single at rear) and generally what seems to be a bigger bike frame. This does contribute to the fact that the bike weighs 167kg out of the box, which is a bit heavier than it's rivals but does arguably offer more than its rivals in OEM parts at the same time. Another huge positive (to me at least) is the exhaust note and how the bike sounds. Breathtaking in all honesty, a massive surprise to hear such a healthy roar coming out of the stock exhaust - I assumed as a 125cc with stock exhaust it would be like blowing raspberries through a tin can, but not at all! Akrapovic move over…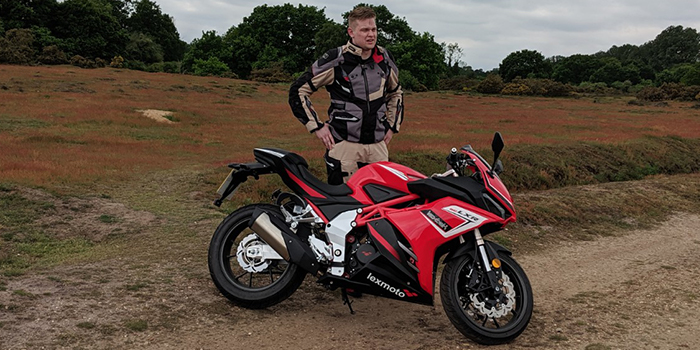 Reliability and Dependability
We only spent the two weeks with the LXR 125 SE, so reliability over the long term is still to be seen. Although there was literally no hiccups at all, no missed gears and it was reliable as anything. Even though Chinese bikes take a lot of stick in the market, I see no reason for the LXR SE to be a reliable runner with regular care and keeping on top of your maintenance intervals. Great to know that Lexmoto have parts available online as well, so whether you need a new piston, replacement mirror or side panel, they have it all available! I'd say you could buy and build the bike in pieces over 250 magazine issues, but I'm not sure that's entirely possible.
So to sum up, the LXR 125 SE will have to be at the top of many wishlists for anyone looking at a 125cc sportsbike – in fact if you're 17 and fresh on a CBT, but ready to take riding seriously and will be looking at further testing - this is a big bike for the learner legal market, and a perfect stepping stone to get you ready for your A2 or full bike licence. The only thing that's not big about this bike is the price - £2499.99!
Did I mention it comes with 2 years parts and labour warranty from brand new? As well as 1 year of breakdown cover?
LXR 125 SE Specs:
| | |
| --- | --- |
| Model Code | SY125-10-SE |
| Fuel Capacity | 13.5 litres |
| Max Speed | 70 mph / 110 kph |
| Max Power | 12.1bhp / 9kw @ 9500 |
| Engine | Single cylinder, 4-stroke, water-cooled |
| Start Type | Electric Start |
| Front & Rear Brakes | Hydraulic discs - Twin front, single rear |
| Front Suspension | Upside-Down-Forks (USD) |
| Rear Suspension | Mono shock absorber |
| Seat Height | 800mm |
| Wheelbase | 1420mm |
| Wet Weight | 167kg |
| Speedo | Digital |
| Stand | Side stand |
| Warranty | 2 years Parts & Labour |
| Price (correct at time of article) | £2499.99 |