The Xciting S 400i has a bold name, but can this maxi scooter live up to the name?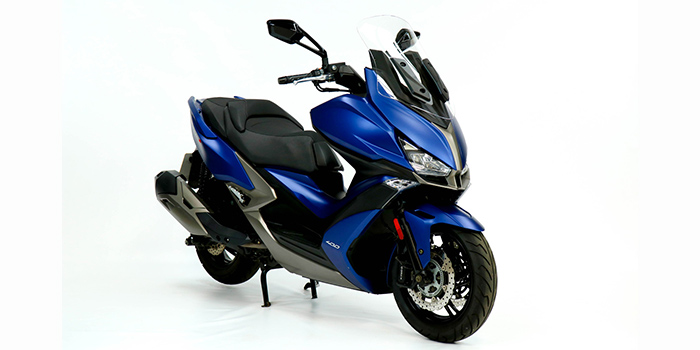 The Underdog tourer
We first got to set our eyes on the Kymco Xciting S 400i at Motorcycle Live in November, at this stage although it looked fantastic it does become quite difficult to overly distinguish what make the Xciting different from the many other maxi-scooters on the market - that to be honest look quite similar.
In June we were fortunate to get our hands on a few Kymco's to test and one of those was the Xciting S 400i. First impressions, it still looks awesome for a maxi and the blue is an absolute stunning colour, with the shape of the bike it really does look rather nice. I was shown around the scoot and how everything worked, which all seemed pretty straight forward. As soon as I could though I got my Oxford gear on and took it out for a spin.
I instantly felt at ease and truly comfortable on the Xciting something I am sure to mention a few times in this blog, the ride was incredibly smooth and the 400cc engine has enough power for decent overtakes too. Alex testing the Like 125 at the same time was unsurprisingly left behind. Some might think a 400 is too small for touring, with the Xciting I am not really sure that is true.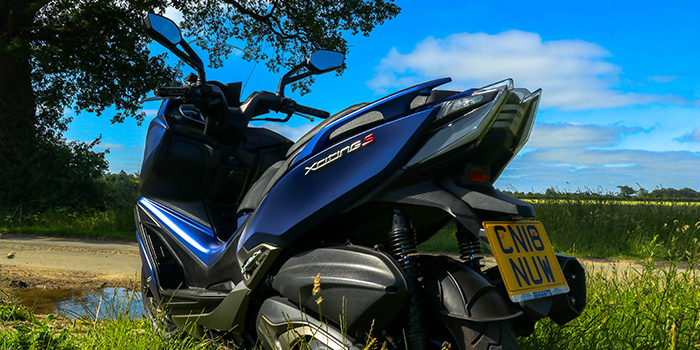 Blissful Comfort
There really aren't many scooters or motorcycles I rate at the blissful comfort level, the Xciting however, I do. It isn't just initial comfort that clears off after a while to leave a numb bum, it for me is comfortable for longer journeys too. Your arms and legs are good and dandy too, the overall riding experience is a rather relaxed one, one that touring on would be an absolute dream. The suspension doesn't make a crater disappear however, it does do a great job of absorbing most of the lumps and bump UK roads have to offer. It would really lend itself to be a great commuter too.
Although, it's not terribly light it isn't over the top heavy either just shy of 200kg, so when it comes to moving it about manually it isn't that bad at all. On the road steering just flows nicely, thanks to that low centre of gravity the weight seemingly disappears and it leaves a really enjoyable riding experience, hello open road! The Xciting just really makes you want to take the long way home every time.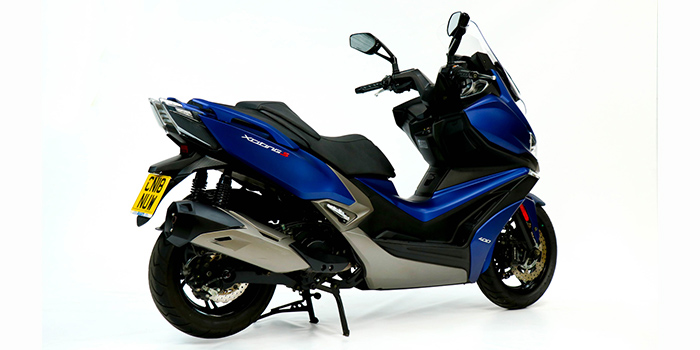 Controls
All the controls seem really great quality, the plastics feel solid too, no concerns here. The position of controls seem perfect to me and all in the right place. Kymco have definitely designed this scooter with comfort in mind with that armchair like comfort, the positioning of everything has been thought about to make sure it all goes smoothly as possible and nicely placed and you can really tell when riding the Xciting.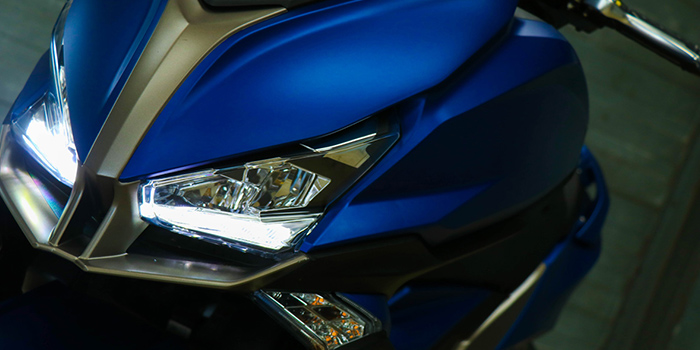 Engine
So when it comes to maxi scooters 400cc is smack bang in the middle weight category. Go bigger and you trend to be aiming at flagship scooters that tend to get packed with tech and the price suddenly jumps, go for smaller and you'll lack that certain bit of oomph, so overall 400cc is a great engine size maxi-scooter to tackle everything you could have in mind for it. Easy to commute and light enough to filter with ease, yet enough power for riding on national speed limit, overtakes and some touring if that is your cup of tea!
The 400cc, liquid cooled, single cylinder, 4 valve engine in the Xciting whacks out a respectable 35.5BHP and just over 28ft lbs of torque. Which means you have plenty of power instantly available, so decent acceleration, overtakes are fast and easy – no concern of cringey slow overtakes here. The Xciting would easily get above 70mph, in fact I would guess it would top out around the 100mph mark.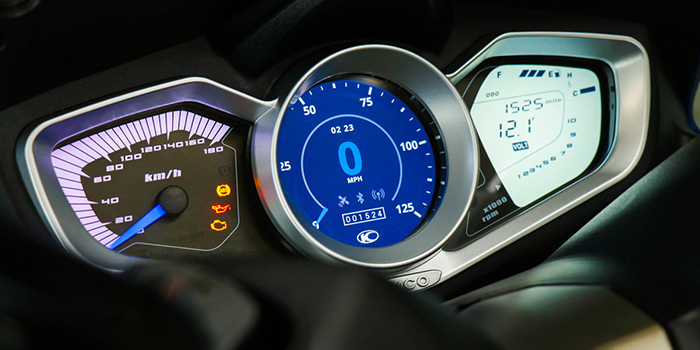 Noodoe Digital Dash
Ever increasingly in the Kymco range we are seeing the rather cool Noodoe system installed as standard and that is the case on the Xciting. The Noodoe system and dash looks really good quality, and the fonts are easy to see and read on the display in all conditions from dark at night to bright sunshine, the dash always seemed really easy to see. Now the Noodoe system itself is a rather cool piece of kit, ok it does have some novelty aspects such as the abilities to have photos and customisable clocks faces (still pretty cool to brag about with mates), but the noodoe system also has the great digital features we are seeing a lot with bikes nowadays such as GPS navigation and text message display so all in all, there are some really nice features that give the Xciting a premium feel to it.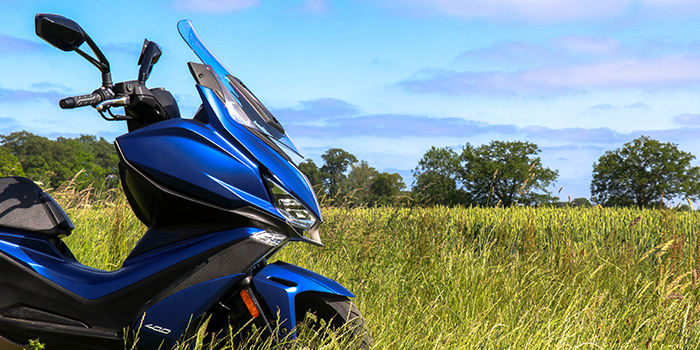 Price
When it comes to price you'll find the Xciting S 400i starting from £5,599.00, which when you compare it against competitors in this category is very competitive. You'd imagine with it being a Kymco scooter that depreciation shouldn't be too bad on a scooter of this quality if it ever came to selling it.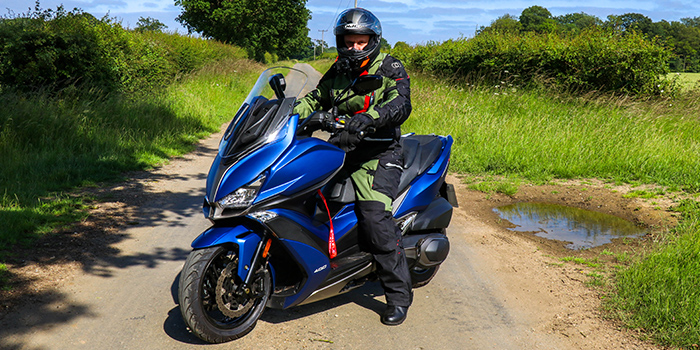 On the road
As you'll probably already know if you've read this far is that I found the Xciting to be extremely comfortable not just that seat, but the suspension does a great job and really provides a decent smooth ride. The engine is a perfect size for a maxi scooter, loads of confidence for higher speed roads and overtakes, yet lovely and smooth for slow speed too.
I am a big fan of the seating position on a maxi-scooter, nice and high up, good visibility while your body is nice and comfortable, nothing is strained and that is exactly the case with the Xciting – riding it is a joyful experience.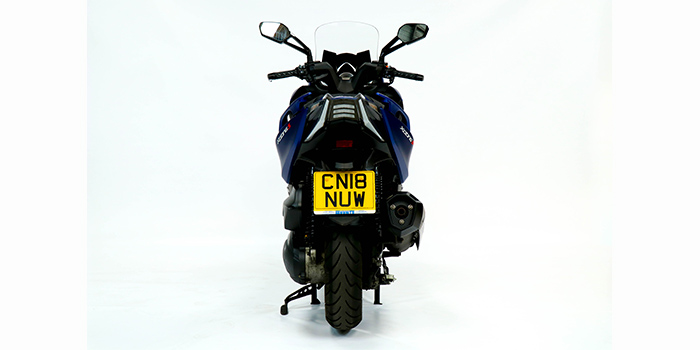 A bit about Kymco
If you are not aware of the Kymco brand lineage then it might suddenly have some false preconceptions, however, upon looking at Kymco's history and the quality of work they carry out you'll instantly be reassured – they are a quality manufacturer.
Kymco was founded after a split from Honda in the 60s and have since become the fifth largest scooter manufacturer worldwide. Kymco in recent years have also worked with the likes of BMW providing the engines for the C series maxi-scooters, they also produce the J125 and J300 scooters for Kawasaki. The Taiwanese firm have a history and reputation of manufacturing high quality scooters and bikes. In the UK they are imported and backed by the very successful Kymco Healthcare Ltd and they also have an ever increasing dealer network.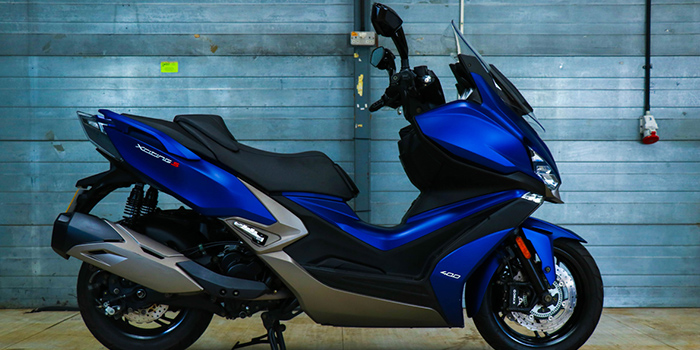 Summary
I truly loved my time on the Xciting S 400i, it ticks so many boxes for me! My only two real criticisms (and they are incredibly minor) is the standard exhausts you get (now this applies to most scooters and maxi's to be honest) though not bad they are pretty drab and dull, a stainless steel exhaust would just finish it off so nicely! Secondly, again not make or break it would have been great to have an electric adjustable windscreen but this is me being really picky neither of these detract at all from how much I enjoyed riding the Xciting.
All in all the Xciting has a tremendous amount to offer and at a great competitive price. I loved the comfort and ride and the spec is impressive too. Kymco have themselves a great mid-range maxi-scooter here - it is a scooter I'd recommend to test ride if you are interested in maxi-scooters, I think you'll be impressed!
| | |
| --- | --- |
| Model Name | Xciting S 400i ABS |
| Fuel Capacity | 12.5 litres |
| Max Speed | 100mph (estimate) |
| Engine | 400cc single cylinder, liquid cooled, 4 stroke |
| Start Type | Electric |
| Front Brake | Twin 280mm discs |
| Rear Brake | 240mm single disc (Bosch ABS) |
| Front Suspension | Telescopic forks |
| Rear Suspension | Twin shocks absorbers (5-step adjustment) |
| Seat Height | 810mm |
| Wheelbase | 1570mm |
| Weight | 189kg (dry) |
| Speedo | Digital – Noodoe System |
| Stand | Side & centre |
| Warranty | 2 years manufacturer |
| Price (correct at time of article) | £5,599.00 |
| Kymco website | https://www.kymco.co.uk/kymco/scooters/xciting-s-400i-abs |
Zontes T310 Adventure Bike Insurance
Looking to insure a Zontes T310? Lexham's best deals are direct!