Adventure bikes have been growing in popularity for a few years now and have taken up prominent spots on the UK's top seller lists. I think it's the mix of versatility, fun-factor and style that these bikes provide that make them so appealing, and they're certainly great when it comes to dealing with the British weather!
There is a downside to these exciting bikes however and that's the hefty price tag. Not everyone is going to be able to afford 14 grand or more for the latest top spec models. Fortunately manufacturers are recognising this and more affordable options are steadily emerging.
I've put this list together of a few great choices for adventure bikes that won't cost an arm and a leg, all of them can be purchased brand new for under £10,000. Let's get into it!
---
BMW F 850 GS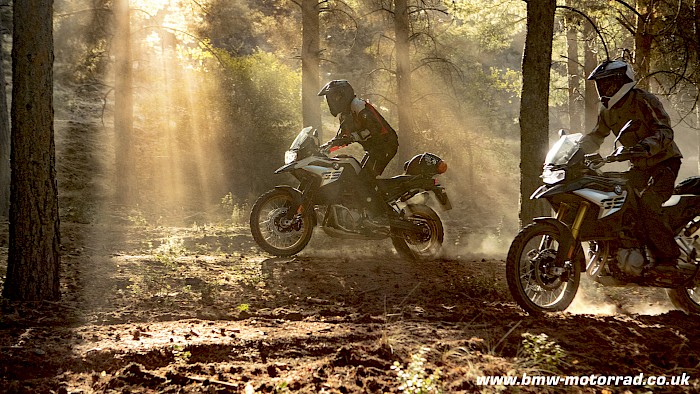 BMW's mighty R 1250 GS has been hugely popular in the UK for a number of years now but one thing that could be a big obstacle to budding adventurers is the price, £13,415 for the base model! Fortunately BMW offer an excellent alternative - the F 850 GS.
The BMW F 850 GS offers the same versatility as its bigger brother, equally at home commuting and touring as it is traversing the green lanes. Powered by an 853cc in-line twin with 95 hp output, this smaller GS still offers very impressive performance, especially when you take into account the significantly lighter kerb weight of 229 kg.
The standard model starts at £9,875 and comes with ABS, ASC (Automatic Stability Control), multiple ride modes and an on-board computer! A low seat option is also available, bringing the seat height down to 835mm, with a suspension lowering kit able to get it down to 815mm, a great option for shorter riders who may have trouble with the typically high ride height of adventure bikes.
A Sport version is also available with all the bells and whistles like heated grips, dynamic traction control and suspension adjustment but that will set you back an extra £880 pushing it just over the £10,000 mark but still, the option is there.
Engine Type: Water-cooled 4-stroke in-line two-cylinder engine, four valves per cylinder
Capacity: 853 cc
Max Output: 70 kW / 95 hp
Max torque: 92 Nm at 6,250 rpm
Front Suspension: Upside-down telescopic fork, Ø 43 mm
Rear Suspension: Cast aluminium dual swing arm, central WAD spring strut, spring pre-load hydraulically adjustable, rebound damping adjustable
Seat height: 860 mm (optional low seat and suspension available)
Weight: 229kg (fully fuelled)
Fuel Tank Capacity: 15 L
---
Honda CB500X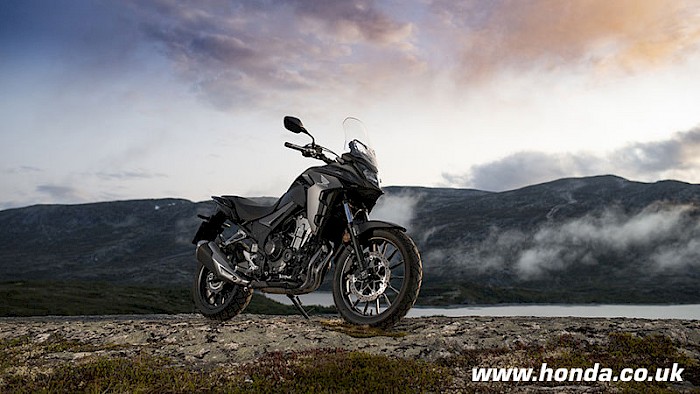 The CB500X is a great budget offering from Honda, recently upgraded for 2019 and fully A2 compliant, making it one of the most accessible adventure styled bikes out there.
The performance won't match the large adventure bikes but the CB500X is no slouch either, Honda have ensured its 471 cc two cylinder engine has plenty of power between 3-7000rpm giving it a surprising amount of pull. They've also included a slipper clutch and pre-load adjustable suspension which are nice touches.
Like most adventure bikes, this one is a great all rounder able to comfortably tour or commute as well as perform on gravel trails, although it may struggle on more challenging terrain.
For £6,069 there is a lot to like about the Honda CB500X and it could make for a great starter option.
Engine Type: Liquid-cooled 4-stroke DOHC parallel twin
Capacity: 471cc
Max Output: 35kW / 47hp
Max torque: 43Nm / 6500rpm
Front suspension: Conventional Telescopic, 41mm, pre-load adjustable
Rear suspension: Prolink mono with 5 stage Pre-load adjuster, steel square pipe swingarm
Seat Height: 830mm
Weight: 197kg (full fuelled)
Fuel Tank Capacity: 17.7 L
---
Ducati Scrambler Desert Sled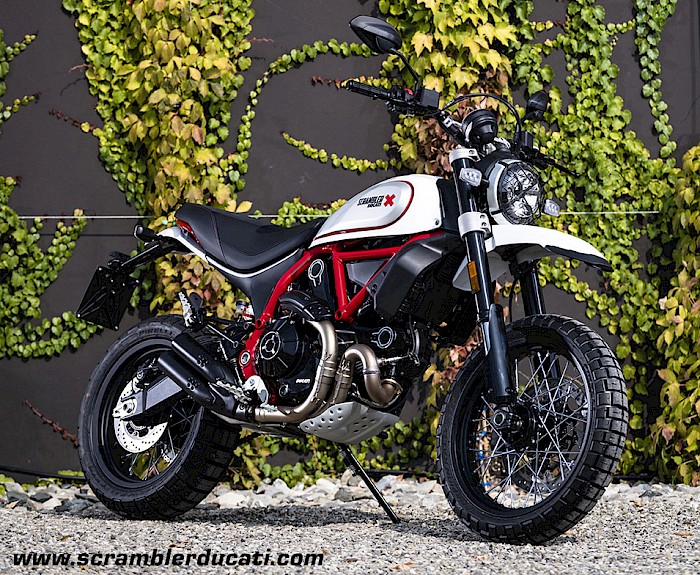 Slightly different to the typical modern adventure bikes, the Desert Sled pays homage to the off-road bikes of the 60s and 70s.
Ducati have a huge range of bikes under the Scrambler banner now and it's proved to be hugely popular as one of the leading models in the trendy retro revival craze that has emerged over the past few years.
Like the other Scrambler models the Desert Sled has a cool stripped down retro design and excels at cruising round town, however it has a few key differences to allow it to go adventuring off the beaten track. The increased ground clearance and adjusted suspension are designed for handling rough terrain and the frame has been reinforced for larger impacts. On top of that the switchable ABS, knobbly tyres, protective plates and large mudguards are all aimed at making this retro machine a true adventure bike.
The Ducati Scrambler Desert Sled comes in right at the top of this budget range at £9,995 and assuming you have the cash, it's non-intimidating character makes it a good option for newer riders looking for a more versatile bike.
Engine Type: L-Twin, Desmodromic distribution, 2 valves per cylinder, air cooled
Capacity: 803cc
Max Output: 54kW / 73hp
Max torque: 67Nm / 5750rpm
Front suspension: 46mm fully adjustable usd forks
Rear suspension: Kayaba rear shock, pre-load and rebound adjustable. Aluminium double-sided swingarm
Seat Height: 860mm (optional low seat available)
Weight: 209kg (fully fuelled)
Fuel Tank Capacity: 13.5 L
---
Triumph Street Scrambler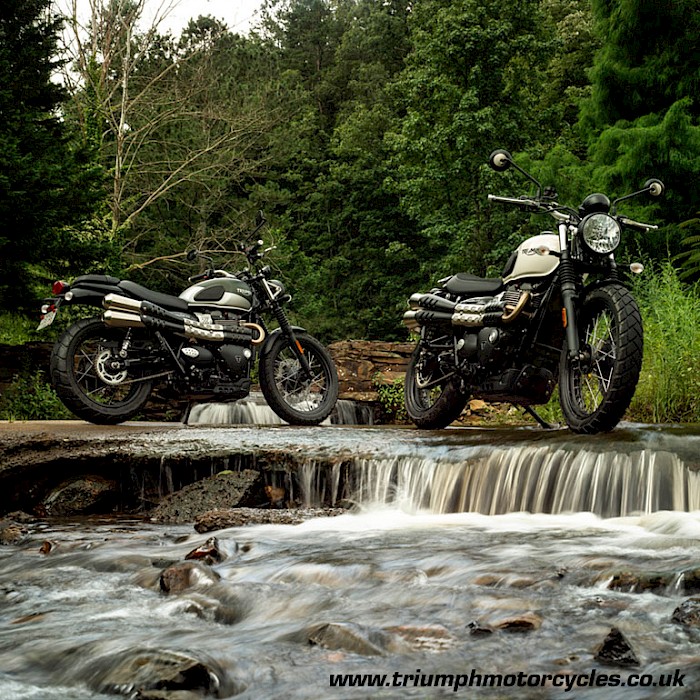 Perhaps Ducati's main rival in the retro market is Triumph, one of the original scrambler pioneers, whose own Street Scrambler has been freshly updated for 2019.
The first thing to say about the Triumph Street Scrambler is that if you're a fan of retro styling, this is one of the best looking bikes on the market. The 900cc twin that powers it has been given an extra 10hp this year, upping it to 64 hp with increased torque at low rev ranges to create a more responsive ride with a lot of fun-factor.
Once again you end up with a real all-rounder that can cruise cities and cross trails in style. The Street Scrambler comes with multiple ride modes (including an off-road mode), switchable traction control and ABS as well as high quality components like the new Brembo front brakes.
The Triumph Street Scrambler starts at £9,300 which is a great price considering the amount of high spec features included. The relatively low seat height makes it a good choice for shorter riders too.
Engine Type: Liquid cooled, 8 valve, SOHC, 270° crank angle parallel twin
Capacity: 900cc
Max Output: 47.8kW / 64.1hp
Max torque: 80Nm / 3200rpm
Front suspension: KYB 41mm forks, non-adjustable with cartridge damping, 120mm travel
Rear suspension: KYB twin RSUs, with pre-load adjustment, 120mm rear wheel travel
Seat Height: 790mm
Weight: 203kg (empty)
Fuel Tank Capacity: 12 L
---
Royal Enfield Himalayan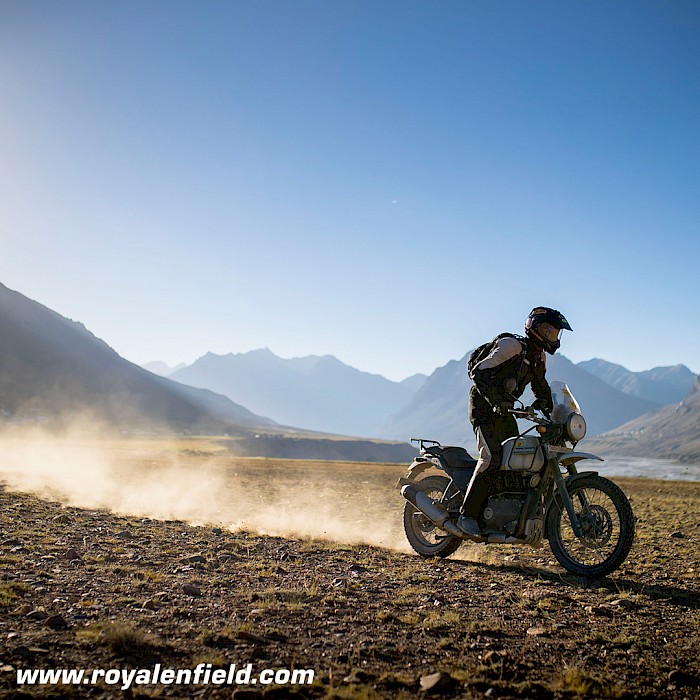 The Himalayan follows suit with Royal Enfield's traditional offerings - a bike that is stripped down to the basics and offered at a price far below it's competitors.
When it comes to versatility the Himalayan has less to offer than the other bikes on this list, its A2 compliant 410cc engine puts out just 24.5 hp. It can reach 75mph speeds but it won't get there as fast or smoothly as the other bikes here. However, where it shines is in the adventuring department. As Royal Enfield's tag line suggests - the Himalayan is built for all roads and no roads, this is a bike that can handle any muddy green lane you want to throw at it.
The real selling point of this motorcycle is the value for money. The Himalayan is priced at just £3,999 which is an absolute steal for what you are getting. If you are looking for a bit of fun on a tight budget this could be for you.
Engine Type: Single cylinder, 4 stroke, air-cooled, SOHC, fuel injection
Capacity: 411cc
Max Output: 18.3kW / 24.5hp
Max torque: 32Nm / 4500rpm
Front suspension: Telescopic, 41 mm forks, 200 mm travel
Rear suspension: Monoshock with linkage, 180 mm wheel travel
Seat Height: 800mm
Weight: 194kg (fully fuelled)
Fuel Tank Capacity: 15 L
---
Yamaha Ténéré 700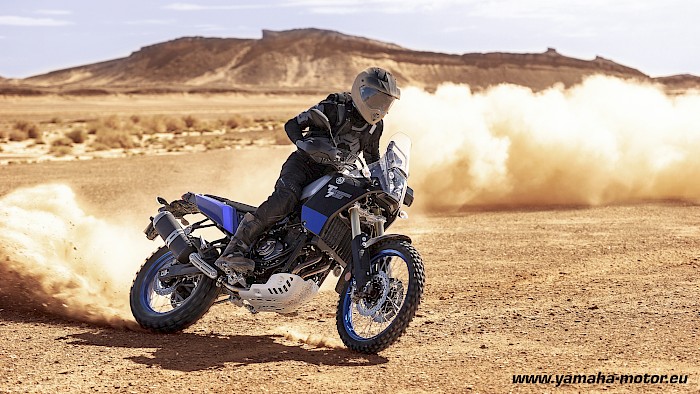 We've covered 5 motorcycles now but there is one final bike I feel needs a mention here and that's the Yamaha Ténéré 700. This is an adventure bike that looks very promising and is due to be released later this year. Yamaha are now taking advance orders and the price starts at £8,399 which fits in this list nicely.
We know it will be based on the MT-07 but heavily modified for adventure purposes and is well worth keeping an eye on. I will update this blog as it gets nearer to release with all the details.
---
That's all for now. If you've got an adventure bike or are planning to get one, we're adventure bike insurance specialists - so give us a try for your insurance quote. You can either call us direct or quote online for your best deal!