Long summer days should be about making the most of your time with a bike – ideally with a long summer ride. But where? There's brilliant riding all around us, from Scandinavia to the Mediterranean and from the north of Scotland to the west of Ireland.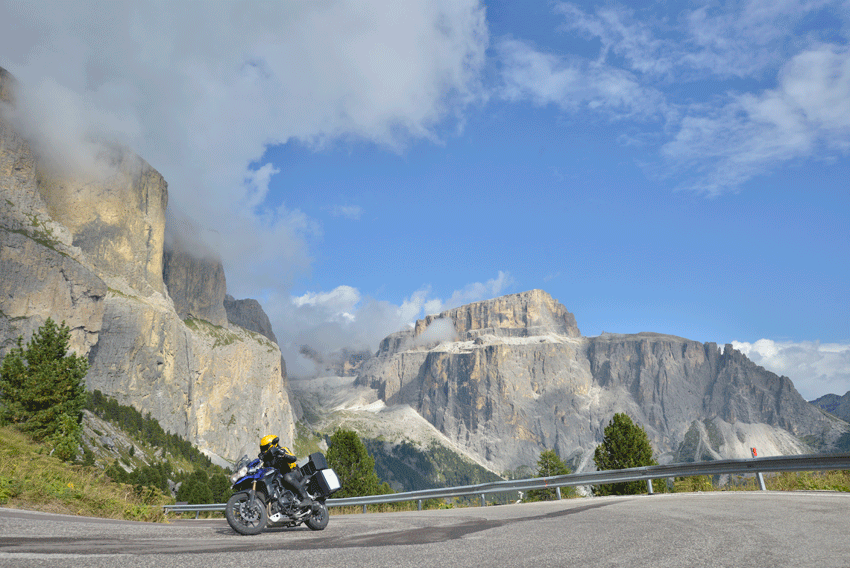 © Mark Manning/Bauer - Pics courtesy RiDE magazine
So where do you start? We asked motorcycle tester, travel writer and route expert Simon Weir to pick the ten greatest touring rides in Europe. With rides ranging from half a day to several weeks long, here's his pick of Europe's classic biking routes.
---
1. The road to Nordkapp
Europe's most-northerly point is a magnet for adventurous riders
Vast mountains, deep fjords, the salt-scented breeze of the ocean and endless sunshine – there's a wild romance to touring Norway in summer. The landscape is genuinely, humblingly majestic and the riding is equally spectacular. For a long-distance trip that's truly epic, head to Europe's most northly point – inside the Arctic Circle, in the land of the midnight sun.
There's an old joke that Norway has four seasons: June, July, August and winter… That means there's only a limited window for getting to the most northerly point of the mainland by bike. And even in summer, the weather can throw anything at you as you head north – from brilliant, endless sunny days to stormy rain and even snow. But there's absolutely no doubt that it's worth it. The riding, the landscape and the sense of achievement of conquering this huge ride are simply on another scale to anything you can get anywhere else in Europe. It's challenging and rewarding in a way only the greatest adventures can match.
How to do it: Getting to Nordkapp is easier than you might think – if you have the time. The first challenge is getting to Norway, which is a fairly substantial ride from the UK. Nordkapp is then the best part of 1800 miles from Oslo – with hours to be spent on ferries. Plus of course once you get there, you need to get back. A round-trip from the UK will take at least two weeks – three if you don't want to rush it.
Distance: 3500 miles Time: 5-9 days (2-3 weeks round trip from UK) When to go: June-to-August.
---
2. The Route des Grandes Alpes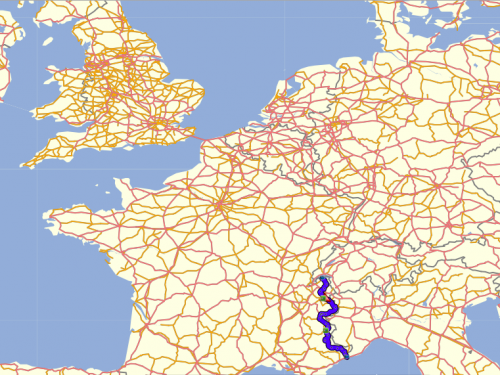 The greatest passes in the French alps, strung together for your pleasure
From the shores of Lake Geneva to the sun-kissed coast of the Mediterranean at Menton, the Route des Grandes Alpes delivers more than 400 miles of magical mountain riding. That's no accident, as the route was created to attract tourists to the mountains. It carves its way through some of the most spectacular landscapes in Europe, linking sleepy villages and charming towns with some truly astonishing riding.
The classic route strings together 15 memorable passes, including Europe's highest pass – the 2770m Col de l'Iseran. A lot of riders will deviate from the classic route (over Col de la Cayolle and Col de Valberg) to ride Col de la Bonnette, riding up to the monument at Cime de la Bonnette – the 2802m highest non-dead-end road in Europe. With so many great roads in the French Alps, it's possible to do several variations on the route, making the Route des Grande Alpes a trip that can be done again and again without ever losing its impact.
How to do it: The highest roads may not open until mid-June. It's best to avoid August, the peak of French-national-holiday season, when it's very hot and very busy. Go in late June, July or September, when the weather is better and the roads are quieter. The route can be done in two full days, but it's more relaxing over two-and-a-half or three days.
Distance: 425 miles Time: 2-3 days (6-8 days round trip from UK) When to go: Mid-June to early October.
---
3. The Camino de Santiago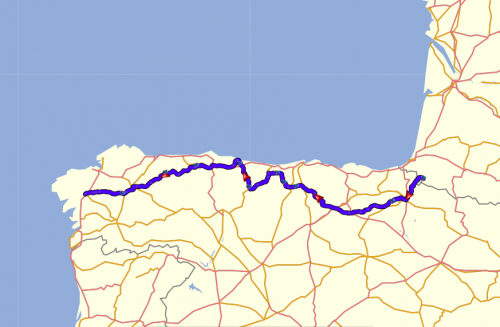 The pilgrimage through Northern Spain's Picos de Europa mountains is miraculously great
Santiago da Compostela in the far north-west of Spain has been attracting pilgrims for centuries. Those going for religious reasons walk the Camino, but for bikers seeking an amazing ride, the roads that follow the pilgrimage route are a revelation.
The Picos de Europa mountains are simply fabulous: grey limestone peaks like Italy's Dolomites, with lush green slopes and cool, shady valleys. There are miles of twisty, flowing roads with staggeringly little traffic and, normally, immaculate surfaces.
The winds that blow in from the Atlantic Ocean do mean there is a chance of showers, so pack waterproofs, but 90% of the time the skies are clear and the days are hot. With historic towns to visit along the way, great food and amazing riding, Northern Spain is riding heaven.
How to do it: You can either ride across France or take a ferry to Bilbao or Santander to pick up the Camino. While the ride itself will take three days, it's more like a 10-day tour from the UK. Temperatures are most comfortable from April to late June or in September and October.
Distance: 630 miles Time: 2-3 days (6-10 days round trip from UK) When to go: April to mid-October.
---
4. The North Coast 500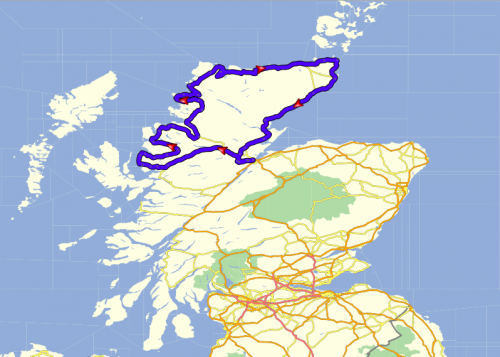 Scotland's rugged coastline delivers one of the greatest rides in Europe
Some great routes have their origins in the past: Route Napoleon traces the French dictator's return from exile; the Romans created Spain's Ruta de la Plata. Others are more modern… like Scotland's North Coast 500 – formally named and marketed only since 2015. Yet it's a huge success for one clear reason: it's a brilliant ride.
Of course, bikers have been enjoying the Scottish west and north coasts for years. The combination of wide-open spaces, fabulous corners and a lack of traffic makes it outstanding motorcycling country. The success of the North Coast 500 marketing machine has seen a sharp increase in traffic, but that doesn't affect the brilliance of the riding.
The circular route from Inverness is great in either direction, though is perhaps best ridden clockwise, to start with the demanding west coast and finish with the easier east. Experienced high-mile riders can complete the route in a day, but it's far better at a more relaxed pace over two or even three days.
How to do it: Accommodation can fill up fast, so if you're not camping, book early. Always pack waterproofs, just in case – and take midge spray in summer. Be patient on single-lane stretches and don't assume camper vans will stop in the passing places (as they should). For more info see the official website.
Distance: 500 miles Time: 1-3 days (plus time to reach Inverness) When to go: March to October.
---
5. The Grande Strada di Dolomiti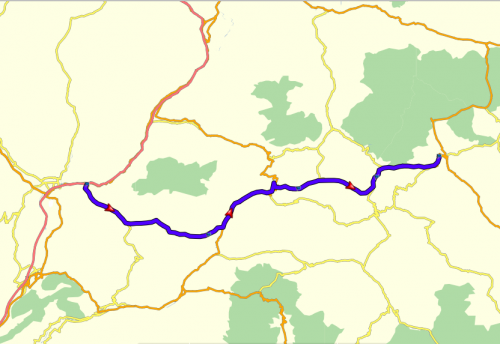 The great Dolomite road leads to the heart of Europe's most beautiful mountains
It's almost cruel, the way the Dolomites deliver breath-taking views. How can any other biking region hope to compete? It's not that you'll go to these northern Italian mountains and eventually find the one amazing pass you swear is the best you've ever ridden – with brilliant bends and a friendly coffee stop at the top, set against a sublime backdrop of craggy grey peaks, green forested slopes and an achingly perfect blue sky. It's that every pass is like that…
The Grande Strada di Dolomiti carves its way into this magical landscape, clambering over three great passes: Costalunga; Pordoi (the highest in the Dolomites); and Falzarego. That trio would be enough to make this a must-ride route… but when it's surrounded by so many other amazing roads, it becomes unmissable. The Great Dolomite Road just more than just a classic biking route: it's the gateway to a world of riding wonders.
How to do it: The Dolomite passes are normally open by the end of May. August is the busiest time, with lots of holidaymakers, so September is the best time to tour. Just be aware there are plenty of speed cameras in villages.
Distance: 70 miles Time: 1/2 day (6-9 day round trip from the UK) When to go: late May to October.
---
6. The Deutsche Alpenstrasse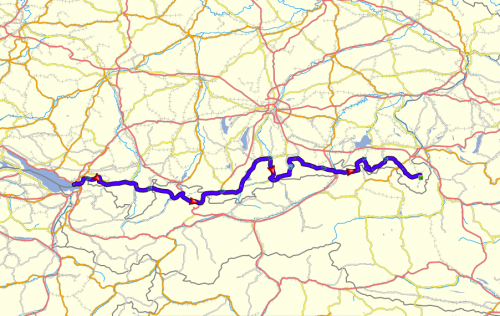 Lakes, mountains, fairy-tale castles… this road through Germany's southern peaks has it all
Germany is a wonderful land for the touring motorcyclist. Petrol, food and accommodation are easy to find, the people are friendly, the summers are hot and the roads are simply brilliant – especially in the Tyrol, on Bavaria's southern border. This is rural, verdant Germany at its bucolic best, with chocolate-box villages of wooden chalets nestled at the feet of forested mountains.
From Lindau on Lake Constance to Berchtesgaden in the furthest south-east corner of Germany, the German Alpine Road – the Deutsche Alpenstrasse – joins all the most scenic bits together like a 300-mile study in how to build the perfect touring road. And while technically the Neuschwanstein, the huge castle that inspired the Disney castle, isn't on the DAS, it's such a short detour that an afternoon spent exploring it should be mandatory.
That's why we love the Deutsche Alpentrasse: it has something for everyone. Whether your priority is amazing bends, spectacular views, fascinating places to visit or just welcoming stops with great facilities, this road delivers it. Vorsprung durch touring…
How to do it: One of the simplest European trips you could ever plan. It's easy to reach, with good hotels all along the route and no funny local laws to catch you out. High summer can be very hot, but early summer and September are glorious.
Distance: 290 miles Time: 1-2 day (6-9 day round trip from the UK) When to go: May to early October.
---
7. The Wild Atlantic Way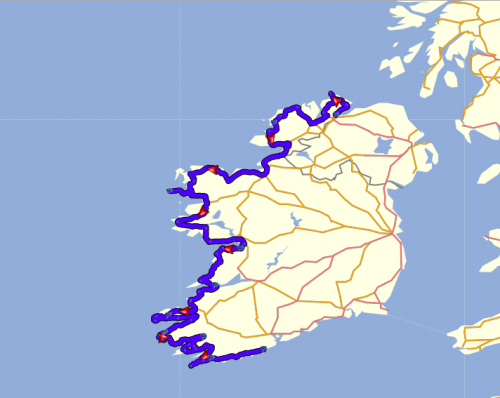 Discover the romance of Ireland's west coast on this majestic touring route
Some things just can't be rushed if they're to be done properly. Like pouring a pint of Irish stout: it can't be done in one go and needs time to settle. The is true of riding the Wild Atlantic Way along the west coast of Ireland: you can't rush it or do it in one go – it's best to stop and settle along the way.
From Londonderry in the north to Kinsale in the south, this is a long miles of mixed and often spectacular riding. Another route generated to attract tourists, it's a brilliant ride with loads to see along the way – supported by a decent official website.
The big attraction is the riding: so many miles of great roads, with some spectacular views along the way. Don't worry about the weather, but do pack the waterproofs. Don't worry about following every possible detour and spur off the route either: just follow the brown Wild Atlantic Way signs and have a glorious ride. Just remember not to rush it.
How to do it: Allow a minimum of four days. There are enough potential detours to nearly double the length of the route, so you need to decide which to include and ride your personal version of the Wild Atlantic Way. Take a puncture-repair kit.
Distance: 800-1500 miles Time: 4-6 day (9-12 day round trip) When to go: May to early October.
LINK FOR PART ONE OF THE ROUTE
LINK FOR PART TWO OF THE ROUTE
---
8. Route Napoleon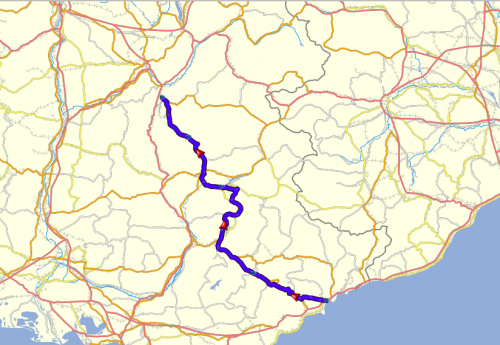 Ride one of France's most iconic routes: a road fit for an emperor
As he stood on the beach at Cagnes-sur-Mer, Napoleon Bonaparte could have had no idea how his return from exile in Elba would ultimately delight future generations of motorcyclists. Yet the route the French emperor followed to Grenoble has become one of the most famous biking routes in Europe – because it is a simply cracking ride.
This is not the narrow roads, fiddly hairpins and belly-wobbling drops of the high mountains. This is broad, smooth, flowing tarmac scrolling through the foothills of the Alps, passing through pleasant villages and a couple of small towns. It's a road that works for cruising comfortably or having fun. It has every kind of corner – including its share of hairpins – and spectacular views.
The stretch between Gap and Digne-les-Bains does let the side down slightly, so most riders follow the D900 instead. Route Napoleon links well with other classic rides (including the Route des Grandes Alpes and the Gorges du Verdon) making it a fantastic road to build a tour around.
How to do it: You'll need a Crit'Air sticker for Grenoble from the French government's website. August can be busy, so it's best to ride from April to July or in September and October. Accommodation on the Riviera is expensive, so consider staying inland rather than at the end of the route.
Distance: 200 miles Time: 1 day (5-9 day round trip from the UK) When to go: May to early October.
---
9. Black Forest High Road
Discover brilliant bends, gorgeous gateaux and the world's largest cuckoo clock
Germany's Black Forest holds some simply staggering roads, but there's one that draws riders like honey draws wasps: the B500. This epic road runs from Baden Baden at the northern end of the mountains to Waldshut in the south. Splitting hairs, only the northern stretch that runs as far as Freudenstadt is the Schwarzwaldhochstrasse – the Black Forest High Road. But the whole B500 is so good, it's worth riding every mile.
To an extent, the B500 has become a victim of its own success: the northern end is now mostly under a 70kph limit, though that doesn't really detract from the pleasure of carving round the corners. And the Black Forest has plenty of other equally twisty, equally rewarding roads to ride. There's also plenty to see – from the lakes at the southern end of the forest and the world's largest cuckoo clock at Triberg.
How to do it: The Black Forest is easily reached from the UK. It's a popular destination for outdoors activities, so watch out for walkers and cyclists. It can get busy at the weekend – especially in peak summer periods – so it pays to ride the B500 midweek.
Distance: 140 miles Time: 1 day (5-7 day round trip from the UK) When to go: Late April to October.
---
10. Land's End to John o'Groats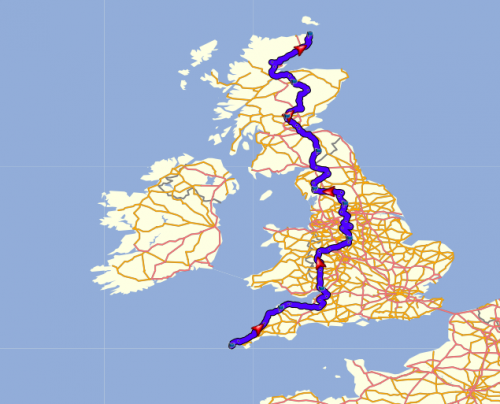 Britain's ultimate long-distance ride can be a brilliant basis for a touring trip
It's the staple of high-mile challenges, whether on foot, on a moped or just on a motorcycle in a single day: riding from one extreme end on mainland Britain to the other. Those trying to do it as quickly as possible end up stuck on motorways for most of it, but it doesn't have to be that way. There's so much great riding between those two tips of the country that it's almost criminal to skip it.
Going from one end of the country to the other is the perfect excuse to see all the best it has to offer – depending on how long you give yourself. Even staying off motorways, it's possible to do the journey in less than 20 hours (from dawn to dusk on the longest day of the year). But it's far better to make a tour of it, take a few days and really discover the great riding England and Scotland have to offer. You could even detour into Wales, if you liked…
How to do it: If aiming for a single-day run, it's better to go from John o'Groats to Land's End, as moving east to west maximises the amount of daylight. If taking several days over the trip, the trick is to avoid getting drawn into the city belt that arcs from Liverpool to Leeds – that can mean either a long detour down the east coast or using motorway to get past it.
Distance: 1100 miles Time: 1-4 days (plus time to reach start point/get home from end point) When to go: April to October.
LINK FOR ROUTE PREVIEW PART ONE