The Zontes T310 was released earlier this year giving people the chance of owning a new adventure bike with plenty of electronics for just £3,999 brand new.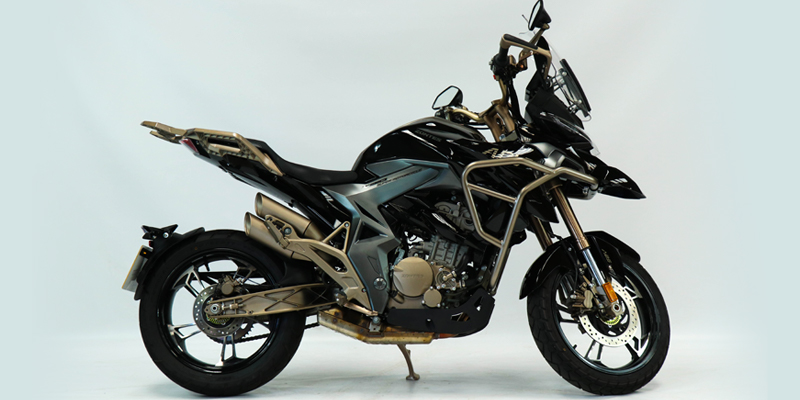 The adventure bike market is one that remains healthy in the UK, and we are starting to see a lot more smaller capacity adventure bikes enter this market recently.
We got to see the three new Zontes A2 friendly models hours after reaching the UK as they were on display at the Motorcycle Trade EXPO in January, one of these being the T310 adventure bike. Roll onto late July and I dropped into our local Zontes dealer, Moonraker Motorcycles of Norwich. Greeted by staff and shown around the demo I was pleasantly reminded just how good quality the T310 looked in person. The demo is black on graphite with all the awesome looking crashbars and matching metal works which come as standard. I geared up in my rather fitting Oxford Montreal adventure bike kit and clambered aboard. I did have an initial worry that the 840mm seat height was going to be a tad too tall for my mere 5' 6" frame, but this was instantly removed as I sat on the bike with both feet able to touch the ground comfortably. I started the motor, knocked it into first gear and away I went; to see what this budget Chinese adventure bike had to offer.
Electronic gadgetry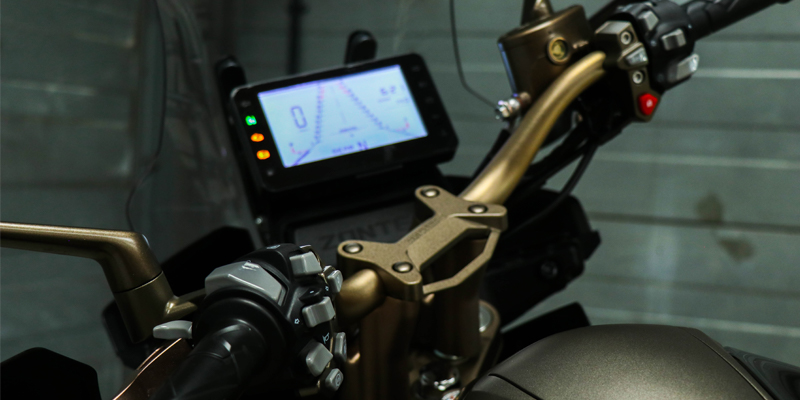 If you look or get shown around the T310 you instantly see the tech this bike has to offer, and although their offerings are not class leading, to have these all on a new motorcycle at £3,999 is pretty impressive, it is giving people of a smaller budget an option they didn't really have open before (although we are now seeing more emerge).
The T310 is keyless and has a decent transmission range of around 1.5-2meters which is just about right. Firstly, hit the lock/unlock button with the key nearby to ready the bike and disengage the steering lock. Hold the clutch in and hit the electric start button and the bike is brought to life instantly, to bring a halt to proceedings you actually use the kill switch, just make sure to flick it back ready for when you want to start it again. Walk away from the bike when parked up and it will detect the key is out of distance and turn the electronics off. To do things properly though when walking away turn the handles bars as you normally would and hit the lock button and it electronically puts the steering lock on – no problems at all – it gives a reassuring clonk as well so you know the steering lock has engaged.
When the bike has been unlocked, the TFT screen springs into life. It displays a nice amount of information especially useful for a newbie, so as well as the standard speedo and rev counter you also have decent displays such as gear indicator, fuel gauge and odometer. The screen for a TFT is admittedly quite basic, and in some light it was almost impossible to read actually what speed you are doing (the numbers are rather thin and the colour isn't so different from the background behind it) so this was a bit disappointing. Yes, you know roughly what speed you are doing, but always reassuring to glance down to confirm speed before going past a speed camera. Apart from this the screen is nice and large, quite bright too and I feel it has some nice information displays as I mentioned earlier – just basic but what do you expect as this price?
To continue the gadgetry of the bike there are further cool features, which are pretty impressive. The windscreen is adjustable at the push of the button which works rather nicely to get the screen exactly how you want it, there are many bikes well over £4k that have a manually adjustable screen so this is a really great feature to see from Zontes. Want to get to your fuel cap, hit the button on the switch gear and a rather fancy mechanism allows you access to the tank. Even the seat can be removed by the push of a button too. The battery is lithium and also has a handy remote charging port too! All in all when it comes to tech, what more can you ask for on a new bike at such a budget friendly £4k.

Adventurous looks
At a quick glance does the Zontes T310 look like it is a £4k bike… no, without knowing you'd look at this bike and you'd expect to invest around the £6k mark. The finish and attention to detail is impressive for a budget bike, this doesn't appear to have been whipped up from spare parts hanging around the warehouse, the T310 gives the impression that there has been an incredible amount of planning and design work gone into it, and the ride suggests this too.
A big winner for me was the extra metal work such as the crash bars, all fitting very well and matching colour perfectly, no different shades to be spotted here. The version we had was in black, and lets face it a black motorcycle always looks great and with the metal work it really does look the business. The matching stainless-steel exhaust looks great and is also cool touch, and after riding it around for two hours in the midst of a British heat wave at 35c, it was still not hot to touch, so pillions should ride without their leg being toasted. When it comes to exhaust notes, it doesn't sound too bad, though it is a single cylinder relatively small engine so don't go expecting it to sound like a beast - no big thumping notes here, but it is still pretty respectable none the less.
Zontes have put up more on the qualities stake too with aluminium swing arm, galvanised fuel tank and those awesome diamond cut alloys, which look fantastic!
There is a luggage mount too which is in perfect keeping with the style of the T310, so you can add some adventure panniers to give you plenty of storage – though obviously any storage will be at additional costs. You have a rather small glove box, which will fit small item/s this can be found just above the handlebars.
Controls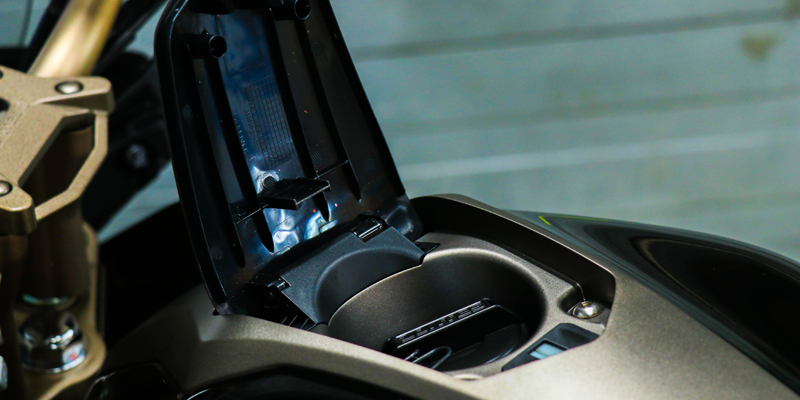 The switchgear all felt solid to touch and with backlighting also looked pretty cool! The additional buttons for the electronic offerings such as the fuel cap, adjustable windscreen, seat release are all nicely visible with icons that are easy to understand. Zontes have done things different with the indicator though, instead of the normal click in to cancel, on the T310 you push the selector back into the middle position – no clicking, which to be honest, barring two mistakes where I ended up indicating in the opposite direction I just turned, this wasn't really a problem, like most things you just get used or adjust to it and away you go.
Engine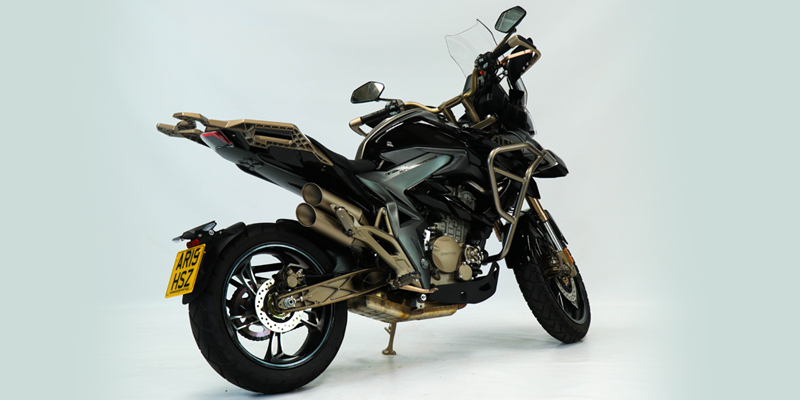 The T310 is powered by a 312cc single cylinder, four valve motor which for its engine class accelerates rather nicely! Getting up to 70mph happens rather quickly and I reckon this would be capable of achieving around 90mph. The acceleration is nice and smooth and the clutch is light as a feather so rapid gear changes on this is a delight and you build up speed well – so you are not going to cringe when you hit the faster roads – you'll be rather happy of what this 310 can do. I was surprised how well it handled the high speeds - it was nice and stable and the vibrations wasn't too bad either!
Price
So the Zontes T310 comes in at £3,999.99 with a 2 year warranty, that is a rather impressive price and will give people on a tighter budget the option of getting a A2 licence friendly adventure bike brand new with plenty of tech!

On the road
With the worries about the seat height instantly disappearing with my short legs making contact with mother earth easily, I started the T310 and got on my way – instantly realising yup this really is a lightweight adventure bike!
With that typical adventure bike seating position nice and upright, I set on my adventure test riding the T310. It is so light weighing in at 149kg (dry) but still feels nice and solid to ride and holds the road well providing that big bike feeling.
I was instantly at ease with the T310, and with Norwich being heavily congested during the 5pm rush hour we commenced with plenty of filtering and overtaking which the Zontes managed without a problem. There was one brief moment it couldn't find gear as traffic lights, but a brief small release of the clutch saw it fall into first and off we were again. The windscreen deflected the rush of wind well even at higher speeds.
For the normal UK roads, the 37mm USD front suspension does a more than adequate job, though not quite sure of their full off road potential to be honest – but that will be for somebody else to review!
With hydraulic discs at front and at the rear along with Bosch ABS, there is no sudden grasp on the brake lever in hope of finding more stopping power, the stock stopping power is as expected and there were no moments of concern at all.
The fuel tank is 15litres too which is a great size to have on this size bike, means you will get plenty of miles done before having to stop for refuelling.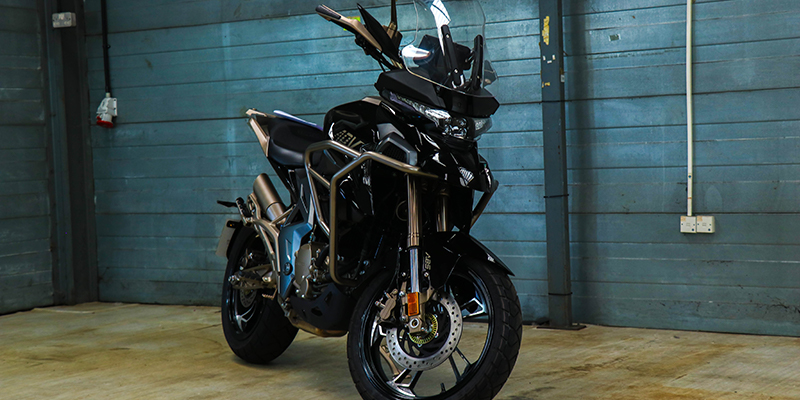 Summary
The Zontes T310 is a budget and A2 licence friendly offering by Zontes with plenty of spec. To be honest I have been pleasantly surprised, the quality at the time of testing was far better than I had expected and the T310 had clearly had a lot of time in R&D to make it the bikes it is. Zontes has clearly tried to up the mark of quality – we will just have to see how it stands the test of time. The tech gives some really nice options, though understand this is a £4k bike so don't have your level of what to expect set too high, everything worked though, and during my short test on the bike (4 days) I didn't encounter anything alarming or cause for concern.
Visually the general looks of the bike is great, I'm not a massive fan of the look of the front LED light but that is relatively miniscule in the grand scheme of things as otherwise I think Zontes have done a decent job for a small adventure bike.
Zontes T310 Adventure Bikes Spec
| | |
| --- | --- |
| Model Name | T310 |
| Fuel Capacity | 15 litres |
| Max Speed | 90mph (estimate) |
| Engine | 312cc single cylinder, liquid cooled, 4 stroke, 4 valve |
| Start Type | Electric |
| Front Brake | 260mm Single disc (ABS) |
| Rear Brake | 210mm single disc (ABS) |
| Front Suspension | 37mm Upside Down Forks |
| Rear Suspension | Mono shock |
| Seat Height | 840mm |
| Wheelbase | 1394mm |
| Weight | 149kg (dry) |
| Speedo | TFT |
| Stand | Side |
| Warranty | 2 years manufacturer |
| Price (correct at time of article) | £3,999.99 |
| Zontes website | https://www.zontes.co.uk/new/bike/5619/zontes/834436/t-310.aspx |
Zontes T310 Adventure Bike Insurance
Looking to insure a Zontes T310? Lexham's best deals are direct!