Of all the scooter brands on today's market, Vespa are undoubtedly the king of retro scooters; but then it helps when the same company are still producing the same branded model today that they first launched back in 1946.

Early beginnings
Piaggio launched the Vespa GranTurismo range in 2003, soon after to become the GTS. The styling has evolved a little since then, the engines more substantially although that's not immediately obvious if all you look at is cubic capacity and top speed.
The new GTS's styling updates are understated enough to miss at first glance, yet a subtle improvement. The legshields and horncast are now more sculpted, the underseat storage space larger (although still not big enough to store a full-face helmet), a new headlight unit shines from the front with LEDs all round whilst elsewhere subtle alterations are made to the plastic trim.
Piaggio's latest HPE (High Performance Engine) motor powers the GTS300, putting out over 23hp which Piaggio claim is an increase of 12% over the previous GTS300. They also state that the torque figures are up by 18% at 26Nm at 5250rpm.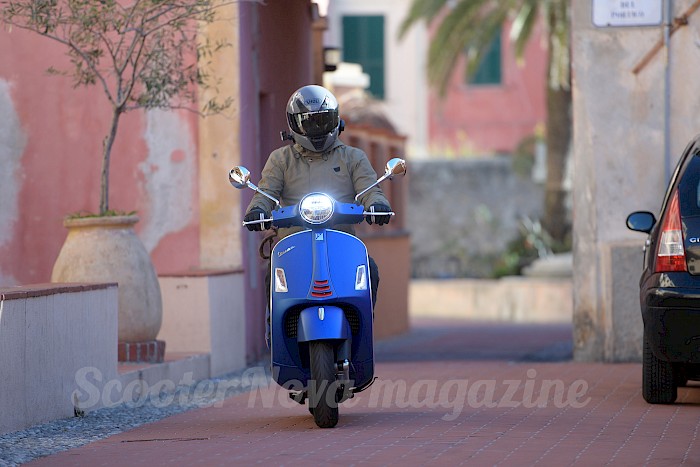 Their engineers have worked to reduce friction and engine noise, while at the same time increasing performance and new components include a cylinder head, valves and piston. There is also a high-pressure multi-jet fuel injector, a more robust CVT drive belt and the latest-generation Magneti Marelli ECU, all of which means this new scooter conforms with the future Euro 5 standard.
At this point I'd not ridden a GTS300 for a while, which meant after a short time in the saddle I had to question a co-rider via helmet intercoms as to whether this impressive start was a genuine improvement - or whether my memory had faded. Iggy confirmed that indeed the new GTS300 HPE had also impressed him from the off. Piaggio's promise of increased power and torque for the new model did feel true. Not only that but it was a smoother engine to ride than before, with less of a rasp or rumble.
Fast, twisty coastal roads and winding hills were fairly effortless, with overtaking four-wheelers no problem. Whereas before the GTS300 could feel lack lustre from say around 55 to 60mph when grabbing a fistful of throttle, the HPE seemed far keener to go for it.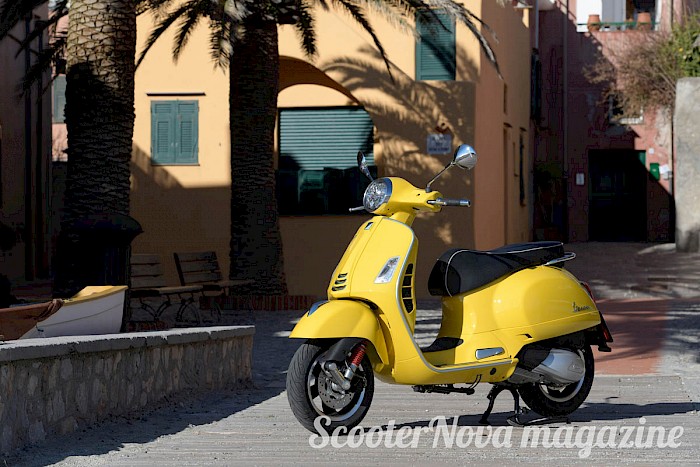 Piaggio's R&D really stands out!
With legislation and customer demand at the forefront, the new GTS also features anti-lock brakes and traction control, which to be honest I'd forgot about until they subtly kicked in. The former after a high-speed overtake and braking hard at the end of the road, and the latter while attempting a fast pull-away from a gravel-topped parking area. Neither felt intrusive or disruptive, suggesting that Piaggio's R&D into these fields was money well spent.
Of course being a metal-bodied scooter not only is the Vespa stylish, but it is also a sturdy machine to ride compared to cheaper plastic-clad rivals, and there's no creaking of plastic every time you ride over an imperfection in the road. It feels sure-footed and of course is a robust machine that can take a few knocks and bruises if push comes to shove. Despite this it is keen both from a standing start and for overtaking.
For those who have not yet experienced a Vespa GTS - the legroom is good, the seat on the Super Sport version I spent most of the day riding is stylish and plush (a shame that this particular version is unlikely to be imported into the UK during 2019), the handlebar layout is fairly basic, but you get all that you need with speedometer, odometer and two trip counters.
Overall the look is stylish, let down only by the handlebar grips that didn't seem to fit that well with a gap between them and the headset units. Yes only a small point, but Vespas are at the top ends of the price range for a modern scooter and when spending that kind of money you want it to be right.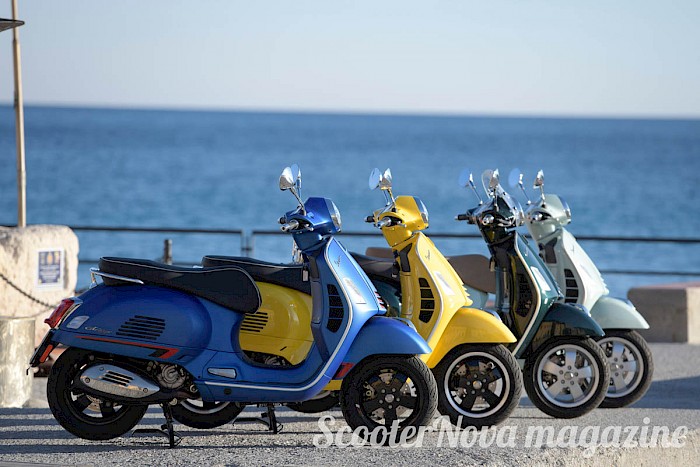 Speaking of which, I mentioned to the Italian marketing department the issue of rust that some British GTS owners have suffered, and they looked slightly bemused but promised to take the information back to the factory with them. We'll see…
Pricing for the new GTS 300 HPE
As for the GTS300 HPE, the British market will get the base model, the Super (a few cosmetic enhancements) and Touring (screen and luggage rack) versions with prices starting at £4,899 for the GTS 300HPE (£4,499 for the basic 125cc version).
If you're after a modern scooter with a classic style then I genuinely think you'll struggle to beat a new Vespa. Yes it is expensive, but beyond the metal body and brand name you are getting a scooter that has been developed from the ground and a Vespa generally retains a higher resale value to boot. They do take some beating in the long run.
Check out the image gallery below for more incredible photos from the test day!
Vespa GTS 300 HPE Supertech
The team at BikeMatters have got a full YouTube review on the Vespa GTS 300 HPE Supertech so make sure to check that out, there is also a blog review on Supertech HPE too for those that prefer to read reviews.
Andy Gillard – ScooterNova magazine
If you're going to be lucky enough to get your hands on one of these fantastic scooters from Vespa, get your insurance quote from Lexham. You can call us direct, or quote online.