We recently took a look at the new breed of 3-wheel scooters emerging on UK roads with our feature on Piaggio's MP3 range - scooters using cutting edge technology to provide a unique riding experience that only requires a car licence to use.
Piaggio aren't the only ones producing these modern trikes however, so I thought I'd do a follow up and take a look at some of the alternative 3-wheelers on the market with a few options to cover any type of rider.

Now with the introduction out of the way, let's begin...
Yamaha Tricity 125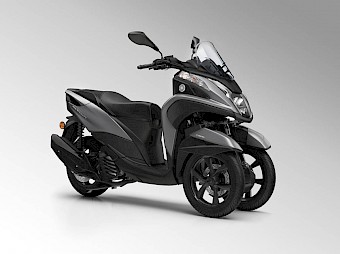 A slick and highly accessible urban commuter, at a glance Yamaha's Tricity 125 has a lot in common with the MP3: independent suspension for each front wheel, the ability to lean and handle more like a traditional scooter and improved 3-wheel stability to name a few. However, there are a few key differences. Firstly, the Tricity has closer spacing between the front wheels, a design choice aimed at making the scooter more agile in traffic, it does mean the Tricity is not classified as a trike though and cannot be ridden using a car licence. It also does not feature the foot pedal brake or upright suspension lock required for trike classification.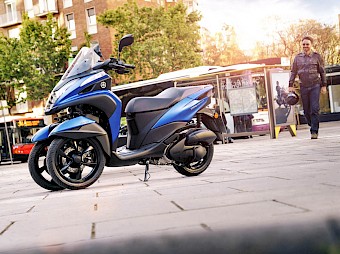 There is an upside to these design choices (which is what makes the Tricity unique) It can't be ridden with a car licence this time, but with a 125cc engine it only requires an A1 licence to ride - basically a slightly more advanced version of a CBT that allows motorway access and pillion passengers. Secondly, the Tricity is very light weight, weighing only 164kg with a full tank of petrol so putting a foot down when stationary is no longer an issue as it can be with other 3-wheel models. Perhaps the best result of these changes is the cost, at £3,849 this is a great entry option for beginners or for anyone who fancies trying something a little bit different without breaking the bank.
The Tricity offers all the 3-wheeler benefits of improved stability, increased comfort and spaciousness, on top of that it features Yamaha's Blue Core 125cc engine which offers great fuel economy and enough go to handle inner city riding and commuting nicely.
Technical Specification
Engine type: Single cylinder, 4-stroke, liquid-cooled, SOHC, 4-valves
Engine size: 125cc
Power: 9kW
Front suspension: Telescopic forks
Rear suspension: Unit Swing
Front brake: Hydraulic single disc, Ø 220 mm
Rear Brake: Hydraulic single disc, Ø 230 mm
Features: Unified Brake System (UBS)
Peugeot Metropolis 400 RXR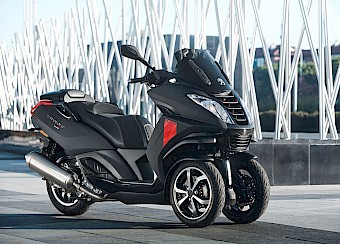 A new contender in the 3-wheeler category is Peugeot with their Metropolis range, a scooter that aims to offer serious competition to Piaggio's MP3. The Metropolis comes in 4 variations, starting from a highly competitive £6999. We're going to look at the latest Metropolis 400 RXR model here which is a more premium offering priced at £8099 (plus on the road charges).
The Metro RXR 400 ticks all the boxes needed to be ridden with a car licence - the slightly wider front wheel spacing, upright lock and foot pedal brake, or if you're coming over from a motorcycle it can be ridden with an A2 licence. The scooter is designed to appeal to drivers and its visuals show it, with the front grill, angular headlights and familiar badge, it actually looks very reminiscent of a Peugeot car.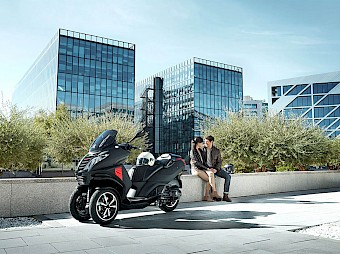 Powered by a 400cc 4-valve engine with a 37 HP output the Metropolis is comfortable in a commute or out on tour. You get the usual features of a modern 3-wheeler - the increased stability, large comfortable seats, confidence inspiring handling and the RXR comes with an electronically adjustable windscreen, ABS, switchable traction control and an impressive 72mpg fuel consumption.
Technical Specification
Engine type: 4-valve injection Liquid Cooled
Engine size: 400cc
Power: 27.4kW
Front brake: Twin 230 mm disc
Rear Brake: Single 240 mm disc
Fuel capacity: 13.5L
Weight: 258 kg dry
Features: ABS, Traction Control System
Yamaha Niken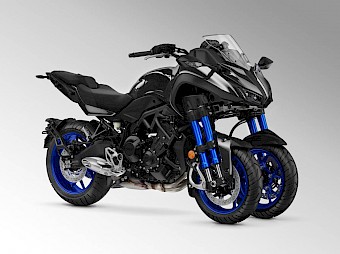 The Yamaha Niken was released earlier this year and unlike the other 3 wheelers we've looked at so far, the Niken is a full blown motorcycle featuring an 847cc engine that delivers 84.6 kW of power that can't be ridden with a car licence.
You can see how different an animal the Niken is just at a glance. The main body is very similar in design to Yamaha's MT range, which is unsurprising considering it houses the same engine used in the MT-09. Don't expect quite the same torquey performance however, as the Niken weighs in at a hefty 263 kg with a full tank of petrol - that's 70 kilos heavier than the 09.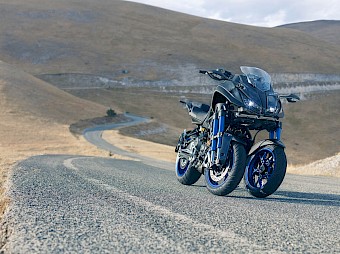 But then again, that's not the point of the Niken. It's a brand new concept - the leaning multi-wheeler. Each of its front wheels is supported by upside down telescopic forks providing up to 45 degree lean angles and a level of stability you won't find in any other motorcycle. The Niken is naturally suited to eating up twisty roads and will also perform very well as a commuter or tourer, with a decent amount of wind shielding and ample performance - it's fast off the mark and capable of 120mph top speeds which is why a full category A licence is required to ride one.
The price of a brand new Niken starts at £13,499 which is definitely not for bikers on a budget. It does come high on features though with traction control, quick-shifter, slipper clutch, ride modes, cruise control and adjustable suspension.
Like all new things, the Yamaha Niken is dividing opinion but if you're after something different, it's high on fun and guaranteed to turn heads wherever you go.
Technical Specification
Engine type: 3-cylinder, 4-stroke, liquid-cooled, DOHC, 4-valves
Engine size: 847cc
Power: 84.6 kW
Front brake: Hydraulic Double Disc, Ø 298 mm
Rear Brake: Hydraulic single disc, Ø 282 mm
Fuel capacity: 18 L
Weight: 263 kg wet
Features: TCS, QSS, A&S clutch, D-MODE, Cruise Control
Kymco CV3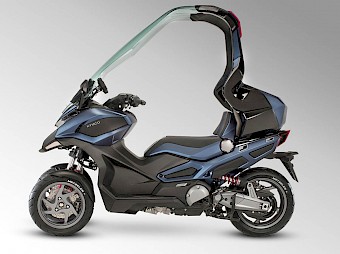 This one is currently just a concept with only a few details revealed but considering the strides Kymco have been making in the scooter market it's one to be excited about. The first images were released in Milan last year and show the scooter standing upright whilst parked and with a generous spacing between the two front wheels, so I think we can assume it will be car licence friendly.
Kymco have indicated they expect it to exceed the power of their new AK550 scooter, which has an output of 39.3 kW (52.7 HP) which could make it the most powerful 3 wheeler in its class. The CV3 was also shown with a range of accessories including (very uniquely) a roof for ultimate weather protection!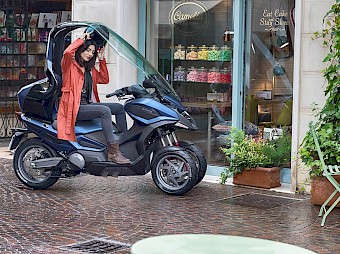 Only time will tell for the Kymco CV3, but I think it's definitely one to watch.
If you are interested in any of the bikes featured check out the manufacturer's website for more info and to find your nearest dealer.
If you are looking for insurance on any of these models Lexham is a scooter and motorcycle insurance specialist so be sure to get a quote direct for the best possible prices.