The quest for adventure and freedom are something film-goers and motorcyclists share — it's no wonder that motorbike stunts are a firm film-fan-favourite. To find the all-time best two-wheel cinematic moments, we commissioned a survey of 2,000 people to discover their favourites and here's what they said.
Steve McQueen's fence jump in The Great Escape
Hitting the top spot in our survey is Steve McQueen's fateful fence jump in the 1963 classic, The Great Escape. Faced with no escape, great or otherwise, the film's hero revs his bike to take on the 12-foot high barbed wire fence. Unfortunately, he is still apprehended by the Nazis, but the sequence is one of the greatest cinema moments of all-time.
You may or may not know that McQueen didn't actually jump the fence himself. Instead, stunt double, Californian biker legend and friend, Bud Ekins, took on the epic stunt. The duo had a firm friendship and Edkins even taught McQueen to ride a motorcycle. Performed on a Triumph TR6 Trophy, Edkins took on the jump as producers were scared that McQueen may injure himself following a crash during his own attempt.
Andy Goodson, Sales & Marketing Director at Lexham Insurance said: "Nothing embodies the same level of chaotic cool as a well-choreographed bike stunt on-screen, and there have been some classic two-wheeled moments throughout the history of cinema.

"Steve McQueen's fateful leap is not only the most iconic scene from The Great Escape, but has now been named the best appearance of a motorbike in any movie."
Tom Cruise's runway ride in Top Gun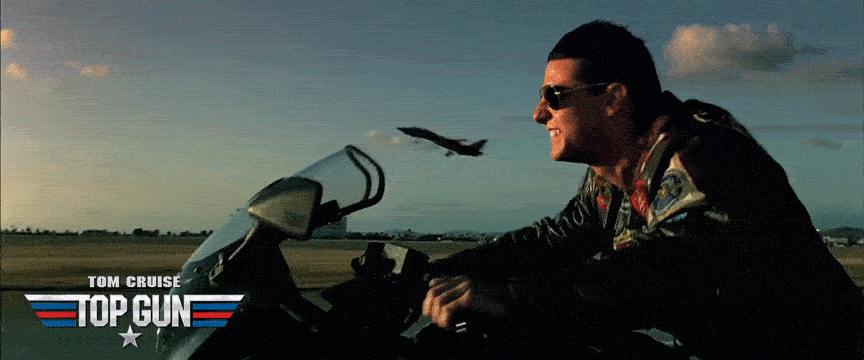 Roaring into second place is Tom Cruise's iconic runway ride in Top Gun, released in 1986. The epic scene features Tom Cruise, aka Pete "Maverick" Mitchell, speeding around his U.S. airbase to the tune of Kenny Loggins, Danger Zone while fighter planes take off around him.
The film made the very first Kawasaki Ninja, the GPz900R, the fastest bike in production at the time of the film's release, into a cultural icon. It was also the first time Cruise had ever ridden a motorcycle. In preparation for the role, he learnt to ride in the car park of House of Motorcycles in El Cajon, California.
Harley-Davidson is a film-goers favourite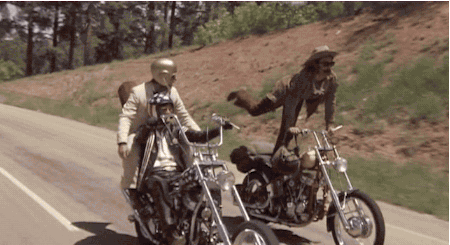 Our survey also found that Brits find Harley-Davidson's the most 'watchable' bike committed to film. Famous for their chopper and cruiser motorcycles, our favourite Harley moment is the iconic 'If You Want to be a Bird' moment in Peter Fonda's 1969 classic, Easy Rider. The scene also came a respectable seventh in our survey.
For the film, four former police bikes were used. One of the Harley-Davidson Hydra-Glide bikes was demolished in the final scene, while the other three are thought to have been stolen and probably dismantled and sold for parts. The demolished bike was later rebuilt and sold at auction for a whopping $1.35 million (£840,000) in 2014.
Stunts steal the show
During our research, we also found that film fanatics are impressed by tarmac-tearing motorcycle stunts in action set pieces — two in five Brits think that a thrilling two wheel chase or stunt improves a film. Though a third of Brits prefer to see a heart-stopping car chase on the big screen.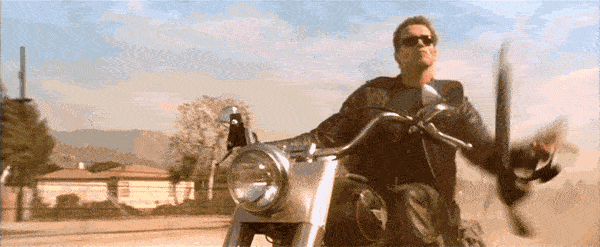 Luckily for them, Terminator 2: Judgment Day has both in spades. The scene where the T-1000 crashes his 18-wheeler into the Bull Creek spillway in pursuit of John Connor comes in fourth in our poll. James Cameron's 1991 spectacular is still a benchmark for action films 26 years on.
During filming, Peter Kent, Arnold Schwarzenegger's stunt double was put through the ringer by Cameron. He dived from 18 wheeler trucks, performed jaw-dropping jumps on a Harley Davidson and took some pretty epic beatings. It was a baptism of fire as Kent famously lied about being a stuntman when he auditioned for the first Terminator film, and he had no formal training whatsoever.
Live results
Disagree with these results? Our survey is live and ongoing, so there's still a chance to have your say. Take our poll and let us know what your favourite motorcycle scene of all-time.
We know that opinions on films vary wildly and one person's treasure is another's trash. So have your say and let us know your favourites if they're not on our list! If you think we've missed any hidden gems or cult classics that aren't included, let us know.