You could be the fittest person in the world, but if you don't feed yourself correctly before, during and after exercise - then your performance will greatly suffer. We spoke with Alan Murchison, dietary consultant for British Cycling, and he has given us a few recipes to share from his upcoming cookbook 'The Cycling Chef'.
In 2018 I have been working with the GB track cycling squad on one of their many training camps here in Portugal. The team can train as much as twice a day, so it is vital to eat the correct food in order to reach peak performance.
When speaking about eating healthily, many people will straight away assume that healthy food is boring - but it can be so tasty. I found this out last year from a man who knows all about fuelling your body with not only healthy but tasty meals, and giving you the right energy to keep pushing in the saddle.
The man I'm referring to here is Alan Murchison, originally from Scotland and now residing in Hampshire. Not only is he a Michelin Chef, he also has a serious passion for sport - being an ex-Scottish international runner, as well as a European and world duathlon champion. Alan is currently a dietary consultant / team chef for the Great Britain Cycling Team, as well as working on all kinds of training camps and in the public sector.
To say he still loves his cycling is an understatement; he is to this day competing at a high level on the TT circuit in the UK. His insight and understanding of what is required for athletes is second to none. It's not just the fact that he's a top chef, it's the combination of this with his passion for cycling.
This allows him to fully immerse himself into the true 'pro-cycling' experience, as he totally understands the physical demands taken on along with the importance of recovery. This is even more important when undertaking back to back training at the highest level, whilst maintaining and keeping the body fuelled whilst riding.
We were lucky enough to get a bit of an appetiser to some of his recipes due to be featured in his "The Cycling Chef" book, which is expected to be published in March 2019.
So, let's hear from the man himself and get some invaluable tips!!
---
The Man Who Fuels the Team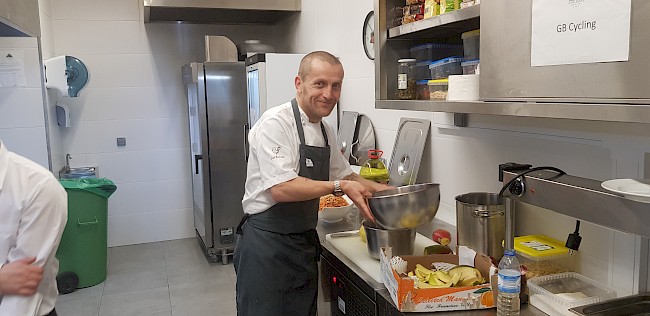 Alan Murchison
The main thing I look at when cooking for athletes at training camps is to make the food tasty and easy to eat.
Long hours in the saddle can lead to what I call 'flavour fatigue' which comes about due to the fact they are fuelling constantly on the bike, usually with sweet stuff and often come in and struggle to eat.
The other key component is making sure the training load and food intake are aligned. There is huge difference between eating well and eating optimally. Double training days or days of either high intensity or high volume require some serious thought as a calorie deficit can have bigger implications moving forward as it will bite you on the ass in the days to come, the terrain in and around Miranda Do Corvo can be very challenging and requires an understanding of a week as a whole. If you are depleted and go and try to ride a 'Flash Special' ride, then you could be on for a really hard time.
I have suggested some recipes for harder and easier days, these are based around the meals I regularly produce as team chef for the British Cycling Podium squad.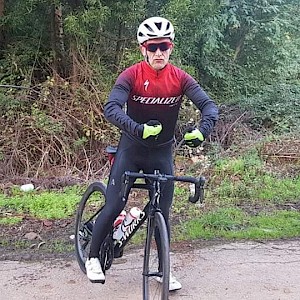 On the bike I suggest you try where possible to eat real food - gels and energy drinks are fantastic products however, they should be used sparingly and real food will be much easier on the stomach.
Bircher muesli for me is one of the best ways to start the day, it can be made in advance and uses simple ingredients that can be found anywhere. It is a great mix of slow and quick release carbs, fat and protein which is also very tasty.
After a lot of testing, I have found that bircher is easy to digest and sits really well in the stomach when cycling, plus it tends to leave me feeling less bloated than porridge, for example. So all in, it's the perfect cycling power food!
Bircher was invented by the Swiss physician Maximilian Bircher around 1900, Max was actually way ahead of his time with regards to the raw food movement - one of the original hipsters!
From lots of experimentation I can safely say that a simple base is 50g of oats, 50g of yoghurt and 100ml of milk or fruit juice will give you a good start to add your own flavour and texture combinations. You can easily increase protein levels by adding more chia or hemp seeds. If you need a slightly more filling breakfast add some ground almonds or coconut flakes.
The process for each of these is the same; mix all the ingredients together and place in the fridge overnight, or alternatively you can make it up in the morning and leave for 15-20 minutes.
I prefer to add the nuts at the last minute as I like the crunchy texture.
If leaving overnight, you might need to add a splash (25 ml) of milk in the morning as the oaks soak up a lot of liquid when left.
Also this works really well for an afternoon snack if you have an evening race or even if you're just having one of those hungry days. Bircher is often eaten in the evenings in Europe.
Have a play and see what you come up with.
---
MOCHA BIRCHER
serves 1
On hard days this is a recipe that I make for the British Cycling riders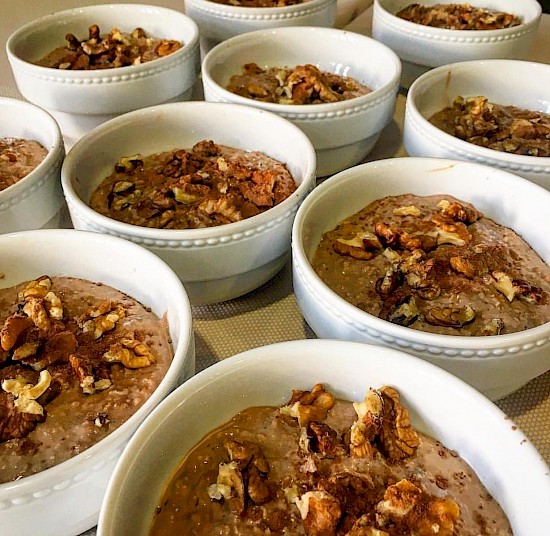 A real high energy bircher.
You can never have too much coffee in your life, serve with handful of walnuts, hazelnuts & almonds. Chocolate for breakfast…. living the dream.
A tea spoon of grue de cacoa (cocoa nibs) can also be added if you want some more texture and a really deep bitter chocolate flavour.
Ingredients
60 g gluten free oats

10 g ground almonds

10 g 'Sweet Freedom' vegan hot chocolate shot.

60 g soya yoghurt

1 tablespoon of chia seeds

1 shot espresso coffee (used Nespresso capsule or 1 tbsp strong instant coffee)

100 ml chocolate soya milk
---
BEETROOT & BLUEBERRY BIRCHER
serves 1
On easier days or recovery rides I would suggest this one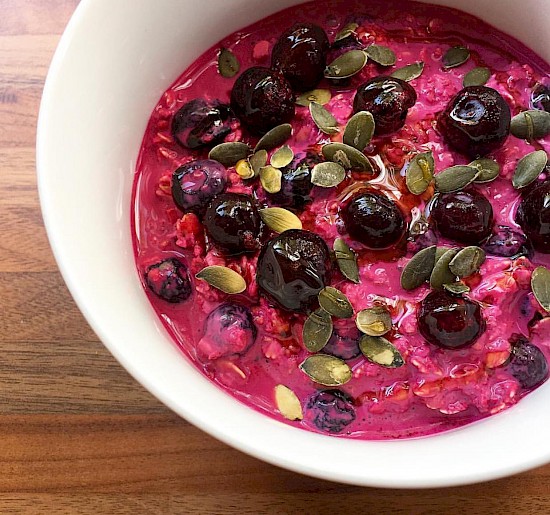 Beetroot for breakfast? Now let us be honest here, beetroot juice is an acquired taste at best, but there is lots of good research to suggest it has benefits to us cyclist types.
The balance of the earthy taste of the beetroot works really well with the sweetness of the blueberries and blueberry yoghurt.
Finish off with a teaspoon of honey and a tablespoon of pumpkin seeds.
Ingredients
50 g gluten free oats

50 g blueberry yoghurt

60 g frozen blueberries

1 teaspoon Beetactive concentrated beetroot juice

75 ml milk

1 tablespoon of chia seeds

50 ml beetroot and apple juice, 50/50 mix
---
Post ride meals
BBQ SPICED CHICKEN WITH MIDDLE CLASS GRAINS, MANGO & POMEGRANATE SALSA
serves 2
A Performance Chef classic and a firm favourite with the riders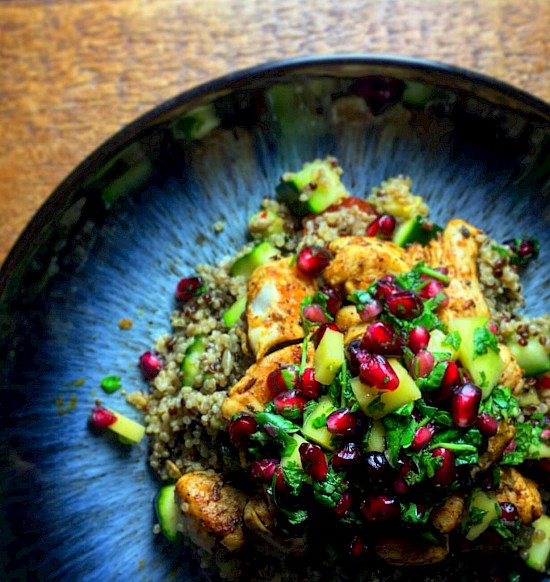 Decent levels of protein & carbs with interesting textures & flavour combinations, the balance of sweet & salty works so well, raw veg mixed with the quinoa livens up a pretty bland base grain. We all know quinoa is good for your as it contains all essential amino acids & is widely regarded as the ultimate grain.
The beauty of this meal is it can easily be put together in no time at all, can be made up in advance and is perfect as a light recovery meal post training or as a lunch time meal ahead of an evening ride.
There is not a cyclist that I advise that hasn't had this meal and loved it.
Ingredients
250 g pre-cooked quinoa.

8-10 chicken mini fillets, approx 150 g of chicken per person

2 tablespoons of cajun or BBQ spices.

2 teaspoons of olive oil

100 g diced cucumber or courgette

2 chopped tomatoes

50 g chopped green beans

50 g chopped mange tout

handful baby spinach.
Ingredients for the salsa
1 medium ripe mango

1 pack of pre-prepared pomegranate

1 small bunch of fresh mint

1 small bunch of fresh coriander.
Ingredients for the dressing
1 tablespoon Thai fish sauce

1 tablespoon soy sauce,

1 tablespoon sweet chilli sauce

1 tablespoon extra virgin olive oil.

25 g of chopped cashews & a pinch of black onion seeds.
Method:
Combine cooked quinoa with 50% of the dressing made with the fish sauce, soya sauce & sweet chilli sauce and olive oil, add diced cucumber, tomato, green beans & mange tout. correct seasoning and set aside

Make the salsa by dicing one large mango and mixing with one pomegranate (buy this already pre-prepared as it's a pain to do yourself) & chopped fresh mint and coriander, mix in the remaining dressing

To make spiced chicken, dice up the chicken per person and marinade with Cajun or BBQ seasoning for 5 minutes, allow 1 tsp of mild spice per 150 g of chicken and 1 teaspoon of regular olive oil, grill or pan fry for 4/5minutes until the chicken is cooked through

Combine the quinoa salad, salsa and spiced chicken. Sprinkle over the chopped cashew nuts and black onion seeds at the end, serve with baby spinach leaves for the perfect balanced meal. Can be served warm or at room temperature.
---
KEDGEREE
serves 2 with a portion left for lunch
After harder days this recipe is ideal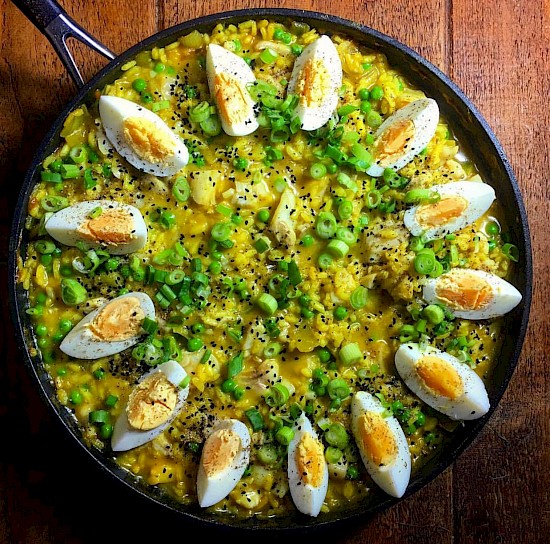 This is prime comfort food, high in carbs and protein.
My take on a classic Scottish dish, actually this is perfect training food as it is a perfect mix of slow release carbs with loads of protein. Traditionally Kedgeree uses basmati rice, this is a much more delicate grain than risotto or long grain rice, take care when stirring and cooking as it will easily break up. Start to finish this dish take less than 20 minutes to cook.
Ingredients
1 finely chopped onion

25 g butter

2 teaspoons Shwartz medium curry spice (nothing too spicy or abrasive)

1 teaspoon ground turmeric

200g basmati rice

600 ml fish of vegetable stock

400 g diced smoked haddock fillet

200 g frozen peas

1 bunch of chopped spring onions

3/4 soft boiled eggs, halved

1 teaspoon black onion seeds

1 tablespoon sultanas
Method
Pre-heat a large non-stick pan, cook the onion until soft in the butter for 2/3 minutes over a low heat, add the curry powder & turmeric, cook for a further 2 minutes

Next add the rice and stir well, add the stock and simmer for 10 mins, when rice is 85% there, (basmati rice normally cooks for 12 mins) add diced smoked haddock and peas, stir in very gently and turn heat down to low, simmer for 2/3 mins until haddock cooked, this won't take long

Just before serving stir in chopped spring onion and top with the boiled egg, onion seeds and sultanas
Recipes reproduced from The Cycling Chef published by Bloomsbury Press on the 7th of March 2019
If you want more, Alan's Instagram is: @Performance.Chef and Twitter: @AlanMurchison
---
Those are four great recipes from Alan which are well worth testing out yourself - as he has mentioned, I've found bircher is a great alternative to energy drinks, gels and powders to help kick start a hard day of cycling correctly. We were lucky enough to get this sneak preview of some recipes in his upcoming book due to be published on the 7th of March 2019, so stay tuned for that to be released fully and be sure to pick up a copy.
I'm certain it will be packed full of great recipes perfect to implement in your cycling training this year. I'll definitely be getting one for myself!
Which recipe sounds the best to you, and which one will you be trying first before your next ride?
Let us know on Twitter, and be sure to tag us @LexhamInsurance.