There's a clue in the title about why wearing a 'Crash' helmet is not only a legal requirement but is also pretty sensible. Follow our guide on how to choose the right motorbike helmet here!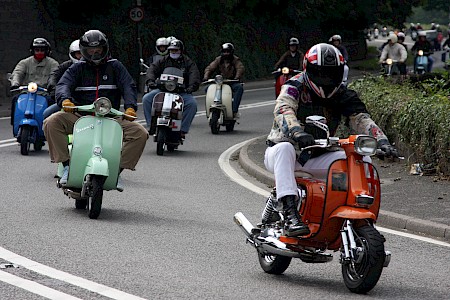 That's right, if we crash or get knocked off a scooter or bike of any capacity (either powered or pedal) there's a good chance our delicate little head will be suffering as a result. Either by direct impact, or kinetic energy as our brain smashes into the protective skull, turning it to mush.
Personally I ride various two-wheeled devices, from a mountain bike to a selection of different scooters. Last summer I was unfortunate enough to have a daft little mountain bike crash at less than 10mph. Not that I know personally what happened because I have no memory for a 15 minute period leading up to and after that minor, low speed freak tumble. Luckily I was wearing a half decent helmet and I also had my other half with me, she probably saved my life that day. The accident knocked me unconscious in the middle of nowhere; the helmet was hit so hard that it broke the shell and damaged the padding, the chinstrap cut a nasty gash in my chin (and left me with a nice scar). I was out cold and ended up having a brain scan but thankfully only suffered concussion and chicks dig scars. If I'd have been riding alone, or not wearing a helmet it's pretty likely I'd have either died or suffered brain damage that day. Anyway, enough about my bad head, let's have a look at a few styles and brands of helmet to help protect yours.
Helmet choice
Like most things, our choice of helmet is limited by budget. The old saying 'If you have a ten bob head, buy a ten bob helmet' still rings true to a certain degree but you can still buy decent protection without spending a fortune.
Things to look out for
One thing is for certain; don't just buy a crash helmet because it's nice and shiny. It might look like a bargain and it matches your machine but check it meets or exceeds the current safety regs.
You'll find these either on the back of the helmet, or inside the lid in the lining/on the chinstrap. It needs to carry a British Standard 6658: 1985 mark or ECE regulation 22.05. A gold kite mark is the highest standard and means the helmet is deemed fit to race in. You can also check how a crash helmet has performed in the SHARP rating system at: https://sharp.dft.gov.uk/
You got style?
Aside from being there to protect us a helmet also needs to look the part and depending on the type of bike or scooter, (and your usage) will play a part in the style you choose. Think carefully before choosing.
Open face helmet
Many scooter riders (and custom/cruiser style bike riders) choose an open-faced helmet because they think that's what a scooter rider should wear. An open faced helmet can look (and keep you) cool but if you've ever had a giant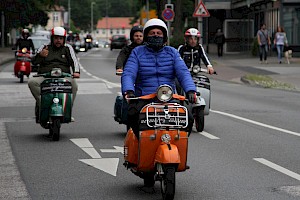 puss filled insect hit you in the face at speed you'll remember it. No matter how slow, or fast your machine is a crash (or insect strike) in an open-faced lid will hurt more than it would in a full face. A face plant on Tarmac will leave you scarred for life.
If you insist on choosing an open-faced lid be sure to buy a decent quality one, rather than some cheapo plastic lid off the car boot or market.
Flip front helmet
A good compromise between open and full face is a flip front, it gives you the option to open the front if it's too hot, or if you need to go into a garage, or speak to somebody. Not all flip fronts can legally be used in the 'up' position though so check before you buy.
Full faced helmet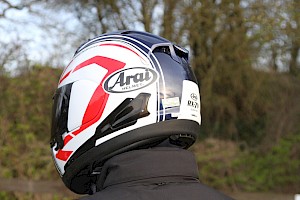 Arguably the safest type of helmet, a full face offers the best overall protection. The shell (by its very design) will withstand impact better than an open face and you also get the best choice of brands, prices, colours and styles. From a classic retro styled lid to a full on MotoGP replica.
Motocross helmet
Popular with lots of young 'ped' riders, as well as green laners, dirt bikers etc. A motocross lid and a pair of goggles is a good choice.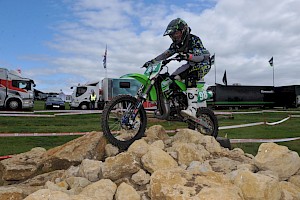 Plenty of ventilation, they're generally a bit lighter than a conventional lid, offer great protection and can look stylish with the right bike.
Fit or what?
Once you've chosen a helmet the next important part is to check it fits properly. A study revealed that 12% of crash helmets were lost in accidents.
It's always best to visit a decent bike shop to try a few helmets on (especially if you're a newbie and don't know what helmet size you are). Ask the sales assistant to help you find a helmet that not only fits but also matches the shape of your head. Not all brands and styles fit everybody the same.
It's worth noting that the more expensive brands come in different shell sizes, rather than just using extra lining material to make a large shell fit a small head. The top brands, Arai and Shoei, can also be custom fitted by the shop to suit your head exactly.
The general rule of thumb (or two fingers to be precise) is that a helmet should be tight when fastened, although not tight enough to be uncomfortable. You should be able to stick your fingers between the lining and your face if it fits well and not be able to roll the helmet off your head, or have excessive movement. Don't buy, or wear a helmet that is too big for you.
Clunk click
Finally, if you're going to wear a helmet always makes sure it's fastened tightly before you ride. Whether it be a traditional styled 'D' ring fastener or seat belt type ratchet strap be sure to 'clunk-click' before every trip.