Keeping cycle fit can be hard when your life prevents you to ride your bike out on the road. There are loads of options out there to keep fit indoors, mainly revolving around smart trainers and virtual cycling, interacting with riders on line.
But you can't beat that feeling of being in a real life environment, taking in and absorbing the energy around you, sharing the same experience in a real live challenge and being driven by the people around you - exactly what you get from a Spinning class! I'm not an expert on Spinning but I've been fortunate enough to combine forces with Spinning® Master Instructor Cat Booker for this blog explaining Spinning and how it can complement your cycling fitness.
An Introduction to Spinning
Spinning® is not simply sitting on an indoor bike and going nowhere. I am here to wax lyrical about it to make some comparisons to the way it compliments road cycling and why it is such a great go to training format for non-cyclists to.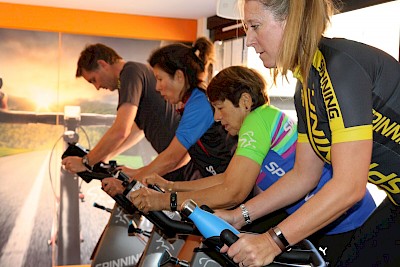 Spinning is all about fitness on the bike, more of that later. It is an indoor cycling experience but it is 'born from the road' so never be surprised if your coach makes these references. The two entrepreneurs who kicked off what was a craze in the1980's included an ultra endurance athlete.
It is group fitness where people literally gather in energy fuelled classes, on a bike quite close to one another in rows and other cool layouts, using their workout time wisely, sweating it out while the clock ticks and the music motivates you to complete another great training session in what can be less than 4% of your day.
The generic term 'indoor cycling' is exactly what the Spinning program is. I have to clear this up at the outset because there are many types of indoor cycling programs. There are also virtual indoor cycle experiences, like SPIN TV and others, and of course, if you like to train on your turbo you can communicate with the World virtually, at home, which can be a little like fitness gaming let's say. Anyhow, why is Spinning so good? It benefits and caters for everyone in the way the classes are designed by coaches who are educated in exercise science, with a great class plan in place (your road) so that you have a great class experience every time. You will train your legs, heart, lungs and mind. Job done!
You can get into your own mental zone on the indoor bikes, no traffic, no stopping, no mechanicals just the flow or rolling roads, hills or maybe something more demanding with bigger gear changes. You could be cruising along the flats doing pedal drills in one block of minutes or simulating switchbacks and short punchy attacks in an interval the next.
The intention of the class is to train everyone at the level that suits them with a general plan for the group. I have seen huge riding skill improvements in cadence and peoples' ability to push harder when I have ridden with them outdoors because they have been training indoors. I train riders who attend longer effort outdoor rides and competitions - they always comment on how their indoor Spinning sessions have helped without a doubt.
You have full control over the resistance and how hard you work so little previous experience is necessary but on the flipside those conditioned riders also get the pleasure of an uninterrupted, focussed training session with others and a coach to motivate you with music that pulls the experience together at your fitness level.
Why is music so important? It is a big piece of the enjoyment and training support in a class. It is scientifically proven that music changes your perception of effort when you train on the bike - kind of like a distraction tactic. It also helps with cadence (leg speed) rhythm, where you can be riding to a beat or through a beat, it is a clever tool and coaches use it to fit to the terrain in the class.
What is Spinning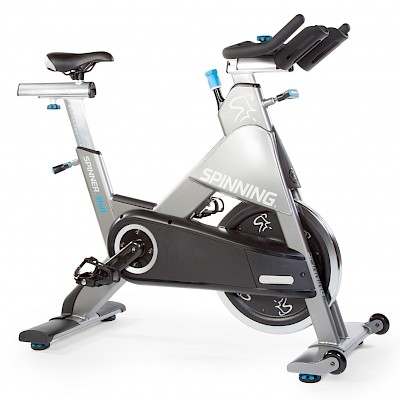 Spinning is a brand. It is the original indoor cycling programme. It is 'born from the road' but is equally suitable for non-cyclist looking for an aerobic work out to great motivational music with a certified instructor. There are no gimmicks, just targeted, well planned, time-efficient cycle-based workouts.
A typical group indoor cycle class involves a single instructor at the front who delivers a training session with specific goals for the class in mind. The class is a cardiovascular workout that is designed to simulate road terrain. This will include a mixture of riding positions in and out of the saddle, a change in hand positions and training intensities. The intensity of the class will depend what the coach has planned and they will refer to heart rate zones, the rate of perceived exertion and power in venues where it is available.
Who is spinning suitable for?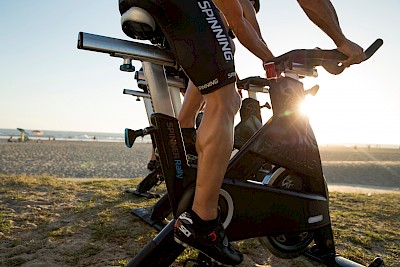 Pretty much everyone. Spinning is inclusive and basically if someone can get on the bike, they are safe, set-up well by the coach and well enough to train, note I did not say fit enough, then they are all set to train at their own level. In my experience I have pretty much seen it all in terms of fitness levels on a bike.
The diversity of those who ride is far and wide. I have seen cyclists get fitter and come back from rides at the weekends telling me they are better on the hills, or have faster average road speeds. Then there are people who really focus on their health and realise that they need to get their cardio fix and there are the parents who drop the kids off at school then race to class, catch-up on the chat, sweat and rush off again. At night the commuters rush from the office or step off the train and head straight to the class to squeeze in their workout and sweat off the weekend. From injury rehabilitation training needs, or the teenagers who need a break from exam stress, or marathon runners that want a cross training solution or people who just love to train with their favourite instructor, friends and some great music, the list of suitability just goes on.
Why Spinning is good for you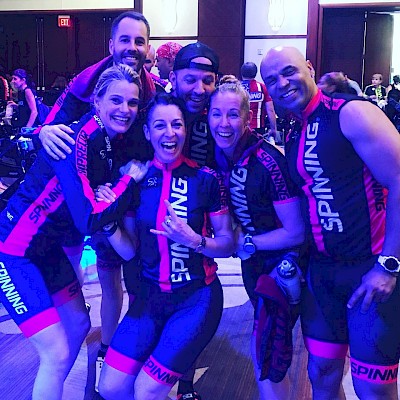 At the appropriate level it is good for you because the benefits are plentiful. I group the benefits into four areas. One – the physical. People will improve things like resting heart rates, their aerobic capacity, blood pressure, muscle function, stamina, circulation, body composition, joint stability and coordination. Two – the bike skills. There is no doubt, whether you are a road rider or not, you will improve your leg speed, pedal efficiency, the ability to become more variable as a rider and skilled on different terrain. Three – the mental focus can improve concentration, the ability to relax, to connect with training to music, to distress, reduce anxiety, and improve positivity and mood. Four – It is a place where you can get motivated not just by a coach but with others. We are human and like we ride on the road together where we get a lot of social interaction being in a Spinning class is the same.
Spinning delivers life changing results to. I could write a book on the stories I could share. It is humbling and amazing what people can achieve on all levels.
Different types of Spinning classes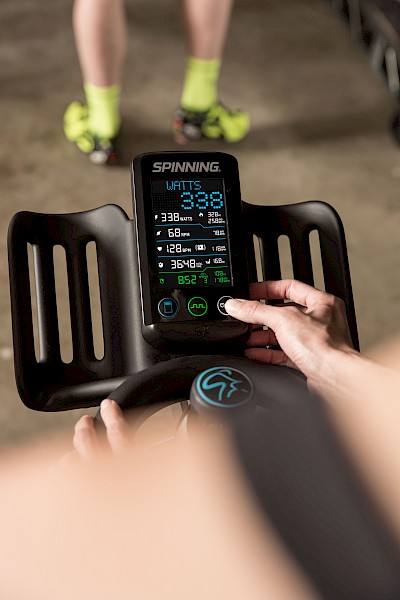 This is the golden nugget because the classes are designed to incorporate different levels of riders with classes will be based around either endurance, strength/hill based or interval format rides which will vary in intensity. The coach will have that all wrapped up. Never be surprised if a class has a great selection of drills in it too, like cadence changes where you hold flats at a certain speed, adjust it and repeat the process. The same goes for hills; you might resistance load in all sorts of formats to improve your resilience and leg strength.
Beginner's classes are less common in Spinning because people are encouraged to join the group, riding when the timetable suits them and they are given options like staying in the saddle and working at a steady level until their fitness improves. I have known really fit riders return from a weekend racing and they sit in my class on Monday lunchtime to just pedal out and recover because it is the time they can make and they like the music and catching up with others.
Classes can also be more specific and this is really down to the studio and coach. Event based classes that are either themed or what we call Race Days offer a great challenge and greater sense of goal setting. These classes can sometimes become charity events or replicate road experiences like famous Tours. I designed a timetable that featured a snippet of the previous day's STAGE in the Tour De France one year referencing terrain and facts about the region they road in. I know this is a little specific but this is the fun and diversity indoor cycling can have.
Are there Spinning classes near me?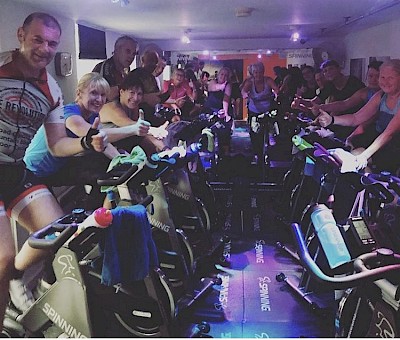 One of the best ways to find out about classes is to go online and find venues that fit with your schedule. Then you will need to dig a bit deeper and find out what the venue has to offer. There are many different types of qualifications out there in indoor cycling. Spinning (the original indoor cycle brand) is the most scientifically lead education for instructors so finding out who teaches what is useful.
You can also look on Spinning.com to see the list of official Spinning centres. These will tend to be venues where all the coaches are Spinning qualified, the bikes are Spinner bikes and the centre has an agreement where they can promote the brand.
The science behind spinning and it how can enhance performance
Time on the bike will always improve skills but this time must be well spent. Shorter training sessions can help enhance performance by being able to focus on skills like hill climbing and working with resistance on varying levels. The body will adapt to overload to meet the demands of the work put to it and this is when fitness improves. Working with the science of cardiovascular, muscular strength and endurance development performance can be enhanced by balancing out training all of these areas at different levels of intensity. Indoor cycling is not all about going hard until you are a sweaty mess that can barely breathe on the bike. Breathing skills and mind training can help change performance because like an athlete will focus on these types of skills to perform better, the same goes for the inner athlete within you at your level.
The importance of an official Spinning Coach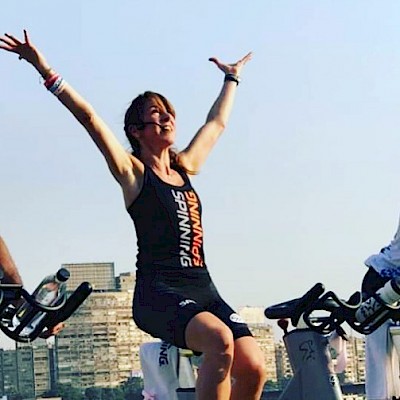 The difference with an official Spinning coach over most is the education program for coaches. You get consistency because the coach has gone through training where they study cardiovascular exercise science and the biomechanics or riding. They understand the benefits of all the riding positions on the bike and how they differ in the physical and mental approach. The coach will be well versed with using music for training benefits which goes with well-planned terrain for each and every single class.
Coaches worldwide can share class plans at the drop of the hat because they are singing from the same hymn sheet. However, every single class is totally unique and adaptable for progression or adaptation where needs be. Spinning is International and I have delivered rides at amazing venues from a floating gym on the Nile in Cairo to a Premium Health Club roof top in Germany. Wherever you are, the vibe, professionalism and community of instructors is strong.
At the end of the day this is a training community where people go to see others, to workout in their precious time and in their headspace. Try it if you haven't, you might love it.
You can see the action on Facebook by connecting with Spinning UK & Ireland, Spinning HQ or visiting the Spinning.com website for all the information on venues, education, information for enthusiast, International events and more.
Summary
So there you go, an insight into indoor cycling and how it benefits the roadies and the enthusiasts of all kinds of fitness levels to enjoy cycling. At the end of the day indoor cycling is going nowhere! But, it is here to stay and always waiting for newcomers and there for people who depend on it for their fitness, enjoyment or when the weather isn't so good to be outdoors perhaps. You can get to your class with less fuss, no helmet, overshoes, sunglasses or multiple pocket checks. It makes a change.
Indoor cycle has continually proven to be one of the top ten fitness trends (Published by IHRSA*) for many years. It continues to deliver engaging fitness experiences and benefits for riders far and wide. It has endurance!!
A big thanks to Cat for her help discussing Spinning, if you are interested in what Cat has to offer - check out our contanct details below
Cat Booker – International Master Instructor for SPINNING®
QUEENAX™ Functional Training and CrossCore® Master Coach
Fitness Presenter & Brand Ambassador
Cat Booker Fitness on Facebook