What is ULEZ, what does it mean, and why should you care?
The upcoming ULEZ (Ultra Low Emission Zone) is an initiative from the Mayor of London to try and help reduce pollution levels in the capital, namely in inner London within the same area as the congestion charge - the LEZ (or Low Emission Zone) will remain active in the Greater London Area, whilst central London will see stricter checks in place to ensure pollution levels are drastically lowered.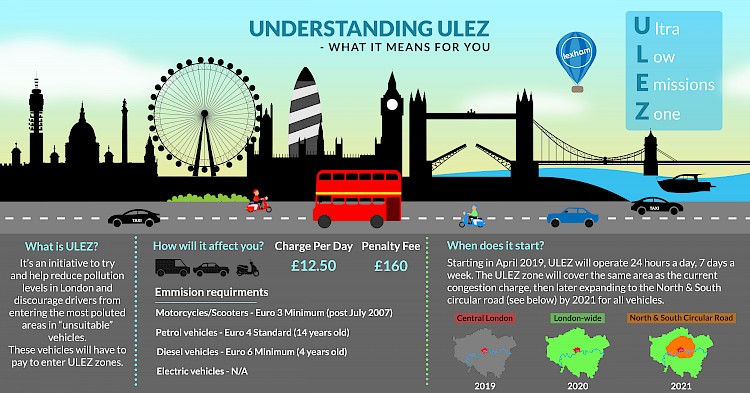 When will ULEZ start?
The ULEZ scheme will start in April 2019, running 24/7. Entering Central London at any time on a bike that does not conform to the emissions standards will mean a daily £12.50 (yes, daily) charge for you and your bike – the penalty for not doing so is £160, reduced to £80 if paid within 2 weeks of receipt of the fine. This will be in place for ANY motorcycles and vehicles that are pre-2007 (Euro 3) or do not meet the emission standards put in place by Transport for London.
Simply, ULEZ is essentially comparable to the current LEZ and Congestion charges, as it is designed to prevent high-pollution vehicles from freely driving in London – but is a much stricter limit to work within Central London.
How will ULEZ affect me?
If your bike does not meet the standards set - but you continue to commute in London after April 2019 - you will have to pay any penalty charges as well as the daily ULEZ rate of £12.50. If you're happy to do this, you can set up an auto-pay system with TFL or use a pay-as-you-go system.
Transport for London have decided that motorcycles are not exempt to these pollution charges and if you're on a non-compliant bike will charge you for entering the designated ULEZ zone. So that's why it matters – your pocket would feel a lot lighter after a month of daily commuting within the ULEZ zone! This ULEZ is also set to expand to the north and south circular ring roads in October 2021. So if you commute in to London on your old 2-stroke bike, you will definitely need to make sure you're up to speed on emissions.

What can I do about ULEZ?
Some people were obviously not happy about this and took to proving to TFL that their older bikes emissions do not exceed the limit of Nitrous Oxide (NOx), which is set at 0.15 per kilometre or less. You can check that your bike emissions are below the stated minimum for an older bike, to do this just check the manufacturers documents and find the noted expected emissions. You may find that your make and model has already been submitted and now declared exempt, so it's worth checking.
But if your vehicle is one that will be liable to the charge they do list alternative options, so don't worry; If you can't fork out to replace your older bike with a 2007 or newer machine, you could always walk (!) or use (the already far too busy) public transport system.
One alternative option noted is to change the vehicle that you would use when driving in to inner London, making sure it is at least Euro 3 compliant. TFL state they would prefer people driving different vehicles rather than pay the charge of £12.50/day, or the penalty which is £160 (or £80 when paid within a fortnight).
Check if your bike is exempt from ULEZ charges here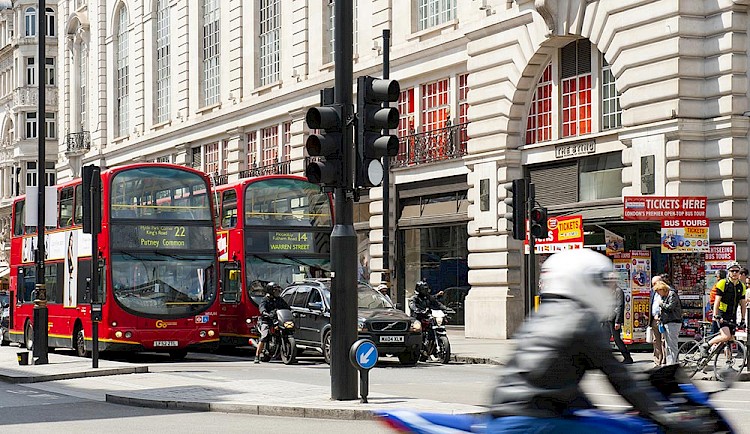 The future is electric!
There's no doubt that the minimum limit of emissions will be stricter in the future – and with rumour of all future petrol and diesel vehicles being banned in the near future, you could do well to transition over to an electric vehicle to future-proof yourself ahead of time.
One important note is the rise of electric vehicles that are not susceptible to the ULEZ charge, so an electric bike could be a great option for those who commute short distances within London. Something like the Vespa Elettrica, a recently announced and released electric scooter from Piaggio, is a perfect candidate for a modern eco-friendly alternative.
Of course, there are plenty of other options for electric motorcycles and scooters to suit your budget – so it's well worth looking in to the electric market if you are often finding yourself commuting into central London, not just to avoid the ULEZ charge but also for your pocket in the long run!
It goes without saying, but Lexham offer excellent rates on electric vehicles (both motorcycles and scooters) – so if you do decide to pick up an electric bike to commute on, give us a call or quote online to get it insured.
So there is alternatives, you can buy a different vehicle to commute in to (or through) inner London, but for those who cannot simply afford to buy a new (or new to them) bike will have to start paying per day they travel in London, or look at other travel options entirely.