John Jorgensen and Ian Maclure have set up a charity cycle called Troll-Hunters Tour, where they will set out to take part in a gruelling ride across the whole of Norway.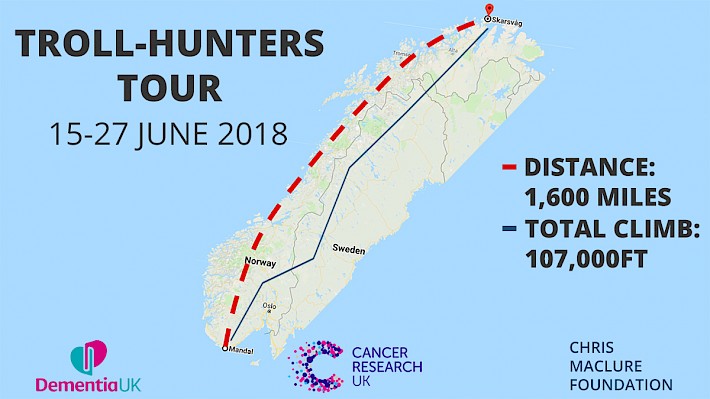 John and Ian are aiming to raise a total of £3,200 for three charities –Dementia UK, Cancer Research UK and the Chris Maclure Foundation.
The ride will start from 15th June 2018 and is planned to be completed by 27th June 2018. John and Ian will fly from Heathrow to Oslo, take an internal flight to Alta followed by a 3.5-hour bus journey to arrive at Skarsvag. Skarsvag is well inside the Arctic Circle and known to be the most Northerly fishing village in the world.
From here, both men will set off on a ride together from Skarsvag to Mandal, covering 1,600 miles with a total climb of over 107k feet. This ride is completely self-funded and will include no support vehicles. It's simply John and Ian, their bikes and a lot of determination and energy! Both men have backgrounds in these types of events, as John has cycled John O'Groats to Lands End for charity, and Ian has trained for several Ironman events – there couldn't be two better men for the job!
John and Ian have chosen three amazing charities to not only raise money for, but also raise awareness for. Dementia UK is the first charity that they have chosen, which provides specialist dementia support for families through there Admiral Nurse service. Dementia UK has three main goals which are to increase Admiral Nurse coverage across the UK, to raise awareness and understanding of Admiral Nursing and to provide robust evidence for the effectiveness of Admiral Nursing.
The second charity John and Ian have chosen is Cancer Research UK. Cancer Research UK is the world's leading independent charity dedicated to cancer research, who carry out scientific research to prevent, diagnose and treat cancer. The charity has one simple aim which is to continue funding life-saving research to eventually bring forward the day when all cancers are cured.
The final charity which both John and Ian have chosen to raise money for is the Chris Maclure Foundation. The charity was set up in memory of Chris Maclure who sadly lost his life in a road traffic accident aged 21. Chris had a strong love for football, so the aim of the foundation is to encourage, develop and support young people who want to become involved in football, coaching or refereeing. The foundation is particularly involved with the Wigan Youth Football League, of which Lexham itself also sponsors some of the teams in the league!
Currently the Troll-Hunters Tour has raised £1,365, which is 42% of their £3,200 target which represents £1 for each mile for both. To help John and Ian continue to raise money and reach their target, you can donate on their Just Giving page or alternatively John and Ian encourage you to make individual donations directly to any of the charities if you prefer. So please head over and join us in showing both John and Ian your support!