Ever since the advent of scooters they've been used and abused by British riders, they may have been designed for shopping and short distance transport but that soon went out of the window.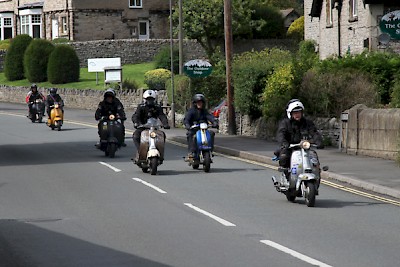 Even back in the early 1950's and 60's they were used for navigational trials, time trials, gymkhanas and of course the odd rally or two.
Recently the Lambretta Club of Great Britain have been organising ever more popular members rallies, including the annual Coast to Coast event, a scooter crossing from the east coast to the west, with a party at either end. This popularity of this event led to a new one on the Scootering calendar, the Derbyshire 150. It's as the name suggests, a 150-mile route around Derbyshire taking in some great scenery and challenging roads.
The 400 tickets were soon snapped up at £20 each and for that you got a weekends camping at the Derby Rugby Club, two evening meals, two breakfasts, a legshield banner, stickers and a patch so you can't really grumble about value for money. There was also some evening entertainment laid on and all the facilities you'd expect at a rugby club.
For most people there, many of whom had ridden from as far away as Scotland and Essex, (as well as most of the other corners of the UK) this event was all about the actual ride. The route was kept a secret until the weekend but on arrival everybody was given a clear plastic A4 package on a length of string containing the route. It was no surprise to see the infamous Snake Pass and the Cat & Fiddle included on the 150-mile ride out, as well as scenic Matlock Bath, Chatsworth House and the area around the Blue John Mines at Castleton. On the Morning of the ride the air was filled with the blue tinge of two stroke smoke as almost 400 scooters headed out of the car park in dribs and drabs, different groups of friends heading out towards a day of fun and excitement in the August sunshine.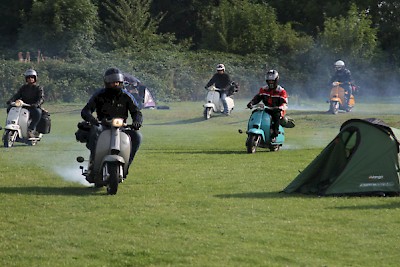 Our group started off quite well and enjoyed the twisty roads as we headed into Matlock. Chatsworth House was the next big milestone and we passed a fair few scooters along the way. Heading towards Glossop we somehow missed a turning and ended up on some wet roads where one of our group hit a slippery white line on a wet bend and ended up lying in the middle of the road. Thankfully he was unharmed but his scooter suffered a few cuts and bruises. We pressed on after the customary mickey taking and made it to Castleton for lunch, where dozens of Lambrettas filled the pavements. Tales of breakdowns, accidents and heroics were swapped over the al fresco lunch, scooterists are great at light-hearted banter as long as it's nothing too serious being giggled about.
Back on the road and the last half of the journey passed without incident, stunning scenery met us at every turn and made us remember just how much fun can be had riding in the UK. We have views to die for, roads that beg to be ridden and hidden villages left to explore. Heading back towards Buxton, Ashbourne and Derby we realised just how lucky we are to be a part of the scooter way of life, having friends to share these kind of experiences with makes it all the more worthwhile. Bike riders don't seem to have the same kind of social life, exploring different parts of the country week after week, having a destination to aim for and a purpose to each ride. They struggle to find somewhere to go other than the regular local biker night or ride out to a chippy on their own. We're the luckiest people on two wheels. If you've not experienced riding events, rallies or members clubs get yourself involved. You won't find a friendlier bunch of people or more enthusiastic riders. Get out there and ride…