The Big 7 Rally in Tonbridge, Kent just went by on June 8th-10th. One of our team members Lewis attended the show with our Lexham van, did you see him and say hello?
The rally itself is quickly becoming one of the highlights of the BSRA Rally season, and as it's based in Kent it sees a huge number of scooter enthusiasts attend both locally and from around the country. Lexham Insurance is one of the sponsors of the BSRA events calendar and attends as many shows as possible throughout the year.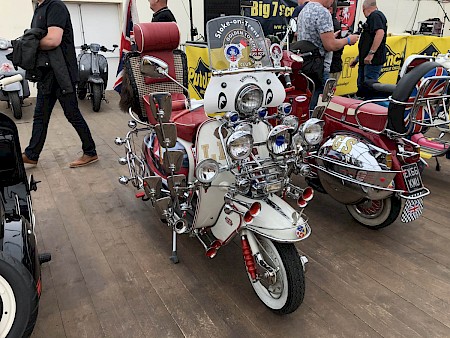 One of the highlights of this event is always the great live music and bands that attend, and the setting itself is always a firm favourite for the scooters in the sunshine. A staple of any good rally is the ride out as well, and The Big 7 ride out was no exception this year. There was a great exhibition of classic, modern and unique scooters from those that attended – as well as the tattooist, dyno, dealers and parts markets.
Thanks to all those who came over and visited the Lexham stand during the show, unsurprisingly the Win A Scomadi Competition proved particularly popular.
So all in all, The Big 7 Rally proved to be another highlight, and judging by the photos in our gallery you can see everyone had a great time. If you love scooters and music, then it's definitely one to add to the calendar for next year.
If you don't already, make sure to follow us on Facebook, and make sure to check out the full photo album on our Facebook page.
Next stop is the Cleethorpes Scooter Rally on the 6th- 8th July, we hope to see you there!