Over the last two or three of years or so, I've been testing a couple of intercoms while scootering around Europe.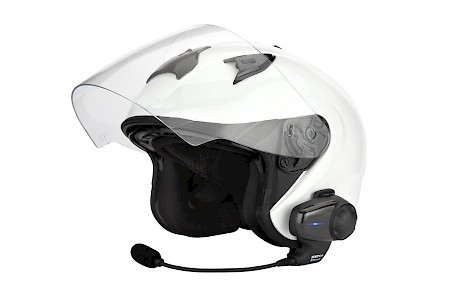 They're useful pieces of kit, especially when touring into unchartered territory as riders can discus directional options. They can also be used to inform of any required petrol stops, and if range is great enough, you can have riders at either end of a group of half a dozen or so scooterists and keep track on them all like some kind of mechanical sheepdog.
The Sena SMH10 Bluetooth Kit covers all this and far more, making it my intercom of choice lately. It also features handsfree calling on your Bluetooth mobile phone, you can listen to stereo music or voice instructions of gps navigations by Bluetooth wirelessly and have intercom conversations with a passenger or other motor cycle riders. Available as single or dual kit, the latter supplied with two main units, so you can use as a rider to pillion system or bike to bike out of the box, the units attach to the outside of your helmet with a boom microphone that reaches inside, and a pair of speakers which Velcro inside your helmet. Once paired, the intercom is operated simply by a jog wheel which controls on and off as well as volume and to be honest is simply intuitive and easy to use. This does make it a little more bulky on your helmet, but that's a small price to pay. The quality of conversation is good, with the hassle really being that you do need to take time to set it all up properly so that you get the best out of this kit. Try to rush it and you'll miss something and the quality could suffer. Trust me, I've tried to cut corners and it's not worth it!
On classic scooters (EG Lambrettas with noisy exhausts) conversation is still possible at high speeds, albeit some words do get lost as you'd expect. Slow it down a bit and all is good however, Sena's 'advanced noise control' no doubt helping limit wind noise. Sena claim the range is up to 900 metres which I'd say is the absolute maximum on a good day, although that's more than enough for two people riding together. The claimed talk time is 12 hours, with eight to 10 being more realistic, although again that depends on how you use it. Turn the units off when you stop for a coffee and they'll last much longer. Claimed standby is 10 days and recharge time about three hours.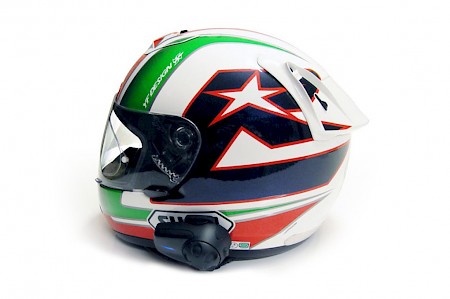 While not having streamed music into the system, I've used the MP3 jack and listened to music as I ride, which is far less distracting than trying to take a phone call. It also features voice prompts, which to be honest for conversation and music I didn't need, plus individual volume control for each audio source which is good. The SMH 10 intecom has the potential for a four-way conference with three other Sena users, and a recent firmware update opens this up to non Sena units too, which I've tried too and that also works, being exceptionally useful when occasionally riding with friends who have an alternative unit. The Sena SMH10 can also operate Sena's separate Prism action camera, which together with the quality of the intercom alone, makes a very recommended piece of kit for both rallying and touring.
All in all a good piece of kit, useful and efficient. The quality of your crash helmet will affect things too, my Shoei being very quiet indeed and complete with recesses for speakers. A cheaper, noisier helmet will result in poorer quality intercommunications. Take the time to set it up right though and either will be a decent piece of kit.
Expect to pay around £135 for a single SMH10 unit, and from around £235 for a pair, because while still available, they're not the latest in the Sena range. Don't let that put you off though, I still rate them very highly!
For more details visit the Sena website.