Hundreds of scooterists descended on the town of Tenby for the annual South Wales Scooter rally. The event, organised by Scooter Collective South Wales, was the 2nd event on the B.S.R.A national rally circuit on the weekend of April 29th to May 2nd.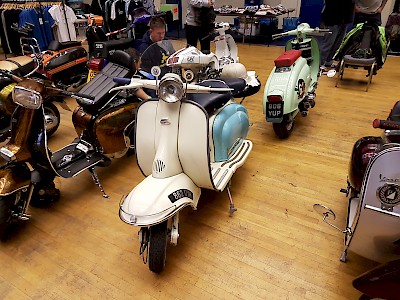 The Friday night hosted bands 'Evil Turkeys' & 'Rude Soles' in the De Valence Pavilion whilst the Tenby Rugby Club hosted the retro room with DJ's playing the best in Soul, Ska & Mod.
On the Saturday, the De Valence was transformed into the Trade & Custom show with a number of scooters battling it out to win trophies such as 'Best In Show', 'Best Lambretta' and 'Best Vespa'. A couple of favourites of ours included 'Start Me Up', a Lambretta inspired by the Rolling Stones and 'Legends Of Man', Also a Lambretta but inspired by the Isle of Man TT race and depicting various legends of the circuit from years gone by. As well as the custom show, there were stands selling official rally merchandise, parts stalls, custom scooter jewellery, CD's. Both Lambretta Club and Vespa Club were in attendance in some form, allowing members to earn mileage for their clubs and individually towards awards at the end of the year.
At 4pm, the De Valence was again transformed for bands 'Skacasm' & 'The Riff' and The Rugby club once more played host to The Retro Room. As well as the two main venues, there were lots of bars, pubs & restaurants for everyone to enjoy and a cracking weekend was had by all.
Roll on Kelso!
To see our best photos from the Tenby Scooter Rally 2016 head on over to our facebook page.