Riding in winter isn't usually the most pleasant experience, never mind riding a scooter across Europe but this year it's been milder than a supermarket curry. So the prospect of riding to Scooterist Meltdown in Germany earlier this month didn't seem too daunting after all.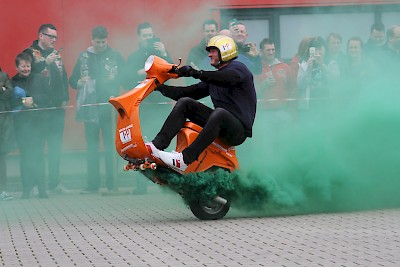 In fact I've had colder summer rides than we had as we set off for the overnight Hull-Rotterdam ferry crossing. I was on board a borrowed Piaggio MP3; my travelling companion, Sticky, was on a four-wheeled Quadro. Perfect vehicles for the winter trip. The event itself is at an ex-nuclear power station, the unlikely setting has been converted into an all-inclusive 'Wunderland' family resort with on-site hotels, fairground rides inside the cooling tower, various bars, restaurants and plenty of exhibition space. Included in the price is free food and drink all weekend, plus accommodation so it's always going to be a way to lure scooterists out of hibernation.
Our journey there was uneventful but good fun, as is usually the case when you're riding to somewhere new. From Rotterdam it's only 110 miles to Kalkar so it didn't take too long and we were soon greeted by the imaginatively painted former cooling tower and industrial looking Wunderland.
The weekend itself was great fun with over 1000 scooterists from Germany, the UK, Holland and Austria there to party. There were also bands, DJ's and as much free food and drink as you could manage, as well as plenty of entertainment to keep you occupied, including Austrian Vespa stunt rider, Gunter Schachermayr, a bucking bronco, custom show and trade stands. Our video gives you a better idea of what was on offer and might tempt you to try Meltdown yourself next February.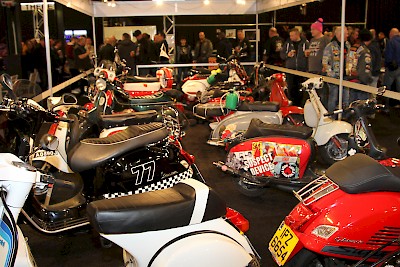 Riding home was much colder and wetter than the trip there and it snowed for most of the journey back to Rotterdam. Thankfully my kit was more than up to the job though and I was grateful for my heated vest and gloves, although I did feel sorry for the snow covered Lambretta riders we passed on the motorway. Riding the MP3 in heated luxury was much better than doing the trip by car and even the snow had little effect on the way both scooters handled themselves. In fact if you're a year-round rider looking for a scooter that is more fun than you can possibly imagine and can go around corners in the wet and cold at full tilt without batting an eyelid - the MP3 and Quadro will both take some beating.