If there's one thing a scooter should never be used for its covering long distances. Or at least that's what the original designers of our beloved steeds may have thought when they put pen to paper all those years ago. They were simply trying to mobilise post war Europe in a cost effective and stylish way.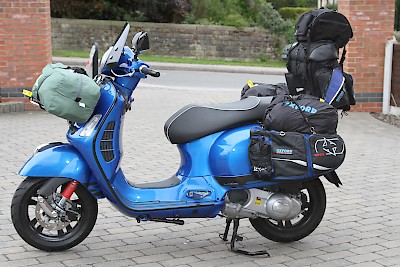 Strangely enough as soon as the first Vespa and Lambretta models arrived on the roads, riders realised that they were useful for more than just a trip to the local ristorante. The boundaries were pushed further and further, cross country jaunts soon became continent hopping expeditions, scooters were used to climb Ben Nevis and of course they were used to traverse the length and breadth of the UK (and abroad) to scooter rallies. These small capacity machines have done desert adventures, races, rallying and grass tracking. Even now almost 70 years since scooters started to appear we're still pushing the boundaries, both in performance terms and feats of endurance. For instance a Vespa GTS rider recently completed 1000 miles around the UK in just 19 hours for charity.
With the advent of more reliable and economical four stroke automatic scooters it makes scooter touring much less hassle and more appealing to the mechanically inept.
Personally I'm part way through a great summer of scooter rallies and events, using my 1959 Lambretta S1 Framebreather as my main rally machine.
I'm also just preparing for my own little foreign adventure, on June 5th I will be heading off with a few friends for a 3,000 mile ride across Europe to Croatia on this Vespa GTS 300. I'll be riding two up, camping most of the way and will take in ten different countries during the fortnight's holiday. Every big trip is better with a purpose though and this one has the added bonus of Vespa World Days thrown in when we arrive in Biograd. Scootering is all about getting out there and riding, the world is a big place – especially when you explore it on small wheels.
An adventure or touring holiday doesn't always have to be so lengthy and time consuming though. A long weekend in the UK can be just as rewarding, less costly and still great fun. Plus there's plenty of stunning scenery and quaint places to visit along the way. Make the time to plan some adventures, or mini tours on your own scooter, two wheels are the best way to immerse yourself into life, it's the only way to live. I'll see you when I get back and have scraped a few thousand dead flies off my helmet.