Bike security is something we should all take seriously. Most insurance policies ask for some kind of mechanical device to be fitted, whether it's a chain, disk lock, alarm or tracker.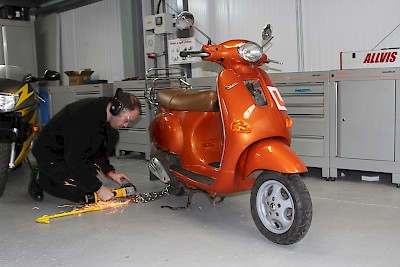 If your bike is stolen, even from outside your own front door and any agreed security device wasn't fitted they'll refuse to pay out. That's only half the problem though, imagine suddenly losing your favourite scooter or your commuter machine, how will you replace a classic machine that you've grown to love? Or a dependable workhorse, how will it feel getting on the bus at 5am? If there is one...
The best advice is not to allow it to be stolen in the first place so here are ten tips to help keep your bike safe and secure.
1: Always lock it up when you leave it, a steering lock isn't enough on it's own so use a disk lock or chain.
2: A bike is fairly easy to be pushed away or lifted into a van, always lock it to something immovable. A tree, post, railing etc.
3: Use a good quality lock; look out for the 'Thatcham Approved' or 'Sold Secure' logo. At least you'll know they're industry approved so should be good quality.
4: If you park a bike out of sight, or outside your house, use a bike cover. It makes a bike look less appealing and will keep prying eyes at bay.
5: At home fit a ground anchor, it's much harder for a thief to wheel it away if it's chained to a solid steel anchor, or chain it to something immovable.
7: Try not to park in the same place every day, thieves will scout areas and get used to seeing it in the same place at certain times.
8: If you have a garage or shed put your bike away and lock it up as soon as you get home. We all like showing our bikes off but the less people who see it on your drive the better.
9: Don't leave keys in the ignition, or in the building where it's stored. Keep them hidden in the house, many house break ins are for vehicle keys these days. Don't make it easy for them.
10: Don't become complacent, your security may be good but make sure you use it whenever you leave your machine.
Lock it or lose it...