Following on from last week's blog offering tips on how to get the best deal form your scooter insurance, Part 2 of the article this week looks at security and the smallprint. Both areas often overlooked, but essential…
Security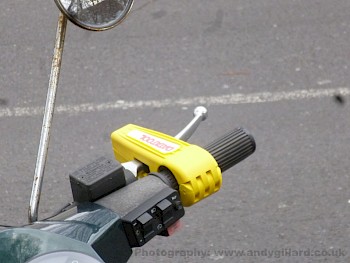 Sadly one of the biggest threats today – especially in certain cities – is theft. Some scumbag decides to take your scooter because they are too lazy and low life to get a job to earn the money to buy one, but it is you that pays for the scumbag's crime. Yes your insurance company will hopefully pay out but once you've taken into account the vehicle's depreciation, the excess you have to pay towards the claim, your increased premium for your replacement scooter, then unfortunately it is you that is out of pocket due to the thieving scum's behaviour.
Another sad fact of life is that it is you that has to invest money in making your scooter is as difficult to steal as possible, a task that will hopefully go towards reducing your premium a little. Put it this way, a scooter parked overnight on a street in London with only a lock around the wheel will cost far more to insure than one tucked away in an alarmed garage complete with chain through a ground anchor, even on the same street.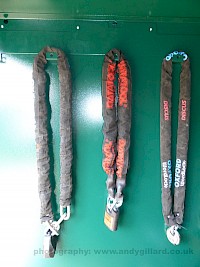 If at all possible, hide your scooter in the most secure place possible. In descending order (after the barracks of the Royal Gurkha Rifles!); a brick built garage or shed, an insurance approved steel shed/ garage, a regular shed, a back garden or yard, underneath a bike cover off the street.
Next, secure it to something immoveable using the strongest chain(s) you can find and afford. When buying one, look for 'security tested' approval mark such as Sold Secure or Thatcham Approved, the use of which may also provide a premium discount too. Ground anchors on private property, lamp posts are good in the street. Note that thieves have been know to lift bikes over small bollards they've been chained too, and young trees are easily snapped or sawn.
If possible fit an alarm to your storage area or scooter, same goes for a vehicle tracker (the bigger, professional companies offering subscription services tend to have a good recovery rate), and finally tag your scooter so if it is stolen then there is a chance the parts can be identified and potentially a thief prosecuted and your property returned. All of these security measures could also reduce your premium, so it's worth asking your insurance company what they recognise.
Read the smallprint
It would be churlish of me to suggest that insurance companies use their smallprint to wriggle out of paying a claim, but the fact remains that any company uses smallprint for their zillions of terms and conditions and as boring as this maybe, you really do need to read them to make sure you are covered. For example, if you have stated your scooter is garaged at night, it could mean that if it is parked on your driveway after 10pm that it is not covered in the event of a theft. You also need to check the amount of excess you are expected to pay in the event of a claim. When getting a quote initially this can be used to reduce your premium. However if the excess you must pay exceeds the value of your vehicle or at least the claim, is it really worth it?
Shop around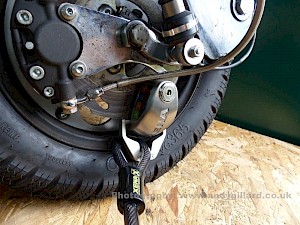 The biggest mistake most riders make is automatically renewing with the same insurance company every year. Unfortunately as the customer you must do the legwork and research the best deal out there. A rival might have an introductory offer that is too good to miss, or a better deal could be had elsewhere by jointing a recognised owners' club. It's worth getting at least three or four quotes every year when your renewal is due, check out the smallprint to confirm the deal is the same, and don't be afraid to return to your original insurer and ask them to match the deal you found elsewhere.
Finally, don't tell lies
They'll catch you in the end. Trust me. If your scooter is insured as being in a garage that doesn't exist, then the required police report is likely to reveal that. Telling them you live at granny's house in the countryside when you're at the top of an inner city tower block could also leave you unstuck, as could claiming your partner with a clean licence is the main rider when in fact you yourself use it every day in your profession as a despatch rider! The bad news is that if discovered, the chances of you getting fully paid out in event of a claim are slim, if you get paid out at all.
If you haven't seen the first part of this series, head on over to Scooter Insurance Tips: Part One
Andy Gillard
www.andygillard.co.uk