Way back in 2003 I took part in my first bit of advanced bike training; it started with a BikeSafe course (a cost effective way to gain some knowledge and have your riding style analysed by the professionals). That made me think about taking some further training so I opted for the RoSPA, (Royal Society for the Prevention of Accidents) advanced test.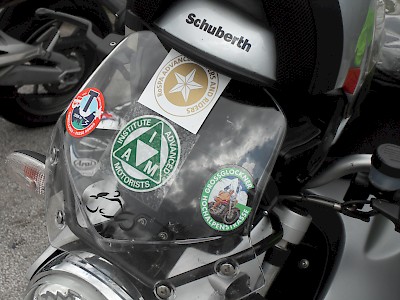 At the time scooter riders were kind of frowned upon by those fuddy duddy high-viz wearing safety people but I persuaded the head honcho that scooter safety is just as relevant as motorcycle safety, so they allowed me to take the test, the first time a scooter rider had been allowed. I passed the test on a torrentially wet day with flying colours and gained the highest grade.
Motorcycle Roadcraft
The way you go about training is up to the individual, you can join a local RoSPA group and go out for observed rides to correct any mistakes before your test, or you can go it alone as I've always done (you have a free retest every three years). Arm yourself with the book that the RoSPA system is based on, Motorcycle Roadcraft – available from the internet for around £12. The book is aimed primarily at police riders so ignore the bits about blues and two's but read it and practice some of the concepts as you ride, how's my positioning? Should I drop back from the vehicle in front for better visibility? Could I have prevented that car from pulling out on me? The answers to many of life's mysteries are contained within the pages of that book.
Examiner
The test itself takes around an hour and you're given instructions about the route by the examiner, most examiners are either serving or ex-police officers. Like all RoSPA observers, my female BMW riding examiner is a volunteer and only gets expenses for giving up her time. This is a labour of love rather than a job but it's certainly a worthwhile way of volunteering.
The test
I took my retest on my Vespa GTS 300, after answering a few questions relating to Roadcraft and showing that I knew about pre ride safety checks we headed off from our meeting point in Derby. Unsure of the road and not being 100% certain of the speed limit as we left the industrial estate I stuck to 40mph to be safe (exceed the speed limit and it's an instant fail). The good thing about advanced training is that you're only really improving yourself so if you do fluff the test there are no penalties, other than wounded pride so it's not as nerve wracking as an ordinary test. Even so it takes a few minutes to settle down and relax.
Low autumnal sun and foggy patches were my main obstacles during the ride; the sun prevented me from feeling confident to overtake on a couple of occasions. You're expected to show your examiner that you can overtake safely when needed and you should make good progress. Observation is also a very large part of the process, as is road positioning, speed, smooth operation of the controls and hazard perception. On the whole I felt good about the ride but a slightly flustered ending on a dual carriageway saw me miss a national speed limit sign just half a mile before the end of the test. Playing it safe I pootled along at 40mph behind a few cars that I could easily have overtaken. My examiner overtook me and led me to the finishing point.
Thankfully she was impressed with the ride overall, but pulled me up about not overtaking on a couple of occasions and for missing the national speed limit sign.
Going for gold?
The tests are graded from bronze to gold (although you can fail as well) and I was hoping to regain the top award I'd had a few years earlier. Almost confident, I'd been subliminally singing the Shed Seven song, 'Going for Gold' throughout my ride, although the record stopped abruptly when my examiner came past towards the end... Her words afterwards, "I'm going to pass you and award you a silver." Ah well, all that glitters isn't gold.
Reflection
For me advanced training is all about reminding myself about how I ride, I admit I'm no angel. I ride hard, fast and defensively. I cover a lot of miles and ride all year round on a selection of scooters and bikes. Advanced training helps to hone my skills. It teaches awareness and makes you use road positioning to your advantage. I don't find myself in scary situations, or suffer from people pulling out on me, harassing me or causing me to brake suddenly. If that happens to you on a regular basis you should think about improving your own skills as well.
Advanced training helps you to ride around these problems by being aware of what is going to happen, not what has already happened. Riding is like a game of chess, you have to plan several moves in advance and try to avoid those awkward unseen moves, as we all know though, riding is no game. It's life and death, make sure you're a winner.
For more information checkout the RoSPA website.