Ride Across Portugal is now in its second year. My role was to ride at the back of the peloton, to both encourage riders and ensure they complete the challenge - hopefully with a smile on their face!
This is the second time I've ridden across Portugal on my Vaaru Octane 6.4…
Ride Across Portugal is a fantastic way to experience different cultures, as you travel the length of Portugal on a bicycle, having a great time with others and making friends on the way.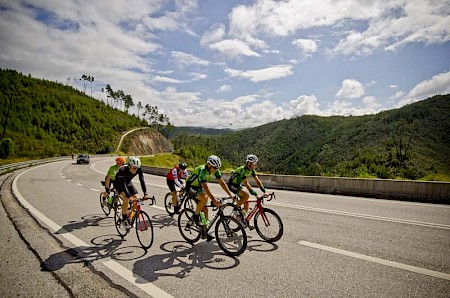 After my first day, my observations were that the most important aspects involved in making the event both interesting and safe day-to-day were firstly the pit stops, which are feed stations to supply you with valuable nutrition and hydration, where you can also rest as long as you need. You are also asked to sign in to register that you had been to the pit stop, which is a great idea as it's so easy to get carried away and not take on valuable nutrition.
You cannot get lost as every rider is given a tracker (so your whereabouts are monitored every day) and the GPS files for the route are loaded onto your Garmin, so you have the whole route on your device - which is another great touch as you go through the more complicated sections near cities or complex routes; vehicles will go ahead and place arrows to guide you in the right direction. These are placed on route every day and removed for the next day.
Another great idea for those riders who need more of a challenge is that there are timed sections, mainly on climbs, which are recorded through your Garmin device via Strava. At the end of the five days the riders with the quickest overall times from these timed stages will receive a trophy, one each for male and female. This gives you a mix of people who just want to enjoy the ride or would like to mix it up with a bit of friendly competition. At the end of each day there is a de-briefing which will discuss the day's events and the next day's stage.
Also there are backup vehicles on the route all the time with wheels and spares - Red Cross medical assistants are also there every day throughout.
Day 1 – Chaves to Viseu – 173km with an elevation gain of 2,800m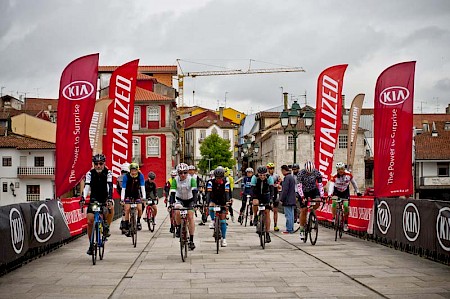 The event's first stage started in the northernmost city of Chaves, with breath-taking views through the Douro Valley with altitudes of 1,000m. The day began with a roll-out group ride led by a police escort taking us through the centre of Chaves to the beginning of the National 2 road (N2). With onlookers surrounding us as we began the start of the event, we started feeling quite special and the centre of attention. There is no doubt that the first day was the hardest, with 173km in total and an elevation gain of 2,800m. On that day the weather was not on our side. We had some rain, but luckily it was on and off throughout the day and not constant so it didn't dampen the spirit of the event.
Already on the first day the groups were forming and I found myself in a small group of two, Naz and Simon from Singapore. For Naz this was the first time she had ever taken on such a challenge. Simon, her husband, had regularly taken part in these kinds of adventures and wanted to share the experience with his wife.
They were both very much determined to finish this epic challenge together and I was pretty sure after day one (which finished in Viseu) that they would. It was a long day, but the hardest day was behind us and the atmosphere within the group of riders was good. Massage, mechanics and good nutrition were all on hand as soon as we arrived at our first hotel. With a good feed and a good night's sleep we were all ready for the next day.
Day 2 – Viseu to Pedrogão Grande – 140km with an elevation gain of 2,120m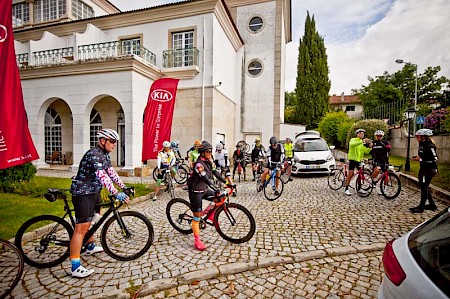 The morning began with a hearty breakfast in the hotel. Bikes were cleaned and checked over by Ride Across Portugal's mechanic. Spirits were high. Everyone was excited about stage two. Again we were escorted out of the town to ensure that we were safely out of the city and led back onto the N2. Once on the N2 we all set off and formed our own individual groups according to ability. Naz, Simon and I got into our rhythm and pace for the day ahead. It was going to be a challenging day with some hard climbing towards the end, but also gave opportunity to take in the beautiful scenic mountains near Serra da Lousa, Gois and following the famous Mondego River.
As our day progressed you could see how just important these pit stops are, as they break the journey into sections, dotted oases, giving you just that extra incentive to press on when you are tired. Always greeted with a big smile and motivational encouragement from the staff driving you forward through the day.
The whole group made it safely to Pedrogão Grande where the local town hall had prepared us welcoming refreshments, consisting of all the local foods and wine, which was most appreciated. Then back to the hotel, a nice shower or bath, massage, good food and wine, sleep ready for another day.
Day 3 – Pedrogão to Montargil – 138km with an elevation gain of 1,430m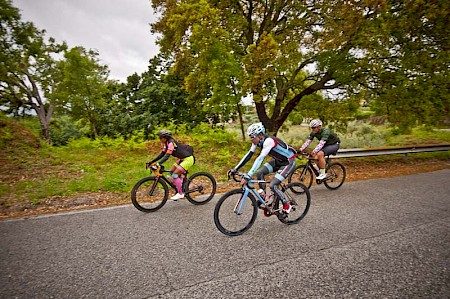 Started the day leaving the Hotel and escorted into the town of Pedrogao Grande to meet the local mayor and pay tribute to the town after the terrible fires last year. The setting was great, the weather was good and spirts where high!! A much shorter, faster stage awaited!
Friendships were building within the group and personalities were being discovered as nerves were disappearing - everyone seemed to be enjoying the adventure, all facing their individual challenges. Just to complete this 5 day challenge is a great achievement.
Naz's confidence had grown and she was ready to take on the day, smiles everywhere you looked. At the end of the day it's all about having fun, taking in the surroundings and having a good laugh in the mix!
It was a great stage like all the rest, but with a surprise on the way. The first feed station was at the most central point in Portugal, with over a 1k climb with a very steep gradient at the end, but well worth the little diversion. Everyone rose to the challenge and all made it to the top. With some good food and a great welcome from the staff we set off. The rest of the day flew by, everyone finishing strong and there was even enough time to get round the pool at the hotel and reflect on the last 3 days and how different every day had been.
Day 4 – Montargil to Albernoa – 172k with an elevation gain of 1,070m
This stage was flat on the map, but the secret is not to get carried away. Pace yourself, take advantage of the fast sections but don't dig too deep, as you still have day 5, which has climbs...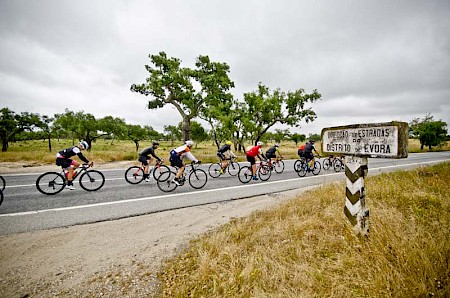 Naz was doing so well at something totally new to her, and she has never cycled back to back. Her confidence was growing, whereas on the first day one she wasn't sure if she was going to complete it.
Diverting off the N2 plunging into different landscape again, discovering more and more about this interesting country as you ride across it, chatting to each other as you pass through the lovely countryside, locals waving as you enter another sleepy village, each one having its own personality from the next.
Before you know it you're nearly at the hotel. Time to chill out, get some food and relax again before dinner and before you know it it's day 5!!!
Day 5 – Albernoa to Faro – 163k with an elevation gain of 1160m
The day itself isn't too hilly but consisted of a lot of drags, and at around 90k it starts to get hilly enough to tire you out if you get over exited, so you pace yourself and save your strength for the 30k or so which is downhill and flat so you can fly to the finish. You must take into consideration the fatigue from 4 days of cycling building up in your legs.
Once again everyone was in great spirts, knowing it's nearly done, but also a little sad as it's nearly the end and people have come from far and wide to share in this adventure – Australia, Singapore, Brazil, Spain and the UK. The staff are amazing and can't do enough to help make everything as perfect as possible and be there for you, no matter what!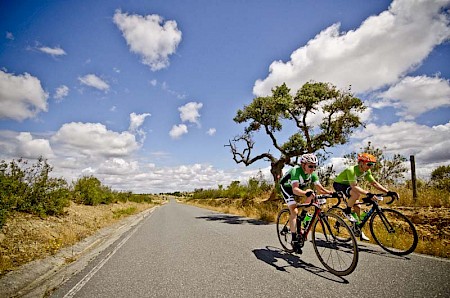 I had been with Naz and Simon the whole trip as it was my job to ensure people at the back will make it and to motivate them when they are at their lowest... Mainly I'd say the three of us laughed most of the time. I had a great time. I don't always have to race. It's nice to kick back and take in everything around me, have a laugh, chat and motivate each other and share the moment.
We got though that day. We made it with 15 mins to spare and with a police escort to the finish which made it even more special, winding through cobbled streets to avoid the traffic. A fantastic finish to a great day.
All this was topped off with a well deserved beer at the finish, looking over the sea on a sun drenched terrace – just perfect.
It was an emotional moment to see people finish something they never thought they could complete.
We all had a lovely dinner in the evening with a presentation and medals for everyone, all presented by each member of the staff, which was a lovely touch saying what their role has been in the creation of this event.
Also my good friend made a guest appearance on the last day, James Golding rode with us a bit of the way and joined us for dinner.
We drank loads of great wine and ate well, spoke about our week and how much we enjoyed it and are looking forward to the next one - which will be even better as some exciting tweaks for 2019.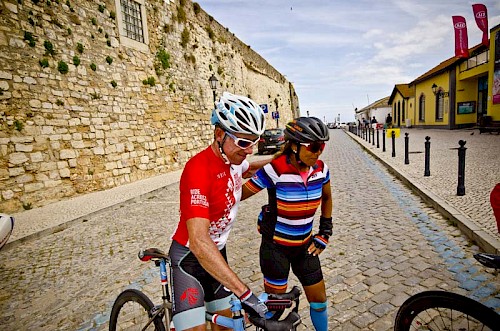 The ride across Portugal is an event for everyone. Perfect for a group of friends, couples who raise money for charity… Or you can just come on your own, you will be guaranteed to make friends. I was surprised how many people came on their own, that's the beauty of cycling, you meet so many great people on these events from all over the world.
Transfers are supplied and tailored to your individual needs.
I hope to see you next year at the Ride Across Portugal.
Explore Portugal on a bike!