People who ride scooters (or bikes for that matter) are often perceived as good for nothing trouble causers. With funny looking haircuts, tattoos, unsavoury clothing and noisy scooters… you can kind of get the stereotype but it's usually further from the truth than 'normal' people would care to imagine.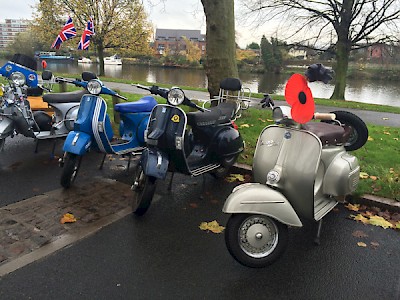 Take the time to see beneath our sometimes rough looking façade and you'll find people who raise money for charity, take toys and eggs to sick children in hospital and rally round to offer support and help to friends, or strangers in need. People on two wheels can always be found supporting good causes and every November all around the country, come rain or shine they'll be at local Remembrance Day parades showing support for our armed forces, past and present. A cause close to the hearts of many, especially with the current political situation and very real threat of terrorist activity looming over us.
Sunday 8th November saw around 150 local scooter riders braving the weather in Nottingham to show respect to the fallen at the Remembrance Day service held at the war memorial on the Trent Embankment. The annual ride in was organised by the East Midlands Scooter Alliance (EMSA) and supported by clubs and individuals from around the midlands. The scooters are welcomed and allowed to park close to the memorial. On this special day a poignant red poppy sits alongside the rally patches and badges on the coats of the scooter riders. Look around at some of the scooters present and you'll also see them sporting special Remembrance Day graphics, or a poppy as a mark of respect.
After a dignified riverside service, followed by the haunting bugle players Last Post solo the scooter riders head off to reflect on the event at a nearby pub. This is just one group of riders in Nottingham; around the country hundreds more are out paying respects at their own local cenotaph. Lest we forget.