Stealth nutrition bars and energy gels are up and coming products by Secret Training, which are invented by European Champion Track Cyclist Tim Lawson. So I decided to try out some of their popular products and see if they lived up to the hype!
Stealth isotonic energy gel - Watermelon flavour

This isotonic energy gel was the perfect aid today as temperatures reached 27 degrees centigrade, so it was the perfect time to try it out!
It was very easy to consume all the contents in one go. It had a pleasant taste with a hint of watermelon and a refreshing natural after taste. Does this gel work? Well, I've been riding in the heat today and it's definitely taken the edge off my thirst. I'd say that one of the nicest things about this gel is that there's no sickly after effects on my stomach. It's easy, nice and smooth and it works! Also, would be great to use on running and triathlons.
Stealth fast acting protein energy gel - Berry flavour

Taking this gel on the move I found it was very easy to tear the sachet open, whereas with some gels it can be an issue, tugging with your teeth and wasting valuable energy. I could definitely taste the berry flavour, it had a very natural taste and after a few minutes riding it had topped up those valuable energy levels and took away the hunger feeling. Most gels can be a bit sticky when getting on your hands, but with this gel, it was very easy to consume all the contents with no mess.
Overall, it was taken in hot conditions, there was no horrible after taste and it was kind to my stomach. I would highly recommend this product and it does exactly what it says on the label – acts fast when needed most.
Stealth juice bar - Orange and pineapple flavour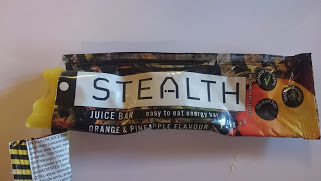 Well first of all what a great idea! The amount of times I have tugged away at a bar and taken my focus off the road, usually giving up, losing that valuable energy source and time!
With the Juicy bar everything you need is in easy soft form, it's gluten free, suitable for vegetarians and vegans, an all-round winner. It's very pleasant to eat, with the refreshing taste of orange and pineapple coming through, the opposite of a bar, as some bars can be very dry and hard to consume especially in a racing environment.
Also tested on running and perfect! No stomach cramps, it was a great bar to eat whilst running, which is always a problem!! (not any more). Because of the consistency of the juice bar it stays together, so just place it back in your pocket and save some for later.
It definitely hits the spot, as it isn't solid like a normal bar it will absorb quicker into your system, which seems to be the focus on secret training, getting that valuable nutrition into your body as fast and effective as possible on the move, using real fruit juice and Palatinose which supports fat oxidation.
The world is changing, we are all looking at the healthiest way to keep our energy levels topped and secret training are tuned into this! This ground-breaking bar has taken 2 years to develop and it's been tested on all kind of cycling environments, so it didn't come easy.
Will definitely be some in my back pocket.
A must!!