The National Scooter rallies have been virtually set in stone for a decade or so, with the exception of one or two rallies that alternate each year. If you do the same things year in, year out you'll eventually start to get bored. For many the excitement has all but disappeared but there are still ways to spice up your social life.
Groundhog Day?
Riding to the same location on the same weekend with the same mates can lead to a Groundhog Day feeling. Me and my other half got to that stage last year, so 2015 was time for us to shake things up a bit and it turned 'Just another scooter year' into one of the busiest rally seasons I've ever had and one of the most fulfilling and exciting, so what did we change?
The first major difference was that we planned an adventure, namely a ride to Vespa World Days in Croatia. That two-week trip with a few friends gave us something to get excited about over winter, 11 countries, great scenery, a new event (for us) and different people when we got there. It really was the trip of a lifetime and opened our eyes to travelling further than the usual Euro rally destinations of Holland, Belgium and France. Attending that event also started me doing the occasional Vespa Club of Britain event and also encouraged me to join the Lambretta Club of Great Britain. I've also done a couple of fantastic LCGB events as well this year, the Coast to Coast – a cross-country ride from the east coast to the west, as well as the Derby 150.
Aside from those events we've managed to cram in plenty more, a trip to Holland for the Venlo rally in August (as we reported a few weeks ago) and another one a few weeks ago to Belgium for the Tilff rally, a small event put on by a few friends – well worth a trip next September.
Of course we've still attended some of our favourite national rallies as well, including Weston-Super-Mare, Cleethorpes, Llandudno and a few others. We've also done the one off DISC '15 rally at Donington, LCGB/VFM Lincoln, VCB at Kendal and Strictly Scooters in Nottinghamshire. As a result of our summer on the road the lawn is about three feet high but we've certainly not let the grass grow under our feet.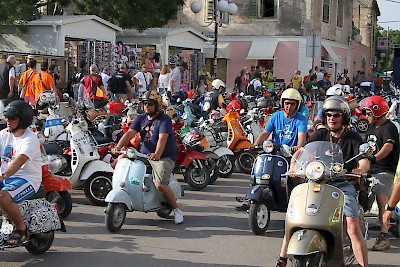 We finished last year feeling a bit disillusioned with the scene but we've ended up riding to more rallies and events than ever before, making new friends along the way and getting a new zest for the scene we love. We've already got a few new events planned for next year, including Teignmouth and The Borders rally on the French/Belgian border. We're also booked on another adventure for Vespa World Days in St Tropez but will be riding there via Spain, with possibly a jaunt to Morocco then back up and into France. One thing is for certain we'll be looking forward to next year much more than we did this one.
Perhaps if you're looking at next year as 'Just another season' maybe it's time to get out of your own comfort zone. Look to include at least a couple of new or different events to your usual ones. If you've never ridden abroad give it a go, or look for a new and challenging way to get to one of your favourite rallies, do it on a Vespa 50, take the A roads or go the long way around. There are still new and exciting things to do on your scooter, get out and find them…