Part 1 of this blog covers the Yamaha 2019 MT range, Yamaha's Dark Side Tour and Get On - Supported by Lexham Insurance.
The end of this year's motorcycle show season is upon us - it's one of my favourite times of year, as we get to take a good look at all the new bikes and scooters we can look forward to being released in 2019. Intermot in Cologne gave us a nice first-look at what to expect at the start of October, and following that is the EICMA motorcycle show in Milan this week (at time of writing) which promises even more reveals, all whetting the appetite for what is quite possibly the best show of the year - Motorcycle Live at the NEC Birmingham, taking place at the end of November and a last chance for manufacturers to preview and show off their 2019 ranges.
In these blogs I'm going to preview some of the news that has us the most excited so far, as well as things to look forward to specifically at Motorcycle Live.
Yamaha 2019 range and Dark Side MT Tour
Yamaha announced some of the upcoming 2019 models last month and the entire MT range will be getting an update. The MT-09 made it's debut 5 years ago now and immediately became a class defining model with huge sales worldwide, really setting the ball rolling for the amazing street bikes we are currently enjoying in today's market. (More on that in our two part-naked blog series for middleweights and lightweights) Since that initial launch in 2013, the MT range have exceeded 175,000 units sold in Europe – it's an incredibly impressive statistic, and furthermore this popularity looks set to continue for years to come.
The 2019 editions of the MT-10 and MT-07 will be arriving in November this year, with the MT-09 and MT-03 following in December. The full range will continue to be available in the Yamaha Blue and Tech Black colour options, but the 2019 model will introduce a brand new 'Ice Fluo' colour scheme that gives a very different look - Motorcycle Live will be our first chance to see it up close and in person.
On top of that, Yamaha's Dark Side MT Tour will be there so we might even get to ride some of these beauties. The MT Tour truck will be conveniently sited right next to the Yamaha show stand, so you can take a look at the MT range and then pop by next door to sign up and test ride one straight away!
Get On - Supported by Lexham Insurance
Of course if you want to test ride one of those MT's on the Dark Side Tour the correct licence is required, if you're a beginner or just thinking of getting into motorcycles, you won't be able to jump on one of those but there is still a great riding opportunity for you on the smaller 125cc bikes.
Get On is a motorcycle industry campaign designed to give people all the info with some first hand experience at riding motorcycles - and with support from Lexham, they will be offering free motorcycle lessons every day of the show! The lessons will last 20 minutes with a professional instructor and all protective clothing is provided for you to borrow.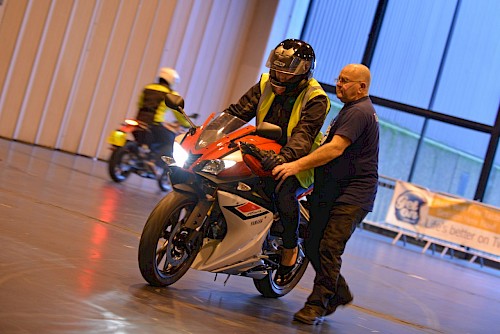 The lesson will serve as an introductory experience covering the basics of motorcycle operation and slow speed handling. According to their survey of 4000 Get On riders - 97% said they enjoyed the experience, so if this is something you've been thinking about what better time to give it a go than at the best bike show in the UK?
Get On is available to anyone aged 14 and over and is completely free, to sign up you can visit the Get On website and pre-book a session (but bear in mind you will need a Motorcycle Live entrance ticket to take part at the show). Bookings can also be made on the day directly but will be subject to availability. So in order to guarantee your place, you are best off pre-booking with Get On to avoid disappointment. Whilst there you can also enter a competition to win a year of insurance from Lexham. All you have to do is enter through the tablets located at the Get On stand.
There's plenty more to be excited about for Motorcycle Live at the NEC to round off this year's show season, and in part 2 we will take a closer look at some of the hot new 2019 models we expect to see at Motorcycle Live, see you then. Part 3 is here, where I talk about about the modern motorcycles and scooters that we are looking forward to seeing the most.