Part 2 of this blog will look at the hottes new retro bikes for 2019 that will be at the NEC Motorcycle Live show.
The UK's biggest motorcycle show, Motorcycle Live, is running from the 17th-25th November, and in these blogs we're previewing some of the things to be excited about seeing there. Last time we looked at the updated MT range from Yamaha as well as their Dark Side Tour – we also mentioned the free 20 minute taster sessions available with professional instructors courtesy of Get On and Lexham Insurance (You can read up on it all here).
Intermot in Cologne gave us an idea of some of the new 2019 machines we can expect to see at Motorcycle Live and with the EICMA motorcycle show taking place this week in Milan the reveals are coming thick and fast. In this part we're going to look at some of the hottest retro themed bikes we know about so far that are likely heading to the NEC.
Royal Enfield KX bobber prototype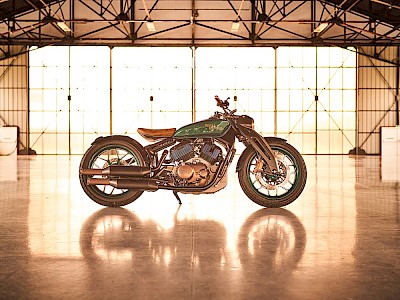 Royal Enfield has gone from strength to strength in recent years putting out a whole range of fantastic retro styled motorcycles. For me the key to their success has been two-fold, the great minimalistic design of their bikes and the accessibility of them, and that many are suitable for A2 riders as well as being wonderfully affordable.
It's no surprise that a mysterious image appeared on their Instagram last week then, and it had a lot of people excited. The image showed a brand new model hidden under a black cover with the promise that all would be revealed at EICMA. True to their word, Royal Enfield showed off the new KX concept bike this week, a bobber style motorcycle with a very unique design fusing modern and retro styling into one machine. We don't have all the details yet but we do know it will feature a 834cc V-Twin engine and is still in the prototype stage. Royal Enfield will be running a stand at the NEC so perhaps we can get another glimpse at it there...
Triumph Scrambler 1200 & Limited edition T120s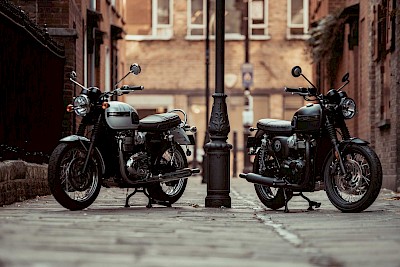 Triumph's all-new Scrambler 1200 is due out in December so Motorcycle Live will be the first chance to see it in person. Retro scrambler models have been all the rage lately and this one looks pretty special. The Scrambler 1200 keeps the beautiful classic design but introduces a host of cutting edge features including fully adjustable Ohlins Shock, Showa USD forks, Brembo brakes, ABS and traction control, full colour TFT display and 6 rider modes. This bike looks like it does it all and I expect it to be a big seller next year.
Triumph also had something new to show at EICIMA unveiling a pair of limited edition T120s for 2019, the Bonneville T120 Ace and the Bonneville T120 Diamond Edition. They make a beautifully contrasting pair with the Ace sporting a storm grey paint job with blacked out features, with the Diamond coming in an off-white and silver design with plenty of chrome on display.
All this should add up to a very impressive Triumph stand at the NEC.
Ducati 2019 Scrambler range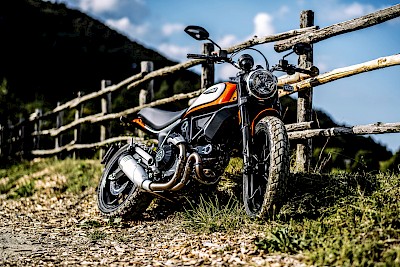 Sticking with the scrambler theme, Ducati showed off their updated Scrambler 800 range at Intermot last month with an awesome new cafe racer version among their 4 main 800cc models. The updates include new headlight styling and an improved ABS system, although they are still missing traction control. An interesting minor addition is the auto-off indicators which I can't decide if I like or not.
We've all left our indicators running before - especially as beginners - but is not having to think about it at all the answer? Maybe it is, but I'm not completely convinced just yet.
Ducati's scrambler 800 was one of the key bikes that set off this whole retro craze back in 2015 so I am always interested to see the latest additions. With Triumph having such a strong showing, we will be able to compare them in person at the NEC.
Moto Guzzi V9 Bobber Sport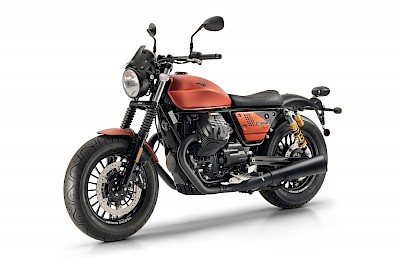 Moto Guzzi unveiled their new Sport version of the V9 Bobber last month in Cologne and it's another bike I'm looking forward to seeing at Motorcycle Live. The Sport version gets a slew of visual adjustments including blacked out engine and pipes, aluminium fly screen and lowered drag bars and seat. It also gets an upgraded Ohlins shock providing adjustable suspension.
The original Guzzi V9 Bobber came out in 2016 alongside the Roamer when retro bikes were really coming into fashion. This update gives a more aggressive styled option and looks like it will be a great addition.
Those are just some of the bikes to look forward to at Motorcycle Live, with new models being revealed almost daily at the moment I expect plenty more developments over the coming weeks. Linked here is part 3 of this blog series where we will be looking at some of the modern style motorcycles and scooters we're most excited to see at the NEC.