In the market for a new economical commuter scooter and have a yearning for the latest model on he market?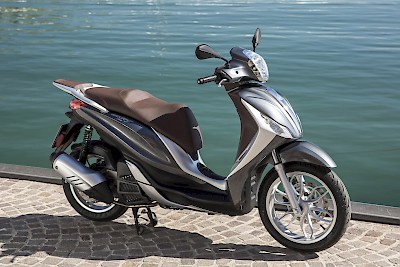 Andy Gillard was recently invited to the world launch of Piaggio's new Medley 125cc scooter and after his first ride speaks highly of it indeed.
Piaggio have been Italy's and Europe's leading scooter manufacturer since producing their first Vespa back in 1946. The problem with being a market leader however, is that others follow, imitate and quite often overtake, which is not ideal really, is it?
In recent years for example, the seemingly insatiable Italian market for large-wheeled scooters has been shared amongst many brands, Honda's SH currently leading the way with Piaggio's Liberty and Beverly models further down their Top 10 sales charts. Not embarrassingly far behind by any means, and when both models are added together the sales are actually very respectable, but the good news for the consumer is that Piaggio still saw a gap in their range which they've just plugged with the all new, singing and dancing Medley scooter.
So what's so good about this new model then? Firstly it has a new engine, which Piaggio have designed, developed and then named the iGet, which will be available in the UK in 125cc format. This engine is electronically fuel injected, liquid cooled, 4-stroke with 4 valves, automatic CVT transmission and best of all, features their new stop & start technology, which when activated (you chose, via a handlebar mounted switch) the engine will cut out when idle for a few seconds and restart automatically when you twist the throttle, thus reducing both consumption and emissions when stationary. The engine also features a new brushless starter motor that is both quieter and apparently more durable than it's predecessor.
The Medley also boasts disc brakes at either end with ABS anti-locking brakes, adding to rider safety, as do the large wheels (16" at the front, 14" at the rear) which if your regular commute takes in any of the many potholed and damaged roads we suffer here in the UK you will be grateful of. Yes folks, such scooters may not be the prettiest in some eyes, but thousands of Romans (and other Italians come to that) use such machines to get around their cobbled streets for a very good reason, so take note.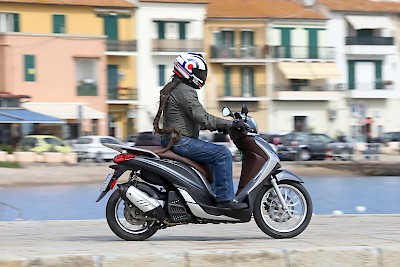 One common failing of a large-wheeled scooter however was traditionally lack of underseat storage space. Piaggio though are the first to remedy that and as I discovered, the Medley will accommodate two full face helmets below its sumptuous saddle – not even a Vespa GTS has that much space there! This is thanks to the relocation of the petrol tank to the floor area (making it easy to refuel too). There is also an inner legshield glove box (that includes a USB charging point within) and a fold out luggage hook too, should you require more carrying capacity. And that's before you consider an accessory top box…
On the road all this adds up to a machine that feels stable and secure, whether in a straight line or fast cornering, as the twisty hillsides complete with crumbling Tarmac roads of southern Tuscany allowed us to discover. Granted the weather was probably better than London's Old Kent Road, but the terrain just as challenging! Joking aside, the Medley felt sure-footed, the braking more than efficient, and the ride generally comfortable too. Oh and to assist when parking, both a side and a centre stand are fitted.
The Medley's pick up from a standing start was adequate enough for this type of scooter. Cruise along at around 40mph and if required acceleration for overtaking was without delay and plenty enough, with 55-60mph a typical top speed at which it was happy, and 70mph indicated at an extreme push with head down and favourable conditions. Once the scooter has loosened up a little (mine was only 600kms young) we'd expect top speeds to be reached more easily. That said, in the right conditions Piaggio claim the Medley could achieve up to 135mpg so if you're not in a hurry, take your time and save a bit. Service intervals are every 10,000km, belt changes every 20,000km and with a RRP purchase price that is quite a bit cheaper than the equivalent Honda, and very competitive against other similar scooters, Piaggio say that the Medley is perfect for commuters looking for an affordable alternative to their current daily transport. To make it this financially competitive, whilst designed in Italy Piaggio have built the Medley at their factory in Vietnam. But you shouldn't let that bother you. The quality looks good enough to me, and besides it's not where a product is made that defines how good it is, but who it is that manufactures it.
The Piaggio Medley 125 is already available in UK showrooms, priced at £2,671 on the road and available in Pearl White, Midnight Blue or Titanio Grey.
The Medley S 125 features some satin grey and black trim instead of plain silver in places and will arrive in July, priced at £2,771 on the road, in Sport Blue. All models meet the new Euro 4 regulations regarding emissions and are of course learner-legal too. Apparently all Piaggio dealers will have a demo bike to tempt customers and I reckon you should try one out yourselves: I doubt you'll be disappointed.
Photography: Milagro and Andy Gillard