An island off the Essex coast near Colchester, linked by a causeway that is impassable twice day due to high tides; Mersea Island scooter rally has been a favourite of many scooterists, both British and foreign, since the 1990s. Scheduled for the week after the Isle of Wight, we met a number of German and Austrian scooterists staying over this year to make a holiday of it all.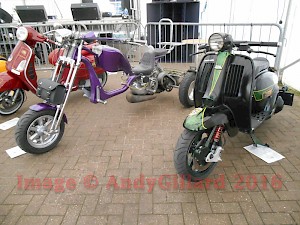 All on one site, with the majority of attendees camping, its coastal location does make it susceptible to some chilly winds and generally signals the end of summer, but as long as your tent pegs are firmly in the ground and your sleeping bag thick enough, you've nothing to worry about!
Throughout the weekend the Mersea Island rally boasts plenty of entertainment from live bands to a silent disco, and its infamous 'fun games' which usually involve in the participants getting messy, wet or both, while those spectating enjoy a laugh or three at their expense! The custom show too attracts plenty to look at, with this year in particular giving plenty for the judges to mull over thanks in part at least to three outstanding Lambretta GPs; the early 1990s favourite Purest Green, Dazzle 3, and Start Me Up. In the Vespa corner the PX Faithful Friend once again won a well-deserved trophy, while on the classic front there were both rustos and restos to debate over, along with a rare Lambretta Willem van too! Oh and not forgetting the engineering class as well, with a couple of bike-engined 'Brettas and trailers, along with a Lambretta trike. Add to this a smattering of autos, a beautiful Bella, some lovely Spaniards and the Bartspeed Vespa, and it took you a while to wonder around and take it all in.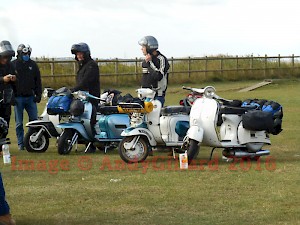 Back outside there were plenty of dealers offering wares from new to old, along with all kinds of clothing, a dyno was installed for those wanting to put pub-talk to the test, and if you fancied a ride, an organised rideout was in the programme for the first time that I recall.
Showers led to rain later on Saturday but it didn't seem to dampen spirits, merely ushering people inside probably sooner than planned. There was certainly plenty of dancing and chatter continuing until the early hours when snoring took over from the DJs, echoing around the site, until only the rabbits were awake and scampering about. So ended another Mersea Island scooter rally.
Andy Gillard