The MCIA (Motorcycle Industry Association) have announced that they are starting a new initiative in London in hope of increasing the use of security on bikes. This operation will be backed by the MCIA through it's own Secured rating scheme as well as by the Metropolitan Police.
On the 19th July 2018 representatives from MCIA member companies, and the Metropolitan Police, will be talking to riders who are parking their machines regarding their approach to security, as well as their riding habits – in hope it will raise awareness on the importance of security used to prevent motorcycle thefts. As an incentive, they will be issuing out complimentary bike covers – something that is noted as a huge deterrent to theft.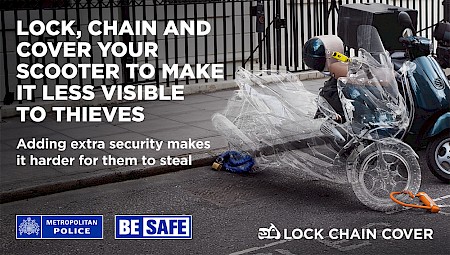 The use of a cover when the bike is parked up – whether it is at a workplace or at home – is most beneficial when used in combination with other security devices, something the Met Police are very keen on promoting.
Cover-up!
If you don't already have a cover for your scooter or motorcycle, it will be worth keeping an eye out for the Metropolitan Police and MCIA Secure representatives tomorrow (19/07/2018), they will be in selected motorcycle and scooter parking bays in Central London.
Tony Campbell, CEO of the MCIA, has said:
"The Motorcycle Industry Association has been working closely with the Met Police, The Mayor's Office and other London Authorities, to help tackle Motorcycle and Scooter theft in the capital.
In addition to the newly announced "MCIA Secured Rating Scheme", we thought it would be a great idea to meet some of London's regular riders face to face and offer them a Free Motorcycle and Scooter Cover and at the same time encourage all riders to Lock, Chain and Cover, leaving nothing to chance.
We need the riders' help to tackle this problem and only by working together with the Mayor and the Police can this be achieved; we are counting on your support."
But what is the MCIA Secured Scheme?
The MCIA Secured scheme is simply an initiative started by the MCIA to provide a rating system scoring each individual security device from participating manufacturers, this rating will range from 1 to 5 stars. Simply allowing motorcyclists to clearly see which devices will provide the most security for their money.
In support of this operation, Detective Superintendent Lee Hill (from the Metropolitan Police) said:
"Police are working hard to keep the public safe and make the streets hostile territory for criminals who steal scooters, mopeds, motorbikes and bicycles and then use them for other offences.
"I urge all vehicle owners to Lock, Chain and Cover their scooters, mopeds and motorcycles to make them less visible to thieves. By having extra security on your vehicle, it makes it harder for thieves to steal them and use them for committing other crime."
So, if you are a motorcyclist or scooter rider in London, do not be alarmed if you are approached by a few friendly-looking people with a cover in hand tomorrow whilst parking up your bike!
Also, be sure to watch our video from Zack and Alex on the Met Police's campaign to promote the use of security on bikes below: