Motorcycle accidents are falling in the UK. The Department of Transport's latest figures how that motorcycle fatalities are down by 13% since 2015 and are 10% down on the 2010-14 average, despite a 2% overall increase in motorcycle traffic.
Roadside deaths overall have fallen considerably in the UK over the past decade with a 44 percent reduction from 3,172 in 2006 to 1,792 reported last year.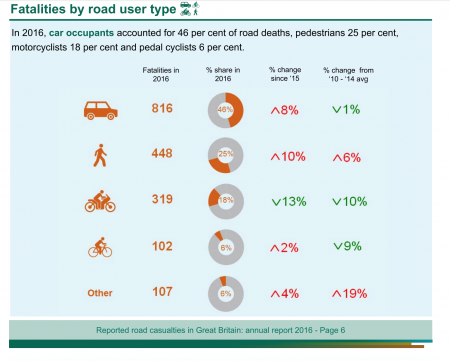 Source: Department for Transport
While this is great news, arguably there is more we can do. The Road Safety Foundation has called upon the government to immediately invest 200m into our 'high risk roads'.
Andy Goodson, the Sales and Marketing Director for Lexham Insurance, said: "The figures are encouraging in terms of reducing the number of motorcycle fatalities on Britain's roads.
"While great strides are being made to improve motorcycle safety, further training and raising awareness could reduce these figures further."
The number of people killed overall on Britain's roads increased by 4% in 2016, the highest annual total since 2011. Last year, road traffic crashes cost the British economy £36 billion and 71 people are still killed or seriously injured (KSI) on Britain's roads every day.
We take a look at what may have contributed to the decline in motorcycle accidents and explore how we can continue to improve road safety in the future.
Investing in our roads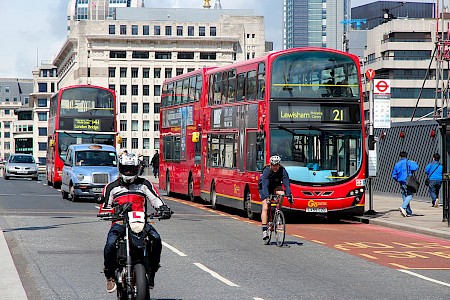 Last year, the government spent a record £175m on improving the most dangerous A roads in England. This had a significant impact on the number of accidents last year.
The greatest change was seen on a stretch of the A4151 in Gloucester, where investment results in a 90% reduction of crashes. Across the 10 most improved road, KSI's feel by a massive 74%.
By reducing the number of accidents on just these roads alone there is the potential to save up to 17m a year. Yet, the Road Safety Foundation found that a further 6,111 kilometres of the UK's roads are still pose an unacceptably high risk.
The worst offender was a 7-mile stretch of the A527. Nicknamed the Cat and Fiddle, it has been identified as the most hazardous stretch of road six times out of the last ten years.
Ten most 'high risk' roads:
Here's the ten highest risk roads in the UK in order:
A537 - Macclesfield to Buxton
A254 - The A28 junction in Margate to junction with A255 near Ramsgate
A259 - The junction with A2036 at Glyne Gap to just outside Ore
A588 - Lancaster to junction with A585 outside Poulton-le-Fylde
A6 - The junction with A585 in Lancaster to M6 junction 33
A32 - From M27 J10 to Delme Roundabout, Quay Street roundabout to the Gosport ferry terminal
A3055 - The junction with A3054 in Freshwater to junction with A3054 in Ryde
A21 - The junction with A2100 to junction with A259 at Hastings
A18 - The junction with A46 near Laceby to junction with A16 near Ludborough
A4 - The junction with Huntercombe Spur to junction 5 of M4
Source:The Road Safety Foundation
Further investment in signage, safe pedestrian crossing points, appropriate speed limits and road markings could have a significant impact on the number of KSI's going forward.
A Department for Transport spokeswoman told the BBC, that in addition to the £175m it allocated last year it is also going to give local authorities "record" levels of funding to improve local roads and repair potholes.
She added: "It is vital councils spend this money to keep roads in good condition."
Advanced training for motorcyclists
No matter how experienced you are as a motorcyclist, further training can make riding more enjoyable and safer on the roads.
Courses such as the police-run BikeSafe and the government's Enhanced Rider Scheme, equip motorcyclists with advanced road skills to help them maintain a strong visible presence on the road.
BikeSafe-London Rider Skills Days provide riders with advice and experience from real riders such as professional police motorcyclists. They equip motorcyclists with a greater knowledge of hazard perception, causes and ways to avoid crashes and ways to make yourself more visible.
Margaret Mitchell from GMTS (Tayside) Ltd, a motorcycling training school commented: "Passing a motorcycle test is only the beginning of a lifelong commitment to becoming a safe and defensive rider.
"The benefits of advanced motorcycle training, whether through offroad courses, IAM or Enhanced Rider Scheme, as well as Bikesafe (which no longer exists in Scotland) cannot be emphasised enough!
"Every day is a school day" is a very true saying, especially where motorcycling is concerned. Be open to learning, never be over-confident, and you will be well on the way to becoming a safer and more confident rider."
Whether you've been riding 3 years or 30, advanced training is a great way to remind us to be vigilant and considerate when riding. As well as the safety benefits, post-test courses also have the potential to help reduce your motorbike insurance premium.
You're 'Never Too Good' to upskill. Chaz Davies, professional motorcycle racer and World Supersport champion and Alan Davies, famous comedian, writer and author set out to prove just this in 2014.
The government's THINK! Campaign, 'Never Too Good' encouraged riders to undertake further training, like the 'enhanced rider scheme' to improve their safety on the road.
You can watch the full length version on YouTube.
Chaz Davies commented on the campaign: "You really are never too good to be a better rider - it's as simple as that.
There are so many more variables on the road and I think people can get a little bit over confident, but you are never too good. You never know what's around the corner.
The training really got me thinking. The instructors preempted every situation that I spotted a couple of seconds later. It really showed me the importance of being one step ahead and reading the road."
Find an enhanced rider scheme: https://www.gov.uk/enhanced-rider-scheme-trainer
London is leading the way
In London, in particular, there has been a drive to raise the standards of rider safety.
Due to the capital's congested roads and high number of motorcyclists working as delivery drivers, there is added pressure to make the roads a safer place.
TflL have published figures that highlight that motorcyclists and their pillions accounted for 27% of serious injuries and 28% of all road fatalities in London in 2016.
Spearheaded by TfL and Sadiq Khan, the Mayor of London, a range of new measures to raise the standards with a focus on the motorcycle delivery and courier industry and aims to improve the confidence and skills of the Capital's motorcyclists.
The initiative is part of TfL and the Mayor's Vision Zero approach to eliminating death and serious injury from collisions on the Capital's roads by 2041.
It's the first of it's kind to work with the industry to deliver a recognised standard for motorcycle delivery companies. Areas such as operations and management will be covered and companies will be audited on their standard of vehicle maintenance and rider training.
Lilli Matson, TFL's Director of Transport Strategy commented: "It is unacceptable that there are disproportionately high numbers of motorcyclists involved in fatal and serious collisions.
"As part of our Vision Zero approach to reducing road danger, our new measures will work alongside wider efforts to reduce the number of serious and fatal collisions on London's roads which include education, enforcement and infrastructure improvements."
TfL have also devised three new training courses for motorcyclists in London. They are designed to boost rider confidence, improve their skills and build on their knowledge both before and after Compulsory Basic Training (CBT)
Preparing for you CBT takes young and brand new riders through a short, online course that covers the essentials of riding theory and the Highway Code. Best of all, it's free of charge.

Beyond CBT is a one-day post-CBT top-up course for delivery drivers. It's fully funded by TfL and builds on riders' knowledge of the Highway Code, how to secure and ride with a load, planning routes and how to be safe when making deliveries. It will also cover routine maintenance and check for the motorcycle.

1-2-1 Motorcycle skills is a completely free, two-hours tailor-made one-to-one session with a qualified instructor. This course is aimed at commuters and those who ride lower capacity motorcycles and want to improve confidence on a particular route, such as their commute.

Additionally, TfL are taking further steps by lobby the government for changes in the way motorcyclists are licensed and support the Motorcycle Industry Association's training provider accreditation scheme.
They are also investing in more pedestrian crossings that include a 'Pedestrian Countdown', improving bus safety to reduce bus collisions, creating standards by for heavy goods vehicles, implementing 20 mph zones and investing in dedicated traffic police.
London are leading the way in making changes that will make motorcyclists safer, more confident and alert on the roads.
Rolling out similar schemes across the country, starting with the most congested cities and moving outwards could make a significant difference to the rate and severity of accidents nationwide.
Changing attitudes of drivers
To reduce the number of accidents, we must also invest time and money into raising awareness of the factors that contribute to collisions.
As well as campaigns aimed at motorcyclist, THINK! Have also be been tackling the attitudes of drivers when it comes to motorcyclists.
A study by the Department for Transport found that drivers with increased empathy for motorcyclists had significantly improved attitudes towards motorcyclists.
By thinking more about the person riding the motorcycle, care drivers are more likely to be aware of them on the roads and aware of their own actions.
The study exposed car drivers to some of the demands motorcyclists face on the road though the use of hazard perception clips.
Film taken from the point of view of the motorcyclist had a positive impact on attitudes as well as an effect on the driver's awareness or perception of possible hazards.
Under every rider's helmet there's a person who's someone's son, husband or daughter and by remembering this, drivers are more likely to be considerate on the roads.
Professor David Crundall said in a report for the Department of Transport: "Empathy with the motorcyclist's plight appears important. Drivers with relatives who ride motorcycles have been reported to have fewer collisions with motorcyclists and have better observation skills in regard to motorcycles."
Raising awareness of potential hazards
In addition to changing attitudes, raising awareness of key hazards or situations that cause accidents is vital.
For example, did you know that 51% of fatal casualties occurred on non-built-up roads in 2016, compared to just 5% on motorways?
Additionally, a number of studies have found that right of way violation crashes are the most common type of accidents motorcyclists face. Shockingly, 30 bikers are killed or injured at junctions, everyday.
Often, these accidents are attributed to the 'look but fail to see' errors of drivers. Research suggests that when a motorcycle enters our vision, we should extend our gaze. It has also found that experienced drivers are less likely to look for long enough periods of time.
Whereas, in contrast, novice drivers are better when faced with a motorcycle at junctions. This is believed to be due to their recent training and being equipped with up-to-date strategies of how to deal with these situations.
Margaret Mitchell from GMTS (Tayside) Ltd, a motorcycling training school commented: "A knowledgeable rider is a safe rider. Knowing how to identify a problem, analyse what is causing the problem, and working out a strategy to deal with it will minimise the problem! Forward planning is the clue to safe motorcycling.
"By looking and planning ahead, bikers give themselves the best chance of avoiding injury."
To wrap up
We've made great strides towards safer roads. However, while motorcycle fatalities have dropped by 13%, the reduction in the number of injured is more modest.
There's lots that can be done on all sides. Motorcyclists should be encouraged to embark on advanced courses to sharpen their skills. Drivers need to show empathy and consideration to travellers on two wheels and the government must invest in our high-risk roadways.
By investing in education, awareness and funding, there is a real opportunity to cut the number of fatalities and KSI's on our roads.
However long you've been riding, remember to be considerate, vigilant and alert and that you're 'never too good to be a better rider'.