Like everything else at the moment cycling has evolved, and for those who like gadgets and training in the warmth of their own home during winter, things have taken a virtual leap forward.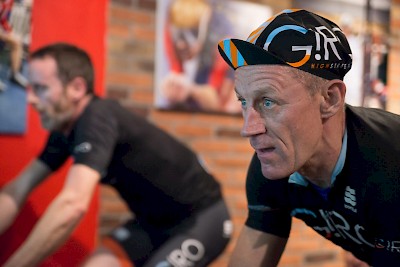 Cycling technology has definitely changed over the years, and you can now make your turbo training experience even more of a simulation with the latest software and training tools. I recently came across Zwift at the Giro Cycle Café in Esher, with friend and former Milk race winner Chris Lillywhite even gracing the pedals giving this latest craze a go.
So why Zwift?
It's not always ideal to cycle outside, with bad weather, traffic and general time constraints ending any motivation to venture outdoors but with Zwift you can train in your own home with your cycling efforts portrayed out on screen. Zwift software offers detailed 3D landscapes which allows you to interact with fellow cyclists all around the world, thus allowing fun multiplayer online gaming.
For keen cyclists who religiously train in those winter months, Zwift has got some terrific features which are enough to appeal for regular use and shouldn't be deemed as a novelty. As already hinted at Zwift has been developed with social aspects at the forefront, allowing you to create new friends in their global community or reconnect with old ones, all while enjoying a cycle ride in the dry.
Zwift though friendly and welcoming is essentially a training tool, allowing you to keep records and stats of your own performance, with the addition of leaderboards and unlockable achievements to keep you motivated. This popular piece of software makes you want to go back for more, especially for those with a competitive nature.
Zwift is a pay per month software subscription (currently £8 per month) which can link via a ANT+ dongle. It's definitely worth checking compatibility with your devices before purchasing, you don't want to get carried away, delighted with technology to find out the set up isn't right. Handily there is a 14-day free trial available so you can make sure things work seamlessly before committing to purchase - http://zwift.com/.
An alternative
If you are a keen cyclist then chances are quite high that you have heard of Tacx, most notably renowned for their Turbo Trainers. The Tacx Trainer Software 4 comes in various packages (only for windows computers), so always best to check their website for current prices - https://www.tacx.com.
For those who like a lot of extra content such as additional tracks and circuits to keep things entertaining you might well want to consider purchasing the advanced package. Packed full of features from creating your own schedules to racing against other people all around the world. Tacx Trainer 4 is a one off purchase package, so no monthly payments like Zwift which might be a preference for some.Tacx runs through the same system as Zwift being ANT + and Bluetooth, so the same equipment will be required for both.
The choice is yours, both are brilliant advances in technology that people can now afford to have in their own homes, and something that seemingly will only grow in popularity.
Photos are from the Giro Cycle Cafe of people using Zwift and also from the Zwift website.