It can be difficult to continue our passion for cycling with family and work commitments, sometimes it's tough to muster the physical and mental strength to go out and train when you eventually get some spare time.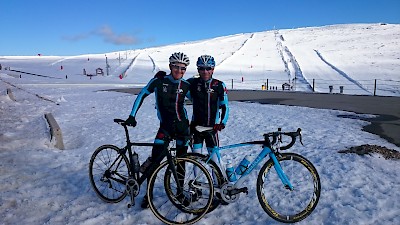 It's natural, just wanting to chill, but the longer you leave it the harder it is to get your fitness back. This is especially the case if your old cycle mates are still training hard continuing a higher level of fitness, making it extremely difficult to catch up.
This large blog is made up of two parts; first offering advice on how you can keep cycling when you have little spare time and secondly as a perfect example of this I talk about Andrew Gill and his recent riding getaway at my Cycle Training retreat in Portugal.
Part One: Ideas To Keep Cycling
Become a Cycle Commuter
Commuting to work on your bike is potentially an option because you are making good use of your travel time. You don't have to ride every day, many people choose to commute 2 to 3 times a week, and it will give you a massive boost to your cycle fitness. There are some incentives out there such as ride to work schemes. Cycle to Work allows you to have as much as £1,000 worth of bike and safety equipment through your employer. You pay back monthly through your salary over a 12 to 18-month period, so it's worth finding out if your company is involved. Of course, this all revolves around whether you have the amenities at work, such as showers and somewhere to store your bike and clothes, but for some this might be a perfect way to start enjoying two wheels.
Virtual Indoor Cycle Training
Indoor trainers or virtual training if you prefer are getting more and more popular and affordable. If you would prefer to get fit in the comfort of your own home then virtual training might well be for you, by linking up to the latest software the home training scene has just become more interesting and competitive. To find out more on this head over to my Indoor Cycle Training blog.
Spin Classes
There is also massive growth in the amount of people taking part in spin classes which now take place in most leisure centres and local gyms. Spin is a great benefit to your cycle fitness and also a great way for you and your partner to train together and meet people.
Cycle Cafes
If you're looking for like-minded cyclists to enjoy cycling with or just a natter why not check out and visit your local cycle café this a great chance to meet new friends, get involved in ride-outs and discover new routes. Read My Cycle Cafe Blog here.
Cycling Training Camps
Cycling training camps are a great way to give you a kick start and get you riding your bike in a cycle friendly environment. This enables you to get fitter, learn new skills and also improves your overall understanding of your own cycle fitness levels. Another big positive with training camps is it further involves you in the company of fellow cyclists who will have similar goals to yourself, having something in common will make the whole training experience easier and fun. It is very important when you book your cycle camp to make sure you let them know your level of cycling ability and your personal goals. This is just like skiing, as you need to be in the right group related to level of cycle fitness, it is vital you're not out of your depth.
Part Two: A perfect example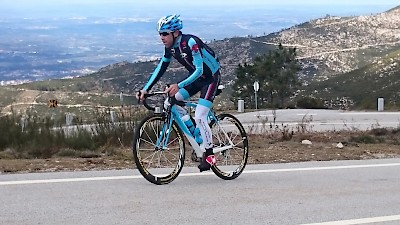 For those that don't know I run a training camp here in Portugal called Delucci Retreat, and I see many examples of riders with different stories to tell, yet for a lot of them they have one thing in common, they have escaped to reboot their fitness and rekindle their passion for cycling.
A perfect example of someone who wanted to get cycling again is recent visitor to the Delucci retreat Andrew Gill (Gilly). Andrew age 48, has been a cyclist for many years, which includes road racing at a high level, with involvement at prestigious events such as the Argus in South Africa and London to Paris.
Getting a kick start
While out enjoying the day with the family and driving passed groups of cyclists, Gilly knew it was time he was on his bike again. Knowing he had to do something about it, I received an email from him keen to purchase some Delucci Retreat Cycle Gear and to organise a 4 day visit. It was a last minute arrangement due to commitments with confirmation only the day before, but the window opportunity was there and he went for it with the support from his family.
First Day & Planning Ahead
It was morning when he arrived so this meant we could build his bike and get out that same day. The great thing on this occasion was it would be just Gilly and I, so no pressure, we could ride at his own pace. The best way to get your fitness back and a get a feel for your bike again is about building up from day to day in a relaxed environment with quality riding, not going out with a group of mixed abilities smashing each other, that just doesn't work.
Day one was all about seeing how Gilly acclimatised to his new surroundings and evaluate where he stands in regards to power and anaerobic fitness. We enjoyed a nice rolling 3 hour ride with plenty of chatting, it was a very enjoyable ride, with a few climbs mixed in. It was a great start to the 4 day session. Over dinner with Gilly's feedback we planned for the days ahead, so that we can build up throughout his stay at the Delucci Retreat.
Day 2 - Time to push it
Gilly came up for breakfast raring to go, the cycling spark had definitely been lit again! He simply couldn't wait to get going, even though he had been working in his room that night until 1am. With modern day technology and WiFi just about everywhere, if you have a job which is 24-7, it is possible to keep on top of things.
As Gilly found when you're riding in relaxed environment with beautiful surroundings, it helps inspire you, giving you more energy and drive while all you can think about is riding your bike.
Our next ride was 110k which included steady climbing with lovely sweeping descents, which was a brilliant time for Gilly to focus on his handling skills and enjoy riding his bike again in beautiful surroundings. We stopped half way for coffee and cake in the beautiful town of Arganil. On the way back the pace quickened with quality effort put in.
Day 3 - 70k To Coimbra and back
A lighter ride was planned for the third day, as we had big plans for day four with the overall distance being around 70k. This third day ride did include 2 long hard climbs, as we looped out to the city of Coimbra. With that day done, the excitement built up for day four's plan a 2000m climb to Serra da Estrela, a small Ski station. Serra da Estrela is the highest mountain range in Portugal, it truly is a must visit!
Day 4 - Climbing to the summit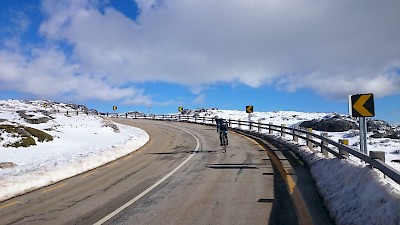 That morning we both awoke fuelled with excitement, the weather was perfect with the sun shining. The ride itself is only a 63k ride up to the summit (Torre) and back, but 28k of this is climbing with max incline of 14%, it's all about time in the saddle when training in the mountains.
The climb was just breath taking, we enjoyed the sun and warmth while watching the scenery below getting smaller and smaller as we climbed higher. The first climb saw the gradient ranging from 5 to 10 percent. We adopted a nice comfortable pace which suited the challenge ahead of us, we'd previously looked at the profile so we knew we had a harder test ahead.
With the first climb behind us we approach the second climb, at this time we start to see the snow in the mountains. As the temperature dropped we stopped to put our gilets on. As we climbed further the trees disappeared giving way to massive boulders and a rocky and barren landscape, it was simply breath taking. As we both looked up at the mountain ahead of us, we saw the road snaking, we both had a real sense of going into a different world. The roads were general empty apart from the occasional car or the odd wandering goat, as opposed to the Alps, where there is a non-stop flow of coaches and campervans off to Ski. The roads here are clean and dry, the snow got deeper as we climbed higher and higher, creating a wall either side of us.
As we got nearer to the summit we passed the ski station and just had to get a picture as people were skiing in the background – a truly surreal situation.
As the summit was in close sight we both felt a real sense of achievement, with over 2 hours of climbing behind us, we were almost there so we put the gas on to the summit, while enjoying the picturesque scenery of skiers carving up the mountain.
We had a well-deserved hot drink and food all while still digesting our beautiful surroundings. After some quick photos we then made sure to put on additional layers for the 40-minute descent. You really need to be warm with no distractions on a decline like this as you need to focus on the road ahead, after gliding down the beautiful road surface and sweeping bends we finally arrived at the bottom, both with massive grins on our faces. It really was one of those one in a million days! That night we ate well and maybe drank a bit too much of the local red wine, but it was well deserved and a brilliant final meal to cap off a fantastic 4 day session.
Gilly set off home the next day with a rekindled spirt, loving his bike again, with his base fitness back on it, all while after enjoying an amazing adventure.