Let's for a moment forget about the best gadgets, up to date bike technology and build quality and go back to how bikes were a few years ago. Old bikes can soon be forgotten about, left in the corner of the garage gathering dust, your once favourite bike pushed aside for a new steed. Well fun and games can still be had on those old work horses, it's time to have a look and see what winter adventures you can have.
CycloCross
Cyclocross is growing in popularity, although now enjoyed basically all year round, Cyclocross is a generally muddy sport most enjoyed in the winter, in whatever weather is thrown at its competitors.
Cyclocross mixes up running and cycling on courses varying in length but most are between 1km – 3km, the terrain is mixed, you can find yourself on anything from tarmac to mud or sand with a number of obstacles in your way to make it even more interesting. The events are normally time restrained also. For the more serious Cyclocross participants there are bikes now specifically designed for these events however an adapted road bike is how most enjoy the muddy challenges Cyclocross offers. Mountain bike like knobby tyres are essential, though most also make other modifications to aid their racing. Smaller guarded chainring/s, drop bars, more suitable pedals and also don't forget to have everything set with mud in mind, as a build-up of dirt and debris can soon ruin your day so make sure you have plenty of room on vulnerable components.
Sportives
Ok nothing new here but during the winter months why not take the old bike out on a sportive, there are still plenty arranged for the winter period.
Not sure what a Sportive is? Simply it's a long distance cycle ride with a lot of other cyclists; similar to people who run, most sportive participants will set themselves targets such as beat their personal bests or even aim for a longer distance – though remember people it's not a race!
Yup, you can most likely set faster times on your main bicycle but why not set yourself a challenge on your old pride and joy, you might surprise yourself.
Mountain Biking
OK if you have an old road bike this isn't much help, but if you have a mountain bike that hasn't been splashed in mud in a while, why not take to the tracks and blow the cobwebs off?
A lot of people will have a winter bike but if you don't and you have an olden hidden away, why not, go for it!
Using my old bike on a winter adventure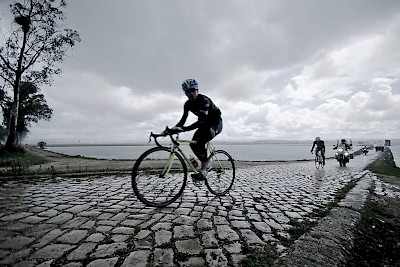 I work in conjunction with Granfondo Portugal and help with events. The organizer, Antonio, gave me a phone call early February this year and said he was doing a test for a new event to be held next year, am I keen? Well, to be honest, I'm up for anything! What is it, I ask? He tells me that it's an off road event but on road bikes. A 120km ride made up of cobbles, dirt tracks and along coastal routes. The event would be sponsored by none other than Trek and back up was present with rather nice BMW motorcycles. An opportunity I simply couldn't say no to.
After putting the phone down my initial thoughts went onto what bike I should use. Straight away I knew I wouldn't be happy risking my main race bike on that terrain, no way. That's when it hit me, my old 1992 Pinarello steel would be brilliant fun. The last time it got used was over a year and it would be nice to use it in anger again. All the bike needed was a quick service and 25mm tyres, and the job was done ready for the challenge.
The morning of the event arrived, I had an hours travel to the event from my house and the weather was far from perfect wet, cold and windy, joyful!
As I rolled up expecting to see fellow cyclists on similar old bikes to mine I was soon surprised as I was surrounded by people on carbon road bikes, some higher spec even with disk brakes. Well this was going to be fun.
After an initial photoshoot we were soon off on the adventure. This event was just for fun, yeah, right!
Treks representative Ricardo, a friend of his and myself, were straight off the path and testing ourselves on the dirt tracks. The three of us were away, power on, flying over the dirt and gravel, plenty of grit pinging off my tyre and frame in all directions, I was loving it, the old Pinner was really doing the business! The trusty steel frame and sloping forks endured all the punishment.
Next, a cobble section and they weren't exactly small. Ricardo was really putting the hammer down but I wasn't going to let him get away. Ahead, in the middle of the cobbled single track, a car is ready for a photo shoot. Hurtling past doing my best to avoid the gutter we squeezed past "I think we are meant to stop for photos" Ricardo shouted while the rain was now beating down.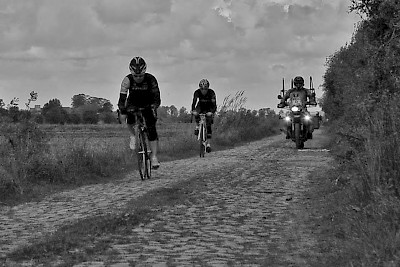 With bikes following us throughout this exciting and demanding course, there was nothing to worry about, simply enjoy the ride. With this kind of riding it's imperative to keep the power on and focus on the road ahead. Thankfully, after a while the sun made an appearance, with blue sky it really turned lovely and provided some much needed time to dry out.
With the worst behind us we made our way onto the gravel, we were getting close to finishing. A few suffered punctures in the group but everyone is well and good to continue. As we turned a corner we were greeted by the biggest climb of the event, we continued to follow the coastal dirt track and attacked the ascent which must have been a gradient of 18% at least. Up, up, up we went trying to find the best line possible, it was madness, but that's what we love, isn't it!
I managed to get to the top first, my old Pinarello really was doing well. Upon turning right, thankfully tarmac awaited. At this stage my legs were truly spent, but I continued to follow the coast road on way to the finish line. Nicely we all regrouped in time to finish together to cap off a fantastic experience and another adventure completed, thanks to my old trusty bike. So, it just goes to show, you don't need to have the newest and most expensive kit to have a great day in winter!