Morocco is a place I didn't really know much about, which I suppose is the main attraction, going into the unknown — isn't that the spirit of a true adventure?!
There is a lot of talk about the Atlas Mountains at the moment in the world of cycle destinations. Not only because it has some of the most amazing mountain ranges in the world, but because cyclists and cycle tour companies alike are looking for something different, and Morocco is exactly that; different and untamed.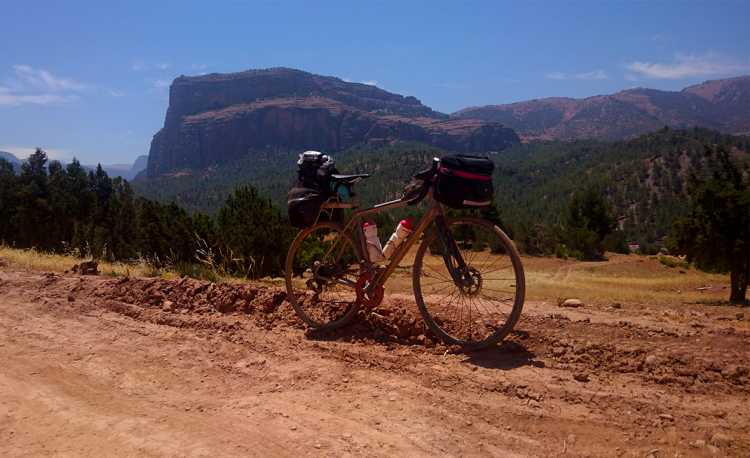 Recruiting cycling accomplices
I planted the seed of the idea with my Portuguese friends; Catarina, Ricardo and Pedro. They, like me, have a passion for cycling, and while we are of mixed abilities, we decided this adventure would be all about sharing an experience with good friends.
I came up with the idea of exploring the Atlas Mountains, not really thinking it would happen, but with some pre-planning by Pedro, before I knew it we were heading off to Morocco on June 22nd. Pedro has had previous experience cycling Morocco so was our man when it came to organising the trip.
If you are doing this with friends, it very important that you have someone with experience or that you do a lot of research in advance, as I assure you, it is a different world once you are there. Be as prepared as you can.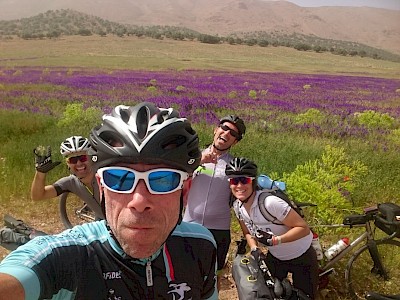 Our journey began with me driving in my truck, loaded with my bike, to Leiria, about an hour and a half from Delucci, not far from Lisbon.
had a mixture of bikes between us. Catarina and Pedro had mountain bikes, Ricardo had a cyclocross bike with 32mm tyres. The only bike which I could use was my Varuu V8 di2, disc. Well, it was loaned to me by James, the owner of Varuu cycles, as a hire bike for customers to use at Delucci Retreat. It is a road bike and this version can only take 25mm tyres and ideally, I needed at least 32mm or more. It's a fantastic bike, but not a gravel bike.
The bike is made of titanium and built of very high quality, so I was pretty sure it would stand up to the punishment. I just wasn't too sure how the bike would handle, as Pedro mentioned a few days before we were due to leave that most of the trip may be off road — with 70% of it being gravel and stones. I thought to myself 'oh no! What am I getting into here? We were carrying all our own bags on the bikes. Everyone had frame bags but I had a road bike set up with handlebar bag and seatpost panniers. Not an ideal setup to be honest, but it was the tyre width that was my main worry.
One of my phrases which I say a lot is "Be alright!!!"
(I would like to point out on this kind of trip you do really need a cyclocross, gravel bike or mountain bike.)
Expectation versus reality
The plan was to drive to Morocco from Leiria in a minibus with our bikes and kit, and set off on a 6 day bike ride, starting right near the base of the Atlas Mountains. This meant travelling across Spain and down to Tarifa, then catching the ferry to Tangier, which is about 50 mins. Then from Tangier drive across Morocco to Midelt, which is where we will begin riding and will finish after a loop.
As we approached Tangier, it suddenly dawned on me that we are entering an African continent. As we rolled off the ferry into the busy Port of Tangier, we immediately merged into a flood of cars and scooters from all directions, with a vast majority being 3 wheeled Chinese-made motorcycles, which consisted of a large big space on the back looking like a motorcycle-pickup (rickshaw) whizzing in and out the traffic. These seem to be the main source of transport for moving goods and people.
Also, I was very aware of armed soldiers patrolling the city. Within less than an hour's ferry crossing, we were in a totally different culture. The change in such a short time was extreme and very hard to take in. Our research had given us insight into the culture. We knew the basics such as alcohol being forbidden as a Muslim country, and that the second language in many parts was French. But still, I felt unprepared for the sights and sounds that now surrounded me.
Plan was to get some Moroccan Dirhams out from the cash point (as you can only purchase Dirhams in Morocco) and buy a few supplies from a food stop on the way to our destination, Midelt.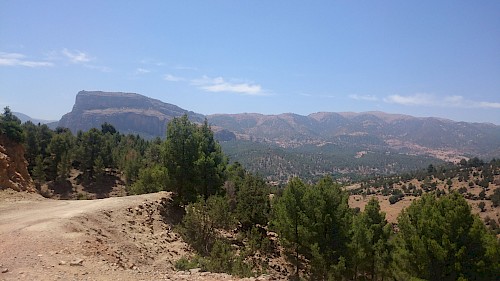 The drive was a long one with a few stops on the way to eat our food and stretch our legs. After at least 4 hours driving the terrain began to change and the roads became quieter and more narrow and mountainous. The view became epic — the roads were mainly occupied by vehicles transporting farm goods or people who have been working the land.
As we drove through towns they looked quite run down, and the locals were sitting outside drinking a tea called whisky berbere, equivalent to Europe coffee culture I suppose. The streets were buzzing with people selling their wares.
We went past many such towns, one after the other, until they became fewer and then, at last, we entered the mountain regions. We saw plastic-like circular tents scattered across the mountains, which was where the nomads lived, families moving from place to place as the seasons changed.
For myself, Ricardo and Catarina, we were heading into the unknown, terrain I have never experienced before and a sense of being out of your comfort zone. Even Pedro had not experienced this route before, he created it for this trip. This was not a trip with backup or support, it is four friends on a true adventure!
The adventure begins
We had all agreed to only book one place to stay in advance — where we start and finish. That way we had the freedom to have a shorter or longer day of riding without restriction. Whatever happens, you always seem to find somewhere to stay, as long as you are not fussy.
You can only drink bottled water, so you should always have a spare as well as some backup food, and you should be sure to restock when you find a store.
Most of the people I know that have been to Morocco stay in a fancy all-inclusive hotel and do day trips, so they don't get to experience the "real" Morocco, which we all were about to discover.
After a full day driving, we arrived in Midelt, where Pedro had booked our accommodation for the night and where we would leave the minibus for the next six days. We ate some food (a mix of meats, couscous and vegetables) and then slept the best we could as we were all excited about the next day.
After some breakfast (consisting of fruit, flatbread and jams) we got our bikes ready and at 8.30am headed off into the hills, or should I say mountains. The heat was up to 25 degrees already — it was going to be a hot one!
The heat, the terrain, the views and the search for food
We passed through little villages climbing a little bit and I thought "it's not so bad". The roads were a bit rough, but tarmac. We then came out of the last village and I realised that I'd spoken too soon. Goodbye tarmac! It all just opened up into a vast explosion of breath-taking terrain, nothing but four cyclists leaving behind us a trail of dust. Mountains and dry landscape, not even a tree as far as you could see. It was incredible, the colours of the sand and rock.
The whole morning was off-road with demanding climbs topped by tricky bumpy descents with twist and turns. I needed to have full concentration at all times, especially with my 25mm tyres, but they were surprisingly grippy and felt stable. Obviously, it would have been much better with wider tyres but I just had to make the best of it.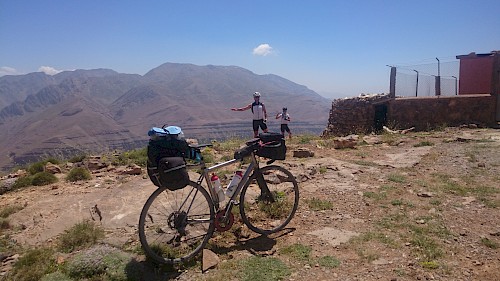 That very first day we took on gravel, rocks, rivers. You name it, we experienced it. It was a very demanding day, the heat was rising continuously and by midday it got up to 40 degrees.
Finding food and water was not easy but we managed to find a village with a café. They had no bottled water available, just bottles of coke. However, they did have some freshly made flatbread, which was devoured by four hungry cyclists in no time at all!
The café seemed to be the hub for all the village and, before we knew it, the local children had come to the café and were hanging around outside waiting for us to emerge from the coolness inside the café. When we stepped out into the now 40 degrees heat, I expect they were wondering where we had come from and what were we doing travelling on bicycles in this unforgiving heat and terrain. As we jumped back on our bikes and headed off the children ran alongside us until their legs gave up.
A totally new experience
With a lot of riding still ahead of us, we had to press on as we also had to find somewhere to stay. These kinds of trips are definitely about getting on well together and working as a group. You very rarely have your own space. It's all about sharing time and space with people and remaining positive. If you are fading or if you or your companions are not in a good place physically or mentally, then you help each other to raise the mood.
Day one was just the beginning. We stayed in a very basic place, all slept in the same room in the middle of the mountains about 1500m up, in a dusty village between Louggagh and Tounfite, heading towards the Parc National du Haut Atlas Oriental. A place where you would think time had stood still. Families lived in very simple homes with no real amenities, forget Wi-Fi. Simple meals of meat and vegetables were cooked in a clay tagine over an open fire oven.
That day we had ridden 85km with 1,554m of climbing with a moving time of around 6 hours and actual time with stops over 9 hours, taking time to look around and absorb our surroundings.
This week was going to be all about just going with the flow of the whole experience. Trying to adapt to the different culture and a totally different way of life, a totally new experience.
Challenges beyond fitness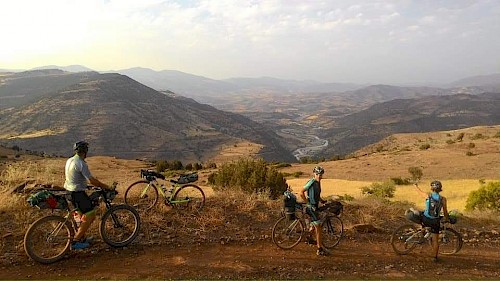 I could feel the days ahead were going to be a challenge, far more than for just my fitness.
The first two days we were in remote parts of Morocco, but there were still KOMs on Strava so you knew other riders had been there before, but on the third day, sleeping at around 2000m, there was none.
We did find some beautiful tarmac roads on the way to Anergui — big alpine climbs, mind-blowing views which were simply breathtaking. Just as you were enjoying the tarmac roads they finished and it went back to gravel. There is some level of infrastructure and the roads through the Atlas Mountains are definitely being developed.
met some strange setups on the roads, where you're enjoying the twisty long descents when suddenly, on the bends, the tarmac disappears, which can be a bit unnerving. If you have the right kind of bike to handle both kinds of road surfaces then it doesn't really matter and that is part of the attraction. It is a very different kind of experience and seems to be the way bike riding is going – which is very exciting.
As our week progressed we found the climbs were longer and most of the time we were over 1500m and hitting altitudes of over 2000m. On an average day we were climbing 1,500m in over 40 degrees of heat. If you are not used to this it will take its toll and drain you. The whole focus for the day was always food and water. If you don't have that then you won't finish.
Peaks and troughs
My worst fear happened on day three. I got a terrible upset stomach and was up all night due to the food. Anything cooked in water can be a problem in Morocco. I tried Imodium, but even that didn't work. I had sachets of recovery drinks which I dosed up on in the morning to put back vital lost nutrients. But I knew my stomach wouldn't be right for the whole trip, I'd just have to put up with it.
When you get even deeper into the Atlas Mountains you can follow some amazing river trails. We passed lakes which were the bluest I'd ever seen, and rode on tracks winding deep into the mountains, revealing a dark red dirt like you were on Mars!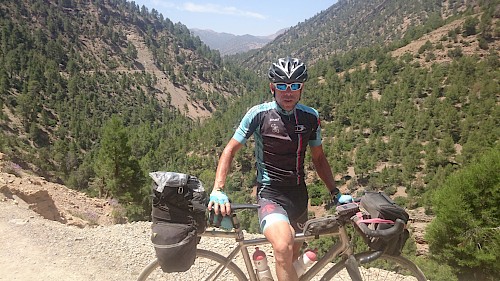 Vehicles become rare and the donkey is the new three-wheeled motorcycle. It was a never-ending procession of donkeys. They are used for everything - transporting people and goods – it's incredible.
Over the six days, we covered 526km. It doesn't sound much, but with over 8,312m of climbing, at least 65% off road, and an average day out on the road was at least 7-8 hours.
Some days were testing, without a doubt. We all only touch the surface of this undiscovered place. Through the eyes of a cyclist, I had an amazing adventure with three very special friends and it will always be one of the most diverse rides I've ever done.
Advice for fellow adventure seekers
If you decide to explore this country with friends, then plan your route and go with an open mind as it is a different world. Choose the correct bike and luggage to suit your journey.
Travel as light as possible, wash your cycle kit on route, I took three sets. Also, a small sleeping bag is advisable as most places don't have linen, especially if you are travelling through the heart of the Atlas Mountains. Practice on your bike beforehand with luggage so you get used to the feel.
Take large water bottles, Imodium, antihistamine, insect repellent, good antiseptic, travel wash for clothes, a toolkit.
Make sure one of you has a fair idea of basic cycle mechanics.
Take spare tyres, recovery drink sachets, hydro tabs. A good GPS on your bike and all have the routes just in case, because you do not want to get lost in Morocco!
Morocco will grow as a cycle destination as companies are already organising bike tours.
I'll be back!