You don't have to look far to see that Electric Cycles or E Bikes and Pedelecs as they are also known are having an ever increasing position on the cycle market, their popularity is growing, they are evolving and becoming even more desirable.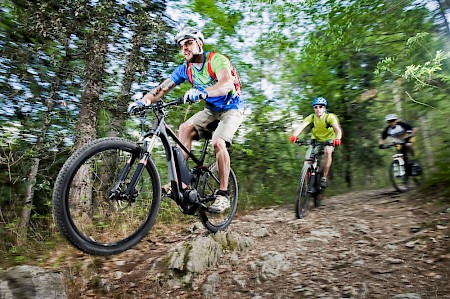 All styles of bikes are getting the electric treatment not just hybrids, Electric Road Bikes & Mountain Bikes are extremely popular and getting a lot of coverage at shows and in magazines. Some of the biggest cycle manufacturers are applying their trade to producing Electric bikes including Giant, KTM and Boardman.
Why would you purchase one?
Electric Cycles have been around for at least 10 years, but they really have come a long way since they were first introduced.
Generally, as you would expect they are not really for people who want to get to their peak level of fitness, but for people who would gain from having assisted power on their journeys such as commuters who have a tiring job. By having that extra release of power it can help you travel further than you normally could or help you get to your destination faster.
An electric bike can also be a great tool to help rehabilitate and get back to better levels of fitness from an injury. It will put less stress on your body, while keeping your body moving and increasing blood flow, nicely speeding up recovery.
Owning an Electric cycle is also a great option when you come to an age where you just can't give as much physical effort as you used to, but still love being on your bike.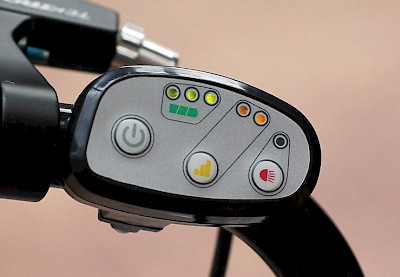 So what is an electric bike, how does it work?
In a nut shell, though some are twist n go most are pedal assisted bikes with motors ranging from 200w to 600w, obviously the more watts the motor is, the more torque (power) will be produced.
When you start to pedal, you activate a motor through an on-board computer, which works with motion torque sensor's.
Motors have a restricted top speed of 25kph, once this speed has been achieved the motor will stop and you'll then continue under your own steam. Potentially pedalling is assisted up to 300%, which is obviously quite a significant amount.
There are also different torque settings, so adjustments can be made for heavier riders or hilly roads.
It is important if looking to purchase an Electric bike to check the watts on the bike model you're interested on, take into consideration weight/terrain/length of journey.
Motor location
Front hub: They are generally lighter and have lower power output, which provides a great sense of power distribution on both wheels when on a normal paved road, take it off road and expect for the wheels to feel heavier.
Back hub: As you would expect this works on the same concept as the front hub. Typically, the rear is heavier, but supplies more torque so better for hilly rides and heavier riders.
Rear mounted motors also work better for off road mountain bikes thanks to the central position of the motor. The power coming from the rear wheel gives you a real feel of torque through pedals, hills become a joy, it really is great combination for mountain bikes.
Battery Range
The most common battery type used are Lithium, these are similar to ones used in laptops. For a 400 watt battery you could expect to receive 20 – 60 miles off assisted cycling.
How long does the battery take to charge?
Lithium batteries will charge in around 2- 6 hours and have up to a 1000 charges.
Lower end bikes will have sealed acid batteries which will take on average between 6-8 hours to charge, and normally have the capacity to be charged up to 600 times in its lifetime.
Does the battery charge while riding?
Generally, no, as this would cause performance issues - it would need a lot of resistance which would consequently make it harder to pedal.
There is a system called Regen, which produces power when coasting downhill and through braking, but in total you can only expect your battery to gain between 5% to 10% charge so realistically this isn't worth it.
Controls – are they any different?
Gears
No need to worry these are the same as regular bikes, so no change here.
Interface
Interface units on the bikes have wide range of information, and of course this will depend on the type of bike you purchase.
The most common information displayed include: Battery status, speed, torque, cadence, mapping, odometer and trip distance.
What's available – example of Electric Cycles on the market
There are a huge variety of E bikes on the market, from impressive and top of the range mountain Bikes produced by the likes of Haibike and KTM to folding bikes used for commuting, I have handpicked just a few to show you a glimpse of what is available.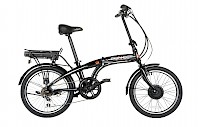 Coyote Electric folding bike
Battery range: 25miles
Battery: 200w
Cost: £599
Available from: Halfords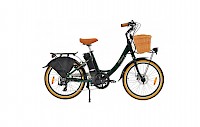 Free go Regency 24
Battery range: 30- 60 miles
Battery: 374 watts
Cost: £1349
Available from: Halfords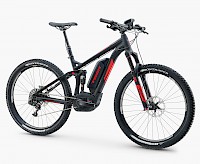 Trek Power fly (Full suspension)
Battery range: 60+ miles
Battery: 500 watts
Cost: £3800
Available from: C &N cycles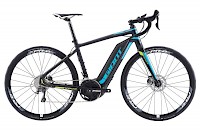 Giant road bike e+1
Battery range: 60 +mile
Batery: 500watts
Cost: £2749
Available from: Giant Bicycles
Summary
There is such a vast range out there, so if you have decided to make the jump and purchase an electric bike you will be spoilt for choice. Not quite sure what to purchase then either see if you can arrange a test ride with a local cycle dealer or why not make a days trip to the Cycle Show at the NEC which hosts an eBike village including a test track so you could try the bikes your interested in before buying. I have included some photos of Electric Bikes which Lexham Insurance took at last years Cycle Show in the gallery below. It is important to take your time and look things through thoroughly, find a bike that is truly suitable for you and the activities it will be used for.