Last week I had another great opportunity to train with a few of the Portuguese National Team and some local team riders at the beautiful indoor track here in Portugal situated in Anadia (Sangalhos).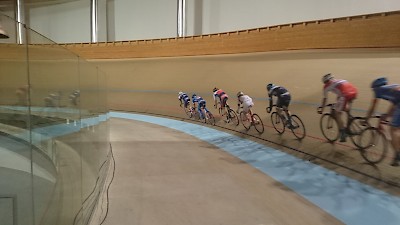 ​​Gabriel Ruivaco the Portuguese National coach has become a good friend since we first met at the European under 23s championships, working with Team GB at the Track at Sangalos and is always on hand to assist team GB as well as often inviting me to train with his riders.​
Sibling Rivalry
Two riders who stand out and I also consider them both as friends, are twins Ivo and Rui Oliveira. It's always a privilege to train with them both as they prepare for the world track champs in London's Lee Valley Velopark on March 2nd – 6th. Both brothers may be young but that hasn't stopped them becoming successful riders. Ivo, born 1996 is already World Champion and European Champion in individual pursuit 2014. His twin Rui also has medals under his belt - European Silver Medallist Scratch race 2013, Bronze 2014 Scratch and Madison.​
Lending a Helping Hand​
I was able to assist Gabriel because of my relationship with team GB as he required some rollers for the twins at the track. These are very important to use before and after a race for warm up and cool down. Shane Sutton, the Head of Team GB approved the loan of 2 sets of rollers which Team GB would bring to the track for the Portuguese team to use for the period of the event. This just shows you the great team spirt within the sport.​
Vital Testing​
Everyone always makes me feel very welcome and very much part of the group. Gabriel was putting them through their paces with a strict training program for that evening which involved testing the twins' new bikes for the first time and it was imperative to test the bikes to their limits. This involved putting the bikes through all kinds of intensity riding which entailed them riding at speed, in and out of the saddle, changing body position and also testing handling by sprinting and dropping from top of the track and climbing as well as also creating race scenarios. Any adjustments which need doing are placed in the capable hands of their top mechanic.​
Great experience riding with the team and of course learning from Gabriel's vast knowledge. They all work extremely hard and being relatively new to the track, it's inspiring to see how they are evolving and I wish them luck for the Worlds. Rui is in the Scratch race and Ivo in the points race. Please give the twins a cheer if you manage to get to the Worlds in March. Good luck Portugal!
Full report on their performances after the Worlds.