On the 13th May Lexham sponsored a charity event in Lincoln, the Dambusters Inspire Ride 2018. With the destination set as the brand new International Bomber Command Centre (IBCC), the ride there itself was for commemoration of fallen members of the RAF Armed Forces during WWII.
Proceeds from the ride were split between 3 chosen charities: The International Bomber Command Centre (or the IBCC), the Royal Air Force Benevolent Fund, and Motorcycle Outreach. It is worth noting that the event was a 'ride to', so those involved planned their own routes to the destination or joined at selected collections points to meet others and ride on some exceptional roads.
To date the total amount raised is at an unbelievable £28,000, something which we imagine will be an ever-growing number.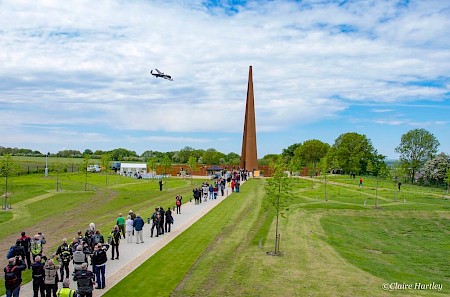 Alongside this, the ride also gave opportunity for the local and UK riders for a chance to enjoy a day out together with likeminded people, with the bonus of having an incredible destination of the IBCC having one-of-a-kind attractions – such as the tallest memorial spire in the UK (hence the name InSpire 2018).
The ride also gave the prospect to meet veterans from WWII, a chance to see period military vehicles and a special read from the last surviving member of the Dambuster's raid, Johnny Johnson.
The event itself was a collaboration between two parties: the IBCC, and the organisers DCMR (Dambusters Charity Motorcycle Riders). All of those involved generously volunteered their time and effort to arrange it all successfully, and it was a privilege to sponsor such a great event.
Overall everyone in attendance had a great time, and if you feel like you missed out on something special then not to worry – they might have something already in the pipeline for 2019!
Have a look at the official photos on the DCMR site, and you can also visit the InSpire Ride 2018 site.