Never ridden a road bike before and lacking in confidence before taking to the road? Then I have a top tip to get you ready and confident for cycling on a full spec road bike.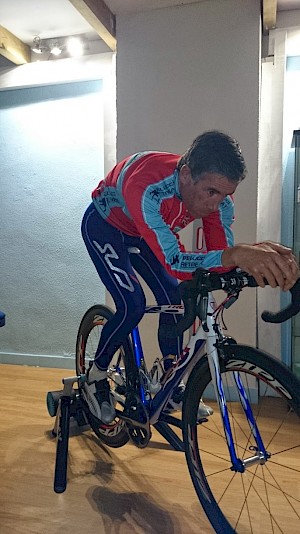 It can be quite daunting that first ride on a full spec road bike, with plenty of things to think about. Naturally your main-focus should be on the road and riding safely, but trying to get used to the gears, clip in pedals at the same time can take your concentration away from the road. With your head down looking at gears it can all end in disaster.
A great way to get used to the bike, run through the gears, practice getting in and out of clip in pedals without being on the road is to use a Turbo Trainer. You can really familiarise yourself with the bike and how it functions without the hazards of being on a road. You don't have to get a brand new one, there are plenty for sale on the second-hand market and you could even borrow one. Potentially a turbo trainer could be a useful purchase beyond getting your confidence up ready for the open road, as you can always use it for training in the house for whenever the weather is bad or for those days you would rather not leave the comforts of your own home.
A turbo trainer will definitely build up your confidence and help with that transition onto a road bike.