Touring on a bicycle is a feeling like no other. Get your bicycle ready with your luggage attached and you're ready to hit the open road (or trail) for an adventure. The freedom a cycle tour offers is unique and a journey like no other, so what's stopping you from getting out and exploring?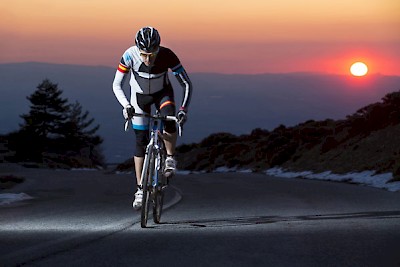 Adventures can be had on your very own doorstep; the UK has plenty to offer with some spectacular routes dotted all over the country. With the delights of modern technology finding a new route can be quick with apps and websites galore, recommendations for your next possible venture are only a click away. Wanting to spread your wings and go to Europe or even further? Well speaking from experience it's well worth the preparation as exploring new countries opens your eyes to a whole new world.
So you have chosen to go to Europe, you then have the luxury of having Ferries at your disposal to get you to your port of choice. If you decide upon Ferry as means of travel to mainland Europe then this also allows you to start your adventure from your home.
Flying is an obvious alternative but can take a bit more planning. First of all you will need a bike box so your bicycle is transported as securely as possible. However you will then need to arrange a place of storage for your bike box as once you have arrived at your destination before your tour starts, you won't exactly be able to carry it with you.
Hiring a bike is an option if you are not keen on taking your own bike with you, however this in itself can be problematic. Ideally before any tour you will ride and train on the bike you aim to tour on so you can tweak your set up for optimum performance and comfort, also so you can get used to the performance with panniers/ storage bags. This might not seem like a massive deal but the added weight and change of set-up can soon make a trip a lot more uncomfortable especially with routes that require a lot of descending and climbing.
When you're out and about exploring the world it is also vital to have some basic mechanical skills, as you never know when you're going to have to carry out emergency repairs to get you back on the road.
Security and safety next and it's good to get the essentials right, a cheap lock from a discount store might seem a bargain but when it comes to securing your bike do not scrimp, purchase a high level security lock and make sure when in use it protects all parts of your bike especially if you have quick release fittings.
Visibility is vitally important – so you ensure you can see and ALSO be seen, so again make sure to invest in some decent bright lights. Some brilliant lights on the market have usb charging so can quickly be charged from a laptop or phone charger. If your lights run on batteries then make sure you have plenty spare. Fluorescent clothing of some kind might also be worth investing in, especially if you intend to do your fair share of night riding.
When doing high mileage treks it is worth thinking about purchasing some tyres built for that purpose, as regular tyres might not be able to handle the punishment of long distance journeys.
So everything is in place, your bike, equipment and accessories are all planned for the trip, now's the time to make sure your body doesn't let you down. Yup that's right it's time to get training. With your bike set-up in touring simulation mode it's imperative to get riding and match fit for your forthcoming adventure.
The places are out there to be explored, get out there and enjoy what they have to offer.