By running an athlete training camp here in Portugal called Delucci Retreat I get to see all kinds of people. From experienced athletes to people just starting out on a new challenge.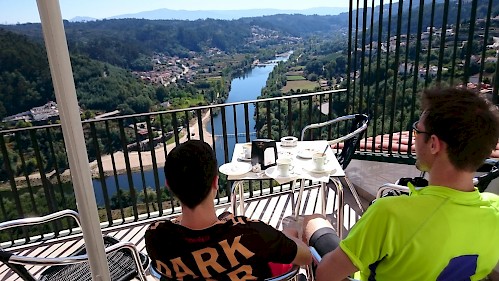 Last week was a prime example of where you just can't judge people's fitness and ability by what they wear.
The New Arrivals
Alan and Gordon were the new arrivals and it was to be their first stay here at Delucci for the grand total of 3 days.
Alan Megaw, age 39, lives in Belfast Ireland and works in I.T. His background, fitness wise is squash at national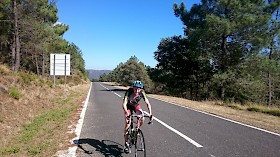 and county level and still competes now. He plays squash at least 5 times a week, sessions are around one and a half hours at a time. In regards to Cycling, Alan has been riding for 6 six years, commuting to work with a 12 mile round trip on a tow path, and a bit of touring.
Gordon Harpur, age 27, is also from Belfast but has lived in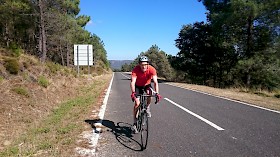 London for the past 4 years and works in a bank. His fitness background is also squash, he's been playing for 17 years, national and county level, still competing now and plays squash twice a week, around 1 and half hour sessions. When it comes to Cycling Gordon commutes to work from Streatham to Liverpool Street every day.
Getting Ready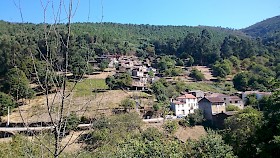 The guys arrived in the afternoon, they didn't bring their own bikes but hired bikes from us. Alan brought his own pedals, they were mountain bike pedals, accompanied by mountain bike shoes - not ideal. Also he didn't have any cycle shorts or cycle tops, just running shorts and T-shirts. So no padding for those mountain rides!
Gordon didn't have any cycle shoes, just trainers, he'd never used cycle shoes so had to fit standard pedals on the bike. But Alan did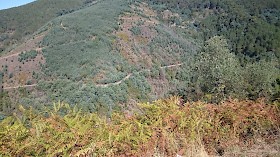 go out and buy himself some cycle shorts before he came to Delucci, he also had no cycle tops just T-shirts.
So, after setting the bikes up that afternoon, we took them out for an hour spin, to get a feel for the bikes, see if they need any final adjustments and also to see how the guys rode, so that I could plan tomorrow's ride based around both their abilities.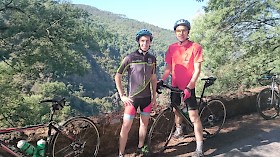 Well, what can I say? These guys, dress-wise, did not look the part! But these guys where fit!
Both flew up the first climb and kept going, straight away I thought, these guys have loads of potential. I could see straight away that they were very competitive with each other and driven.
After we got back from the test ride I offered Alan some cycle kit to borrow, as not to wear cycle shorts in this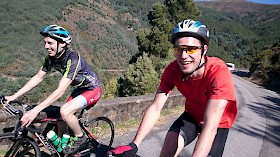 terrain could be painful! He gladly accepted the offer.
The next day's ride consisted of a 82K loop, taking in the beautiful Lousa mountains with a total elevation of 1,695m, with gradual gradient, nice friendly smooth sweeping descents, a great opportunity to practice and build up your climbing and descending skills.
I helped the guys as much as I could, pointing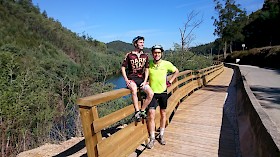 out where they can improve. Both loved the day's riding and progressed in just one day. Alan remarked on the shorts and top and what a big difference they had made! I chuckled to myself, but always happy to help.
The last day, both were feeling keen for another day's riding, refuelled, excited and ready to go!
The ride was 98k with 1,759m of climbing, stopping for lunch at the beautiful town of Penacova, following the river Mondego with breath-taking scenery. Finally finishing with the time trial climb to Delucci Retreat, which was the guy's idea, saying, "well, while we here we we might as well do it", plus there's a trophy up for grabs for the fastest time.
Both rode really well and improving all the time.
Finishing with the time trial both giving it 100%. Climbing Distance being 2.500K average gradient of 12% with the max going to 17%.
A challenge for any rider! Well, Gordon with trainers on, losing so much power (they looked very beaten up) still achieved an amazing time of 14.36, the best time this year, with Alan not far behind with a very respectable time of 15.20. Both felt a real sense of achievement!
The guys had both learnt a lot in their short stay and they both can only improve, with so much potential. Alan and Gordon just need to practice the basic skills, then there will be no stopping them. With years of anaerobic fitness through squash playing at such a high level, both are definitely a force to be reckoned with in the future. It was a great few days and these guy where so driven and keen, I can't wait to see how much they have improved when they next come.
A few tips the guys took away with them:
Descending: skills (choosing the correct lines/braking at the right point - body position).
Gears: selecting the right gears, when terrain changes.
Speed: controlling your pace over long rides (save energy).
Fluids: drinking regularly throughout your ride
Food: always have some in your pocket to graze on and get you out of trouble when on long rides.
Clothing: having the correct equipment when riding your bike.