Another year and another enjoyable visit to the Cycle Show at Birmingham's NEC for us here at Lexham Insurance.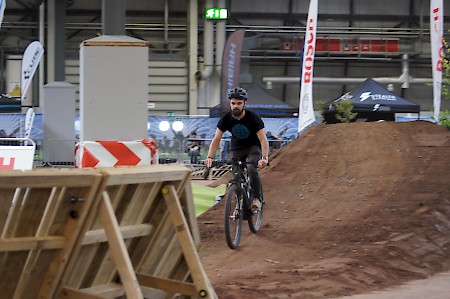 As always an awesome time was had browsing the many new bikes and accessories from some of the biggest names in cycling as well as carrying out some hands on testing. Like last year, the E-Bike track was as popular as ever but this year a new addition in the form of the E-MTB Track was available for those who fancied a bit more of an adrenaline rush. After watching a few other riders tackle the course without breaking their necks I thought I'd give it a go and take on the course for myself.
Having not ridden a mountain bike properly since my early teens I was slightly apprehensive as I buckled up my helmet and got onto one of Haibike's E-MTBs. The course was made up of sharp turns, inclines and even a rocky section to really test out my bike control as well as the off-road capabilities of the bike. As I slowly pedalled onto the course I familiarised myself with the E-MTB controls which allow you to select different speeds from Eco right up to Turbo. It allows you to fine tune how you want to ride the bike as for slower sections you can switch down to Eco or even turn off the assistance completely and then when you come to a steep incline crank it up to Turbo to give you that much needed boost.
T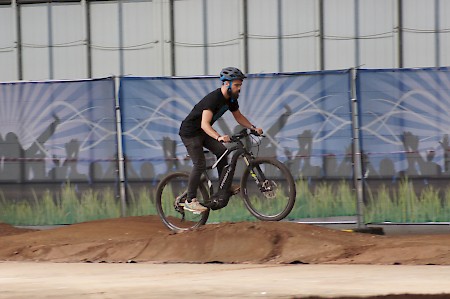 he first few laps were taken slowly as I got used to the controls and the course, finding out which sections could be taken quickly and which parts I had to slow right down for. The bike handled the course perfectly with its front suspension absorbing the bumps and dips that littered the course and the electric motor pushing me up the inclines and helping me accelerate out of the tight turns. The lightweight aluminium frame also made the bike very nimble and easy to throw around on the twisty sections which gave me some confidence to pick up speed and push the bike more and more each lap.
I managed to survive my session on the track and was left smiling from ear to ear. My only regret is that I didn't do more laps and try out some other bikes, there's always next year I guess. It's even tempted me to put my road bike to one side and get a mountain bike to mess around with on some of the local tracks and trails.