Bike Polo was once a popular sport in the UK. In the 1930's-60 there were over 100 clubs regularly playing the sport. Today only a handful of clubs are fighting to keep the sport alive.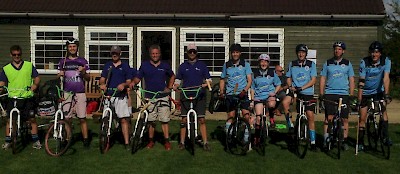 Lexham sponsored Oakenden Bike Polo from Kent are one of them.
Last weekend they travelled to Wiltshire where the first all English tournament in over 10 years took place.
We arrived at the pitch in high spirits, fully loaded with service station caffeine and excited at the prospect of playing the hosting team, Cirencester Bike Polo.
Chelsea Pedlars from London and North Devon Bike Polo from Barnstaple were also present.
Cirencester were only formed 2 years ago but already have a strong and enthusiastic group of players who formed the back bone of two teams in this tournament.
North Devon have only been playing a year and are formed mainly of members of a local cycle club.
Chelsea, on the other hand, are the oldest surviving bike polo club in the UK. They have been playing the sport in and around Hurlingham Park in West London since the 1980s.
Our club, Oakenden, travelled to Wiltshire with 2 teams, was formed in 2004 and have been the only British club to participate every year in the European Cup.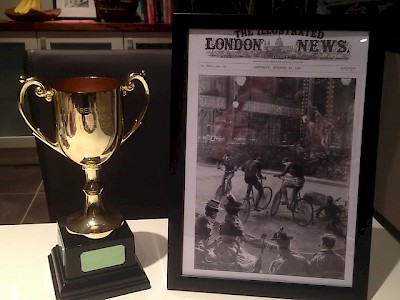 We have been actively encouraging new players and clubs to take up the sport we find so enjoyable so this tournament was a historic step towards this aim.
The main purpose of the tournament was to build on the momentum which began when Cirencester competed in their first major tournament at the European Cup held in Kent in June.
After some highly competitive games played on a beautiful sunny early autumn day, the Oakenden teams finished the tournament first and second with Cirencester's A team coming in third.
We were presented with the Cirencester Bike Polo Gold Cup, (a reference to the Cheltenham Gold Cup hosted nearby!) which it is hoped will be played for annually.
After the club tournament, we mixed the teams up to provide the opportunity for less experienced and more experienced players to play together in a friendly tournament.
We have found that competitive polo and mixed games are the most effective ways to improve players skills and confidence.
A thoroughly enjoyable and worthwhile day played with the best sportsmanship ended, as is traditional in Bike Polo, in the local pub where plans were hatched for a UK bike polo Championship in 2016!